| | |
| --- | --- |
| | |
Valentine's Day Curse

1278


views
I've never had that great of a history with Valentine's Day.
It's not like I've always been single on this lover's day over the years, or that I have some kind of intense hatred for it; I have just never had things go
perfect
for me. Last year, the girl I was seeing got fired at her job two days prior, broke up with me, and moved back to Flordia to live with her parents. This year, the girl I was seeing casually and was going to spend time with in NYC melted down and broke things off.
Never in the history of this day have I had everything go the way I imagined, and I'm pretty sure that I can attribute all the blame to girl named Kristi Griffith
*
in the sixth grade.
Now, Kristi wasn't a looker by any means. She was a mousy, blonde headed reader who had giant coke-bottled glasses, colored braces, and had a bit of a hobble whenever she walked. I cannot tell you for the life of me why I liked her, but on Valentine's Day '96, I ended up presenting her a bouquet of flowers and chocolates in the cafeteria lunchroom for all to see. Surely, this grand gesture of romance could win over this timid, fragile flower.
Not a chance in hell. She turned beet red and just outright rejected me. Kids were giggling, her friends started to immediately started to taunt me in rhyme form, faculty members were pointing and laughing;
ing brutal thing for my young, child heart to endure.
Eventually, Kristi and I would establish a decent friendship, but I would end up moving away from her in the following months. Years later, I would discover that even at the young age of thirteen, I had a knack for spotting out fixer-uppers. You see, I accidentally ran across Kristi's page on Facebook (
read: searched her name like a creepster pro
), and it turns out that the ugly, little duckling grew up to be a calender model/Hooters girl with DD stripper tits and case of anorexia.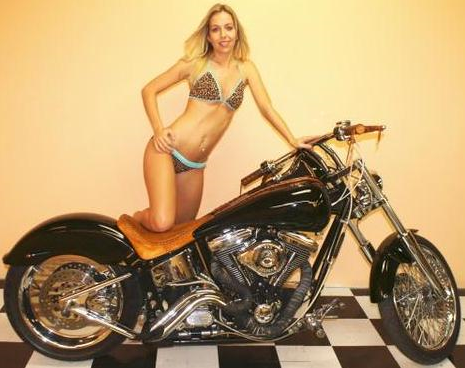 (
Current DD Stipper Tits Not Represented In This Particular Photo
)
Everytime I see her straddling a Harley, I always think, "
That could have been me.
"
Happy Valentine's Weekend, everyone!
*name changed, deal with it
| | |
| --- | --- |
| Comments (Total Comments: 7) | |
Shimrra
- 02-12-2010, 06:39 PM
MIGGO
- 02-12-2010, 06:47 PM
Updated 02-12-2010 at 08:47 PM by
MIGGO
chimpster1313
- 02-12-2010, 07:49 PM
Nebenator
- 02-12-2010, 09:14 PM
Kingfalcon
- 02-13-2010, 06:15 AM
MIGGO
- 02-13-2010, 11:57 AM
Recent Blog Entries by MIGGO