| | |
| --- | --- |
| | |
How much are you willing to pay for most of today's sequels? Let me start off with some cheap ass logic. You begin by purchasing a brand new game for $59.99. You take it home and you shove it in your Nintendo, and your relationship with the game has begun. Dozens and dozens of hours later, you eventually get bored. Hey, it happens, no game is perfect and everything gets old. However, you loved it so much that you vow that whenever there is a sequel to that game, you will do a day one purchase and buy the super limited ultimate cake edition with sprinkles and a doll helmet plus a crummy action figure. OH BOY! A year later, the sequel comes out. Whoa, that was quick. You shell out your 120 + tax and take it home to start a brand new relationship. You eat the cake and the sprinkles, wear the helmet as a hat for about 30 seconds, then shelve the action figure on some desk to post pictures of on your gaming blog later and there goes the full value of the cake edition. The campaign is now half as long, there are only 8 new maps, and the co-op mode is just a "kill endless waves of enemies for achievements" mode. RAGE! The core game is still enjoyable, but whatever happened to a sequel improving upon the original? The gameplay is still the same, what's new here? You log 40 hours into the game total, and then call it quits. Will you buy the next game? Well of course, you just love the core gameplay so much. But next time, you're going to wait until it hits $29.99, then you'll buy. Because you only got half the value out of the second game. Now that's thinking like a cheap ass.
Even if you are a cheap ass, you still can't deny the fact that gaming is an expensive hobby. You've got limited money, limited time, and limited patience for each individual game. As a gamer, you crave new and unique experiences, so you have to draw the line somewhere when it comes to buying new games, especially when it comes to sequels to games you've played before. One specific genre comes to mind whenever I think about sequels that diminish in value, and that happens to be shooters. Shooters are a repetitive bunch. You shoot terrorists and you shoot aliens and you shoot some more terrorists and you shoot yet more aliens. Sometimes buildings fall down in the background while you're shooting, or you're in a falling elevator while you're shooting, or you're on a rickety bridge that's breaking while you're shooting. Variety? Toss in a turret sequence or a couple of stealth missions and you're golden. The only reason it doesn't get old a whole lot sooner is because of the competitive side to it. People love to frag each other online, myself included, and when the core gameplay is good, it leads to hours upon hours of fun. It's a great value.
"What do you mean I can't trade this stuff in?! I'm done with it!"
I expect a lot out of sequels though. Sequels need to heighten the stakes somehow and make things more exciting. Give me more stuff to do, dammit. Give me a campaign co-op mode if the first game didn't have one. Give me higher player counts, give me prettier visuals, give me a longer more varied story mode and definitely give me a nice solid storyline instead of the same old "go kill this communist and/or fascist jerk 'cuz he kills people, and don't forget to kill lots of people on the way lol." I couldn't give less of a damn about new maps and new guns. To me that stuff is DLC on a disc, plain and simple. It's not my fault that it is now an industry standard to release new maps and weapons shortly after each game is released.
On the other side of town, there are RPG's and other story-focused games that are mainly about the single-player experience. These are games who can justify sequels more easily, because if there's one highly elusive, super-rare beast out there, it's a videogame with a good storyline, and I'll pay top dollar for that hide. With shooters, the focus is more on set-pieces and shooting galleries than on story, and most of the time I skip the cut-scenes because I don't care about a bunch of soldiers shouting f-bombs and talking about how tough they are because they know how to use guns and drive tanks and get the ladies and sprint. Chicks love it when burly dudes sprint. I honestly appreciate it when game developers go out of their way to actually make me like the characters I'm playing as. Sometimes that's the only way I can tell the difference between game developers who actually care about the story and those who are just trying to make a quick buck.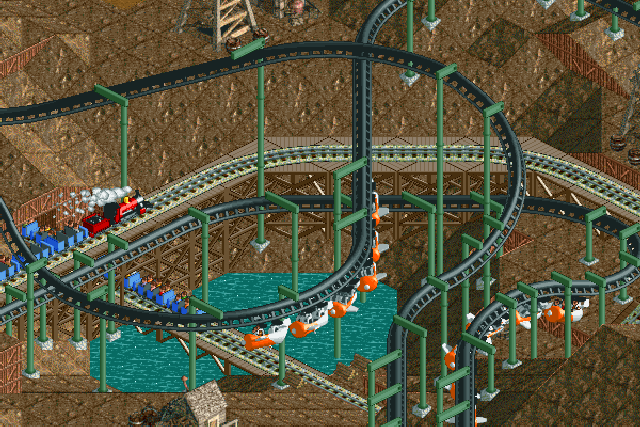 First game or second game? Who the hell knows.
If I had to lay down some examples of good sequels and bad sequels, some of them might be a bit controversial. If you weren't able to tell by now, this whole essay has been one gigantic fist hurled at Modern Warfare 2's face, but it doesn't stop there. I believe ODST was a terrible sequel that shouldn't have been sold at full price, and virtually every Guitar Hero game since 2 has been guilty of cashing in. I do have some examples of sequels that I believe were quite good. Mass Effect 2 was a good sequel for its excellent ability to expand on the universe introduced in the first game and Assassin's Creed 2 was also great for its improved story and characters as well as variety in missions. Also, Call of Duty 4 finally ditched World War 2 and "invented" the online ranking system while Halo 3 added TONS of online features. All it takes for them to make a good sequel is to show that they care.
I don't hate sequels, I just hate bad ones. The moment I put down 60 for a sequel, I expect to get at least something tangibly new that I can safely say made the purchase worth it, or they'll get a fistful of internet hate on a gaming blog. Even if every sequel has more content than its predecessor, that doesn't mean there's more value. Don't forget that I've already experienced this gameplay for 80 hours, so giving more of the same isn't going to do it. When I start to notice that my interest in each game is cut in half every time I pay 59.99 for the next installment, my attitude starts to go rotten. My teeth grind, my fists clench, and I may kick the wall a couple of times because to me, 2 should mean more than 1, not less. If you want my money, you'd better earn it, or else I'll go buy that brand new awesome original game instead, like uhh…umm…hmmm…you know what, we're screwed.
Tl;dr Modern Warfare 2 sucks.
| | |
| --- | --- |
| Comments (Total Comments: 6) | |
KasterDB
- 06-03-2010, 08:13 PM
cheezisgoooood
- 06-03-2010, 08:34 PM
hostyl1
- 06-03-2010, 11:43 PM
cheezisgoooood
- 06-03-2010, 11:56 PM
Recent Blog Entries by cheezisgoooood