| | |
| --- | --- |
| | |
My favorite video game characters of all time

4600


views
All right, there's no denying there's tons of video game characters I really like. Some can be their personalities, some by looks, and some just overall connect with me in some way. This blog will only mention my favorite male characters (I'll leave female for another blog entry), since most female characters I like don't play too big of a role in the storylines.
1. Sora
Sora is definitely my favorite video game character of all time. There's just so much I like about Sora, from his voice, his artistic look, personality, and so on. I can definitely feel some connection between Sora and I, whenever I play Kingdom Hearts. I can feel the emotions he has for his friends Riku and Kairi. Playing as Sora in video games is also fun, using a keyblade to whack enemies.
2. Cloud Strife
Cloud is a very cool character, which is one reason I like him. He is also like me in ways, where he sometimes disappears and prefers not to be bothered (like in Advent Children). I could feel his emotions and always enjoyed scenes in FFVII where I visited his past. I even use to use his name as my online name. Cloud had awesome moves in battle and I really wish I could do what he does. His sword was badass too.
3. Tidus
I liked Tidus a lot for his emotions. I also really liked his voice, artwork, and so on. Playing as him in battle was fun because he was fast. I loved the scenes with both him and Yuna close to one another. I could also relate to him Tidus felt about his father in FFX.
4. Hope Estheim
I kind of figured I'd like Hope before I played FFXIII, and it's true I ended up really liking him as a character. His voice and art style was great. I really felt sorry for him when
I saw his Mom die.
I liked how Hope was a bit whiney and hesitant (just like me, but starts to grow throughout the game. In ways I could consider Hope my favorite game character of all time. I also liked using him in battle because of his magic.
5. Fayt Leingod
Fayt and I are similar in ways. I was a college student (just like him) when I started playing Star Ocean: Till The End of Time. I like his voice, art style, and personality in general. I could feel his emotions being away from Sophita for a while. I also really liked the way he treated the kids early on in the game. I could also feel his emotions watching a certain someone pass away in the game, which made me a bit teary eyed. Fayt was also tons of fun to play as in battle (with his sword).
6. Raiden
I liked Raiden for being very hesitent and asking a lot of questions. That's pretty much how I am. I also liked him for being a bit young and naive. I could really feel for him during all the codec sequences. I definitely became close to Raiden in MGS4 and one of the main reasons I really love the game. Raiden also had superb voice acting.
7. chaos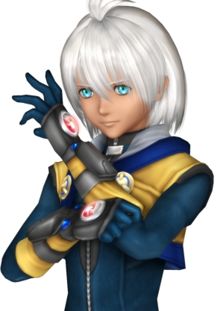 I liked chaos because he appeared to be caring to most people, but was also very mysterious. His voiceacting in Xenosaga Episodes II & III was excellent too. Using him in battle was pretty cool, since he had some cool special attacks (such as a double attack with Jr. in Xenosaga Episode II). The end of Xenosaga Episode III (with him there) was really special to me.
8. Zidane
Zidane was just really cool. I liked his look. Found many of his comments to be witty and funny in FFIX. He was a cool character to have in your party and felt different compared to most main characters. Overall, I just found him very likeable.
9. Leo Stenbuck
Leo Stenbuck is a big reason as to why I prefer the first Zone of the Enders over the 2nd (although both are two of my favorite action games last gen). I liked Leo because he was very hesitant to fight and didn't want to just kill everyone. I even liked how seeing someone die (even an enemy) made him sad. I also enjoyed his relationship with Celvice and how him and ADA grew closer and closer. Leo Stenbuck has a superb voice. I've played through ZOE many times just because Leo really connects with me well.
10. Ratchet
I absolutely love the design of Ratchet and love that he's an odd creature (a Lombax). I also enjoy the attitude he has and I enjoy his conversations with Clank. He's also very funny and likeable. He's also very fun to play as using my wrench to hit enemies.
11. Vivi
Vivi is so lovable in FFIX. He's kind of cute looking and very shy like myself. I really loved the scenes where he gets into something he may not know well. I also enjoyed watching him trip at times. Vivi is the type of character I'd love to have at my place for dinner. Vivi also had a pretty cool close up in battle.
12. Genis Sage
Genis Sage (comes from Tales of Symphonia) is a lot like me in ways. I love how he's a big school student (like me) and hoe he's a bit cautious on stuff (like me). I also enjoyed his voiceacting, character artwork, and loved how he was short like me. Genis is easily my favorite character in any Tales game.
13. Mario
I've always loved Mario since I was a kid. Always liked the look of Mario. I enjoy hearing the Italian accent he has. Mario is always fun to play as and extremely likeable. I even dressed as Mario for Halloween.
14. Sonic The Hedgehog
While his games have been a hit or miss, I've always really liked Sonic. He's a cool hedgehog, fun to play as, always has a pretty cool voice, and has cool artwork. I love how he's always fast, just like me. Enjoyed Sonic in cartoons and video games.
15. Alex Noa
Alex was a great character Lunar: Silver Star Story. I loved his close relationship with Luna and seeing him and Nall as friends. His voiceacting was also great. I liked how Alex was kind to everyone, and how he had a dream to become a Dragonmaster one day. I really liked his passion and could feel his emotions.
16. PaRappa
I gotta believe!! I really like PaRappa a lot. Him rapping to various songs was always a treat. He's a fun character and always enjoyed his feelings towards Sunny(sp). His phrases were always great. I also found his look to be pretty cool.
17. Daxter
While most find Daxter annoying, I find him very funny and likeable. He's one of the reasons I enjoyed the Jak & Daxter games, and really liked his own game Daxter on PSP. I really wish there would be a sequel to Daxter.
18. X
X from Mega Man X is cool. I always enjoy his storylines and really enjoy playing as him, climbing up walls, dashing really fast, and blasting enemies away. I definitely prefer his artwork over the traditional Mega Man. The voice chosen for X usually isn't too good, but the voice chosen in Maverick Hunter X was great.
19. Lan Hikari
I mostly liked Lan Hikari from the show Mega Man NT Warrior, but I enjoyed him in the Battle Network and Network Transmission Mega Man games. I like the way him and Mega Man connect. I could relate to him going to school (like when I was a kid). I always found it cool in his world that many people have their own personal net navi. Lan has a life I wish I could have had as a kid. I really liked the art direction of Lan too.
20. Crono
I know Crono doesn't say anything in Chrono Trigger, but his look is so awesome and he is fun to play as in battle.
There are many others I'd like to list such as Jr. (from Xenosaga), Fei (from Xenogears), Sackboy, Edge Maverick (Star Ocean 4), Tristan (MS Saga), Kain (FFIV), Emil (ToS: DNW), Zero (Mega Man games), etc., but the list would go on forever. My favorite female characters will be another blog entry, since I have something special for that one.
Regardless, I tend to honestly like my favorite video game characters too much, where I have them as my avatar/sig way too much. I'm also known to buy way too much stuff of my favorite video game characters (T-shirts, figurines, wall scrolls, etc.). Video game characters do mean a lot to me and can really help my liking towards a game. People can already tell I really don't like big dudes who like to blow crap up at all. I tend to prefer younger characters (or ones just slightly younger than me) who are very emotional. Since I'm a very emotional person, I just connect with them much better than tough guys.
| | |
| --- | --- |
| Comments (Total Comments: 21) | |
DrMunkee
- 06-27-2010, 08:03 PM
manthing
- 06-27-2010, 08:04 PM
AlexLeSage
- 06-27-2010, 08:17 PM
glemtvapen
- 06-27-2010, 08:22 PM
dv8mad
- 06-27-2010, 08:27 PM
helmet
- 06-27-2010, 08:44 PM
JMEPO
- 06-27-2010, 09:15 PM
The Mana Knight
- 06-27-2010, 09:18 PM
joe2187
- 06-27-2010, 09:20 PM
antlp89
- 06-27-2010, 09:33 PM
The Mana Knight
- 06-27-2010, 09:46 PM
Halo05
- 06-27-2010, 10:48 PM
Lost_In_Shadows
- 06-28-2010, 12:14 AM
joe2187
- 06-28-2010, 01:49 AM
The Mana Knight
- 06-28-2010, 04:45 AM
the_punisher
- 06-28-2010, 09:59 AM
ZxT Vendetta
- 06-28-2010, 02:50 PM
gr8asianman
- 06-28-2010, 04:32 PM
The Mana Knight
- 06-28-2010, 05:56 PM
Dr. Venkman
- 06-28-2010, 07:19 PM
Recent Blog Entries by The Mana Knight