| | |
| --- | --- |
| | |
My Top Ten Favorite Games

687


views
10.Dead Rising (Xbox 360)
When It comes to games movies, comics or whatever I am obsessed with things that have to deal with zombies. Seeing as this game was my gateway into being apart of the movie Dawn of the Dead I was excited. Mowing down hordes of zombies in the tunnel just to get that stupid achievement lol. All and all I had lots of fun with this game, I spend tons of time leveling up Frank and mastering his moves.
9. Pokemon Blue and Red (GB)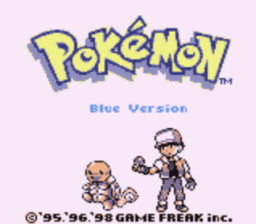 Pokemon was one of those games I got that I just couldnt put down. With the combine help of some friends, a link cable and lots of time I did in fact collect them all (no Mew tho). It was a fun game and I put in tons of hours and just when I thought I was done playing Pokemon a long time ago last christmas I got Pokemon Platinum.
8. Alien vs. Predator (Arcade)
Not the PC verison or the Snes version or even the latest one on 360 and PS3 but the arcade beat em up version. I remember going to a roller skating place on a Friday night with a few friends and finding this beast. I spend 20+ dollars that night on that game and beat it. Afterwards my friend asked if I wanted to go skate finally and I said no I wanted to play again.
7. Teenage Mutant Ninja Turtles 4: Turtles in Time (SNES)
Another great beat em up game I loved to play because well it had the ninja turtles in it.I was always Donatello and my friend was always Michelangelo,and we would have days on the weekend where we would sit and play this all day. PIZZA TIME
6. Doom (PC)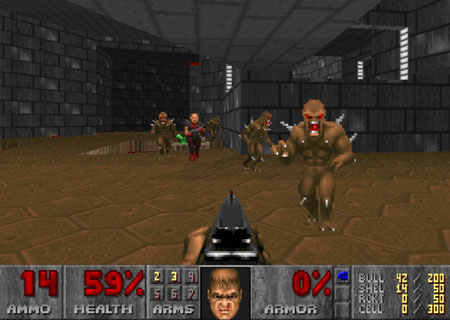 While not the first FPS game I ever played it was the first badass one. I remember watching my dad play this game when it first came out on old floppy disk with like 8-10 disk lol and thinking wow this looks crazy cool. My favorite weapons are the chainsaw and the shotgun, killing a demon with the chainsaw was just so satisfying.
5. Resident Evil 2 (Playstation)
Another game with zombies in it which equals a great time. I played the first game when it came out and I was scared/interested of the game. When RE2 came out all I could think about was I get to be in a city as a police officer how cool. I have owned this game many times on the Playstation, N64, and from the PSN. This game had great puzzles and cool weapons and the almost invincible Brad Vickers zombie.
4. Ratchet and Clank (PS2)
The first time I played this game I was sorta on the fence on how I felt about it, played it for about 10 minutes and gave up. I popped it back in one day and was just blown away on how addicted I was to it. I currently own of the games and have finished atleast half of them. I really like platformers and shooters, this combined those elements and created one of my favorite games and some of my favorite characters in a video game. R.Y.N.O. 4 life.
3. Final Fantasy X (PS2)
Say what you will about Final Fantasy X but I dominated this game, I collected all the weapons, items for the weapons, the summons, kicked the crap out of all the bosses (hidden or rare) and just down right had a blast. I did find blitzball to suck at first but then you find great players and its all over for the other teams. Final Fantasy 7 was epic but I just felt FFX had great ideas behind it, sphere grid was a different experience but something new to get into. I really liked the ability to switch characters in and out of battle.
2. Legend of Zelda: Link to the Past (SNES)
Damn do I love Zelda and a link to the past was just my cup of tea. It had story, action, adventure and of course bombs. I would say I am addicted to Zelda because I own all of the games (except CD-I crap), my dog is named Zelda and I have a triforce tattoo on my leg. This is the game that got me into Zelda, I watched my older brother play it one night and was hooked. My favorite boss is the centipede like creature where you have to hit his tail with your sword to beat him.
1. Super Mario Bros. 3 (NES)
Playing this game just makes everything seem so right and awesome. This was the game that got me to really enjoy platforming to which I really enjoy today. I played the crap out of this game, I found all the secrets without a guide, I could run through the first world without getting hit once, and I loved to play the matching card game. My favorite suits were the Hammer Bros. and the Frog suit. My worst enemies were killer sun and the giant fish that would eat you.
Well that is my Top Ten Favorite Games, in the future I hope to get my 10 favorite game characters up here and 10 favorite movies.
| | |
| --- | --- |
| Comments (Total Comments: 15) | |
celegus
- 07-01-2010, 12:24 PM
eliter1
- 07-01-2010, 12:29 PM
MattX66
- 07-01-2010, 01:08 PM
the_punisher
- 07-01-2010, 01:41 PM
Lost_In_Shadows
- 07-01-2010, 01:57 PM
Lord_Kefka
- 07-01-2010, 03:49 PM
glemtvapen
- 07-01-2010, 04:12 PM
supermodestmouse
- 07-01-2010, 05:06 PM
Chronis
- 07-01-2010, 05:14 PM
MattX66
- 07-01-2010, 06:11 PM
evildeadjedi
- 07-01-2010, 06:19 PM
Recent Blog Entries by MattX66