| | |
| --- | --- |
| | |
Player's Pulse: Mortal Kombat Concerns & Scott Pilgrim vs The World: The Game Review

1873


views
Midway kinda screwed themselves with
Mortal Kombat: Armageddon
.
The developers ended up writing pages upon pages of needless back-stories and origins to shoehorn every existing character into the game with a legit reason for being there. While
Mortal Kombat
geeks probably get off over the fictional history of the tournament fighters, the additional storylines of sixty-three
MK
characters the left the series resembling a corpse that's been fished out of the Hudson River (
quite bloated
).
"
Legendary!
"
Ed Boon, co-creator of the
MK
series, knows this and explained to IGN how he plans on changing everything that fans know with the new game,
Mortal Kombat (2011)
:
"So we're kind of doing a Back to the Future type of thing, where Raiden is about to be killed by Shao Kahn, and just before he delivers the last blow, he sends a mental message to his earlier self, so the camera rewinds back to Mortal Kombat 1. The Raiden from back then gets a message and he doesn't know what's going on, but he knows something bad's going to happen, and the game spans Mortal Kombat 1, 2 and 3, retelling the story with an enlightened Raiden, and he's changing the course of things, so everything you've seen happen before – Liu Kang winning, the guys turning into cybernetic ninjas, are changed around, so you might see a character become cybernetic who wasn't before, and so you see a different version [of events]."

As much as I love the goofy world of
Mortal Kombat
, I don't have the time necessary to take a Kombatolgy course at my local college to learn about every minutiae of color-swapped ninjas. As much as I appreciate the new re-boot, the anal geek who lives inside of me still questioned the method behind it. I mean, if Raiden had the ability to warn his past self all along, wouldn't he have done this earlier to save Liu Kang's life (
MK: Deadly Alliance
) or to stop the Shang Tsung and Quan Chi from unleashing the Dragon King (
MK: Deception
)?
This is Pre-Crisis Superman type shit happening here, folks!
Mortal Kombat (2011)
is being handled by Ed Boon's team at Netherrealm Studios, it seems that the long-running fighting series will make a return back to the over-the-top levels of gore. "How gory??", you ask?: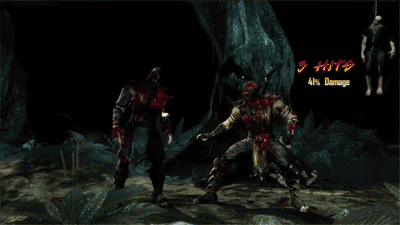 "
Looks like Scorpion gave Sub-Zero a...splitting headache.
"
After seeing the above clip of Scorpion's fatality, it seems that everyone at Netherrealm Studios is sending a clear-cut message to gamers who were disenchanted after the disappointing
Mortal Kombat vs DC Universe
— "we're back".
As excited as I am over this newest entry, I'm also a bit concerned of the level of violence shown (
possibly due to the fact that I've recently become an old
). How much is too much to you? There's something about the high definition and super-detailed fatality that bugs me, and I'm not too sure why.
The Joker's fatality from
MK vs DC
was censored due to the level of violence it showed, so how is this any less worse than that? Can
Mortal Kombat (2011)
actually get by the ESRB without them forcing Netherrealm Studios to tone their vision down?
Scott Pilgrim is a character who has always resided on the outskirts of my personal geekery radar. Aside from hearing a few friends go nuts over the release of Scott Pilgrim Vol. 6, I have never done any research into this graphic novel. That being said, I picked up
Scott Pilgrim vs. the World: The Game
mostly due to the incredible, stylized pixel art style and retro look that I saw on several gaming sites. I don't want to venture into hyperbole territory, but after playing it, I mean this next line with all sincerity:

I've been waiting for this title for all my life (oh lord).


"
Bash in the head of the hipster to win Ramona's love!
"
Quite frankly, Ubisoft Montreal made an unofficial sequel to the classic NES brawler,
River City Ransom
, and pasted on a thick Scott Pilgrim coat of paint. The fighting style, the humorous enemies who drop coins when they're defeated, and the numerous shops that sell items that boost your health/stats/XP are all taken straight from the 1989 cult classic. In fact, one of the secret shops is found the exact same way as you'd find it in
River City Ransom
.
"
Video Game References! Fanservice!!
"
I'll admit that fighting through the first couple of levels were a bit frustrating due to my character being so weak, but the game becomes a blast once you start to level up your character. After an hour of level-grinding with my roommate, we both gained enough XP to easily cut through the waves of goons, robots, and ninjas thrown our way. Along your path of chaos, make sure to pay close attention to your surroundings for secret doorways and references to games from an earlier era.
The only major setback that might cause you to keep from purchasing this game is the lack of online co-op. For whatever reasons, the gameplay is limited to 4-player couch co-op only, which can be pretty damning especially in this day and age. It's a real shame to see that this feature was left out as I found the brawling in
Scott Pilgrim
to be more rewarding than
Castle Crashers
, which was a game I loved playing online with.
If that's something that's a dealbreaker to you, you have been notified. Feel free to post your inane rants and bitching over at GameFAQs.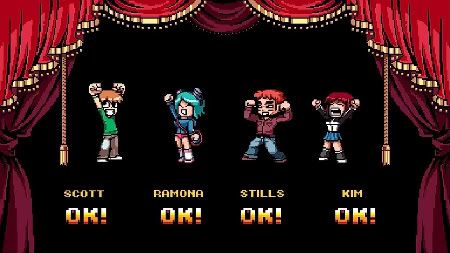 "
I see what you did there.
"
Scott Pilgrim vs The World: The Game
is a love letter to gamers who grew up in the early-Nintendo era, and used to pump in quarter-after-quarter into games like
Double Dragon
or
Teenage Mutant Ninja Turtles
. A 4-player action/brawler/RPG with upgradable stats, multiple characters, unlockable moves, unique visual style, a killer soundtrack from the chiptune band, Anamanaguchi, and ten dollar price tag —
Scott Pilgrim vs. The World: The Game
has the potential to be the downloadable title of the year.
Scott Pilgrim vs The World: The Game - $9.99

- Additional Reading: Mortal Kombat Useless Facts
- For bite-sized blog entries + video game related things, visit Player's Pulse
| | |
| --- | --- |
| Comments (Total Comments: 19) | |
Wingwright
- 08-12-2010, 01:18 AM
Blackout
- 08-12-2010, 01:36 AM
MIGGO
- 08-12-2010, 01:46 AM
Jimbo Slice
- 08-12-2010, 02:36 AM
kburns10
- 08-12-2010, 03:37 AM
hostyl1
- 08-12-2010, 08:13 AM
MIGGO
- 08-12-2010, 10:22 AM
MSUHitman
- 08-12-2010, 12:18 PM
MIGGO
- 08-12-2010, 03:26 PM
sendme
- 08-12-2010, 05:06 PM
soliddragon
- 08-12-2010, 05:47 PM
batman1939
- 08-12-2010, 06:19 PM
MIGGO
- 08-12-2010, 07:53 PM
sendme
- 08-12-2010, 08:23 PM
MIGGO
- 08-12-2010, 08:33 PM
soliddragon
- 08-12-2010, 09:01 PM
Full Metal XL
- 08-13-2010, 04:05 PM
Recent Blog Entries by MIGGO