You Know What Grinds My Gears?

926


views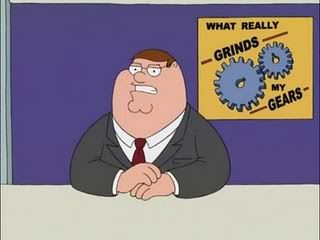 People at the gym that make weird noises when they're lifting weights.
WTF is wrong with people? I can understand if you inhale or exhale air loudly but not when you make weird noises with every single rep. It pisses me off and messes with my concentration. Some people are so loud that even with the volume on my iPhone all the way up I can hear them.
You know what else grinds my gears?
People at the gym who just go hang out! WTF is wrong with you people. There was this girl the other day there with her friend but she wasn't going anything. Her friend was on the treadmill and she was just standing next to her not doing shit. Then they proceeded to do some weight training and she was just looking at her friend. Every time I go to the gym there is someone not doing much just using up all the equipment that other really want to use.
So that's
What Grinds My Gears!
| | |
| --- | --- |
| Comments (Total Comments: 20) | |
AlexLeSage
- 10-11-2010, 05:52 PM
dannyox718
- 10-11-2010, 05:55 PM
SeanNOLA
- 10-11-2010, 06:19 PM
Lyricsborn
- 10-11-2010, 06:28 PM
eliter1
- 10-11-2010, 06:34 PM
the_punisher
- 10-11-2010, 08:57 PM
AlexLeSage
- 10-11-2010, 09:14 PM
wune
- 10-11-2010, 09:57 PM
lilytrabbit
- 10-11-2010, 09:58 PM
lilytrabbit
- 10-11-2010, 10:00 PM
chopper731
- 10-11-2010, 11:17 PM
Wolfkin
- 10-11-2010, 11:56 PM
fastdiver82
- 10-12-2010, 02:55 AM
UjnHunter
- 10-12-2010, 10:05 AM
bgame2
- 10-12-2010, 11:47 AM
Wolfkin
- 10-12-2010, 12:29 PM
darkcecil32
- 10-12-2010, 12:55 PM
Baccano
- 10-25-2010, 03:20 PM
Recent Blog Entries by eliter1