| | |
| --- | --- |
| | |
JPizza

929


views
Don't know why my blogs have been food oriented recently, but receiving a new pizza menu today warranted another food post.
We received a new Domino's Pizza advertisement today and, aside from the pizza being super disgusting, it's also just another example of why we never really order pizza here.
First of all, before you click the image below showing the pizza, I would like to caution you... If you have any small children in the room, or if you or another viewer have a heart condition, please do not click this image.
On the other hand, if you are currently comfortably seated in a well lit room, have no medical concerns to speak of and have a strong constitution, feel free to take a deep, steadying breath, and click on the spoiler for the image.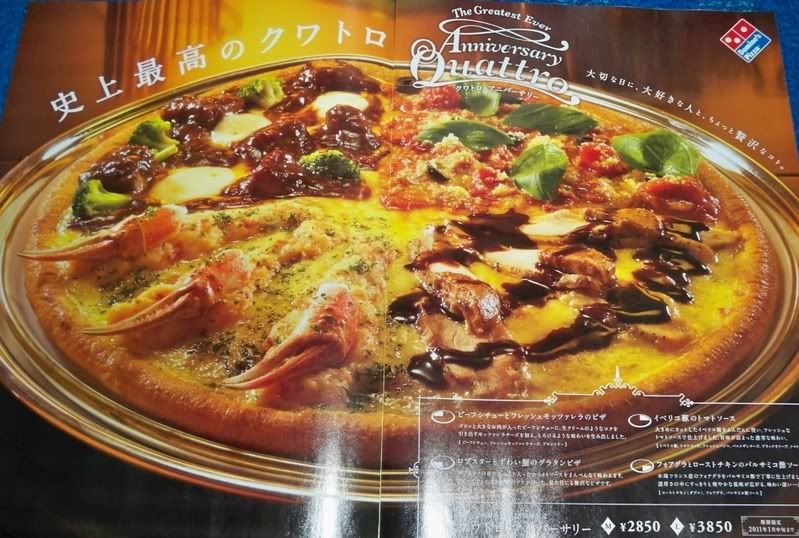 That's right... It's the Freddy Krueger of pizzas. If you can't finish it fast enough, it will finish you with a single swipe of it's deadly claws. Now, if that doesn't make you hungry, I don't know what will!

The worst part is, this monstrosity will set you back a pretty penny. Yes... You must pay for the privilege of having a pizza delivered that will tear out your jugular.

How much would you pay for that?

Well, let's say you only want a mini Freddy tearing you the
up... The mini Freddy, at 25cm (not quite the size of a 10 inch small in the U.S.) will only set you back $35.13!
But, if you are a big baller and want to go out like a pro, you'll splurge on the large! This bad boy is a warm 14 inches of circular death!
Only $47.43 and you can gurgle your last words to your beloved in 30 minutes or less.
Isn't it nice when even "junk food" is too expensive to eat?
| | |
| --- | --- |
| Comments (Total Comments: 25) | |
antlp89
- 11-04-2010, 03:13 AM
elessar123
- 11-04-2010, 09:02 PM
ManlyManLoLz
- 11-04-2010, 10:52 PM
ItsAMeAMario
- 11-05-2010, 09:41 AM
ZxT Vendetta
- 11-06-2010, 01:20 AM
Recent Blog Entries by dv8mad