| | |
| --- | --- |
| | |
The Missing Ingredient in Homefront's Mood - Racism

948


views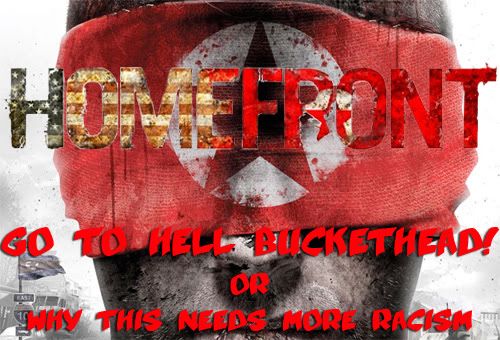 I'm half Korean and I just recently played through a large portion of the Homefront single player. I did a short blog about a humorous event in the game
here.
Let's face it, the game isn't the best game out there and right now it's not even the front runner for best shooter in 2011, let alone the first quarter of 2011. The single player campaign is pretty much by the numbers. Hell, it doesn't even look all that much better than games that came out 2 or 3 years ago. That said, it isn't the worst game out there and from what I've read, the multiplayer is the saving grace for THQ's highly anticipated invasion shooter.
I've read so much on the internet about opinions on how bad, or how inconceivable the story is. I don't care about all of that. KAOS and THQ took a chance on fairly original story idea. They went so far as to enlist John Milius of Red Dawn, Apocalypse Now and Conan the Barbarian, one of my all time favorite movies, fame to help script and direct the story. Is it way out there in left field? Yes, but at the time, Red Dawn was too. Though it may not hold up so well almost 30 years later, it was a pretty crazy idea back in '84. So, I can suspend some disbelief for this game because frankly, I like the idea of kicking some North Korean ass. Even though the Korea is united, I like to think that the Nork's as they are lovingly referred to in the game are the bad guys slaughtering American's wholesale in the streets of Montrose, Colorado.
There are some interesting moments throughout the game to be sure. The opening cinema where you are on a bus watching the KPA (Korean People's Army) herd, torture, and kill Americans with no remorse is a good way to incite some anger towards the enemy and establishing that the KPA are downright evil mother
ers. Having been picked on by Japan throughout history, I guess they finally took on their evil ways by the time they roll through the US. In all of the sadness and despair, there is a bit of humor, and unfortunately for the story in this game, not enough rage. Watching a toddler's parents blown away as they beg for their lives and seeing the KPA soldiers walk away callously is a striking visual, but it can't carry the load.
That's where the racism comes in. You see, every time a VC gets wasted in Battlefield Bad Company 2: Vietnam, a racial slur gets tossed out. But that's an online game and there while it fits the time period, it doesn't necessarily add to the game itself. Homefront needs the emotion. It needs the characters to show their frustration. Quite frankly, it just doesn't seem as realistic. I mean, think about what's happening here. A foreign country has invaded American soil and they are committing unspeakable atrocities to the American people. How can one not come to hate them? Seeing as we are all not robots, I just can't fathom how Nork is the worst we can come to know our enemy as in Homefront. Or that "I thought I smelled Korean BBQ" is as offensive as anyone will be, especially coming from the prototypical gruff tough guy character.
I realize KAOS and THQ probably erred on the side of caution when it came to offending people; after all, this is a business. I just feel that with something as edgy as this and with the preorders they had (guaranteed sales); they could've pushed some boundaries a little further. I'm running around with a group of NPC AI and I don't hear any, "Die $$$$s!" or "Eat that buckethead!" or my personal favorite after looking up racial slurs for Koreans, "Burn in Hell shovelhead!" Yes, we're pretty desensitized as a society to violence, racism, and anger, but to me, it just feels too politically correct and sanitized for what could've been accomplished in regards to Homefront's story.
My mom might not like the idea, but I'm okay with it. Some Koreans would probably dislike the idea, but then again, I didn't see a whole lot of fuss about a game where a unified Korea invades the US anyway. KAOS and THQ probably would've gotten some press out of it. These days, no press is bad press.
| | |
| --- | --- |
| Comments (Total Comments: 0) | |
Recent Blog Entries by mike.m