| | |
| --- | --- |
| | |
Better Late Than Never Review: Homefront

457


views
Better Late Than Never Review: Homefront


You got your Battlefield in my Call of Duty.
By now, most everyone knows about Homefront. It is yet another FPS in a very crowded shooter market on consoles (and PC) gaming. KAOS tries to create a game that will set itself apart from the other through the single player campaign and the multiplayer. It has its moments, provides some entertainment, and it will provide an alternative for multiplayer, but at the end of the day, itís just another shooter fighting for table scraps.
In the near future, Kim Jong Il dies and his son takes over. Korea unifies and by multiplying their weapons production. Various economic crises as well as instability in places like the Middle East have crippled the United States, making it easy prey for the new Greater Korean Republic to invade and assume control of everything west of the Mississippi River. If this sounds familiar, it should to anyone old enough to remember Red Dawn from about 25 years ago. Thatís why it made sense for KAOS to enlist John Milius as a creative director for the game. Yes, the premise is outlandish, but I can suspend my disbelief just enough for Homefront. I mean there are movies and games with even more ridiculous premises than this. The idea of fighting on our own soil is intriguing to me.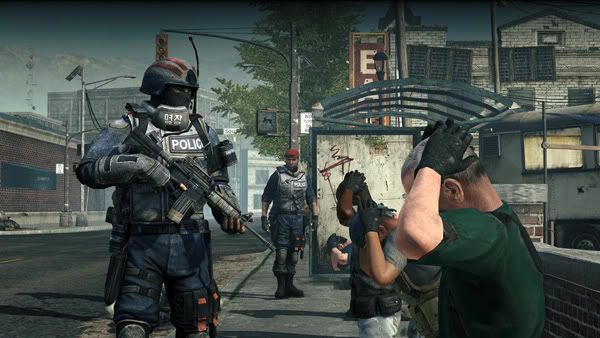 You play as Robert Jacobs, a former Marine pilot who is thrust into the Resistance fighting in small town Montrose, Colorado. You will take part in battles within the confines of a baseball stadium turned slaughterhouse complete with a mass grave, suburban neighborhoods with settlements hidden from the Koreans, and even the turning point of the war in California on the Golden Gate Bridge. Milius and KAOS create a solid setting for the US in the near future. There will be some moments in the game that may make you do a double take, but whatís largely missing is my emotional investment in the story. Iím just another dude with a gun with crappy A.I. partners serving as bullet sponges. My cohorts arenít any more memorable than any other random NPC thrown into a war game. I want my buddies to have heart and soul, like the charismatic war hero, Viktor Reznov in the Call of Duty series or the dysfunctional Bad Company from Battlefield. In a game that is largely fantastical in its premise, it needs something to ground you into the reality of the situations you face in the story. KAOS will use scenes in the story to make you angry or appalled, but without a clear antagonist or pushing some boundaries with racial tension (see my post about racism and the lack of it in Homefront), youíre just pissed off at a nation of arbitrary Koreans capturing and/or killing people you donít really know. The final stage is a nice finale, but the entire thing ends much too quickly. Youíll breeze through this game. That is unless you stop to look around in random corners for newspaper collectibles that unlock tidbits of history relating to the storyline. None of which youíll likely read while in the middle of play. The implementation of this is nothing more than a lazy way to round out the achievement list and it takes you out of the moments in the game. I hate collectibles achievements.
As far as gameplay goes, yes, it may as well be labeled a Call of Duty clone. You will jump, duck, crouch and lay prone, aim, shoot, reload, and melee with the exact same button configuration. The vehicle controls are set up like the Battlefield Bad Company series. I donít bemoan the fact that a developer may use the same control configuration as its most popular competitors. In this case, take the ideas from a couple of the best in the genre. It really is hard to take anything away from KAOS for going this route because if they tried to do something different with the controls, it couldíve ended up being awkward.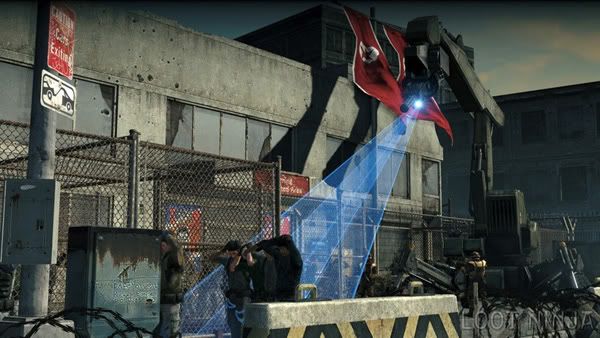 The campaign experience is not the meat and potatoes of Homefront. That is the case with too many games nowadays. Multiplayer is used to extend the life of almost every game, for better or worse. I donít doubt that KAOS wanted to make the best multiplayer experience they could in order to compete with the Battlefield, Call of Duty, and Halos of the gaming world. They absolutely wanted to make their mark and gain a foothold in the genre and I believe they may have carved out a niche, but they tripped themselves up and lost too much ground far too fast. They committed the most egregious error when it came to online gaming.
The network wasnít ready.
Homefront probably exceeded most sales expectations. Thatís why when gamers logged on to battle it out between the US military and the KPA (multiplayer takes place before the events in the single player campaign FYI), the servers couldnít handle it. Theyíve had to do a patch update to address issues relating to bugs and crashes within the first month of release, but the lag and matchmaking are glaring issues. I think it is sad that a game is more dependent on connectivity than skill. I am not naÔve enough to think that latency isnít a positive factor for a player in online gaming, but in obtaining 25 levels in Homefront multiplayer, I was never once in a game where I had more than two out of four bars of latency over Xbox Live. That is distressing because I have great internet speeds and connect and host much better to games like Black Ops. Of all of the games I played, probably 80% were with a single red bar of latency. You canít restrict or customize your matchmaking. You get thrown into random games and I have no doubt they are mostly foreign hosted games. If you are trying to get into games with multiple players in a party, good luck. While trying to get a four player party in a game, it took almost an hour to get the right mix of four players (out of about eight) to be able to get into a game together. This is just ridiculous as it kills the ability for gamers to play together.
Going back to that patch update that was supposed to fix freezing issues, all it did was make things worse for me. I didnít experience any freezing until I installed the update. I had to install the game to my hard drive in order to get the game to run properly. I shouldnít have to waste time and space on that, but thatís becoming a more common solution to problems with games lately.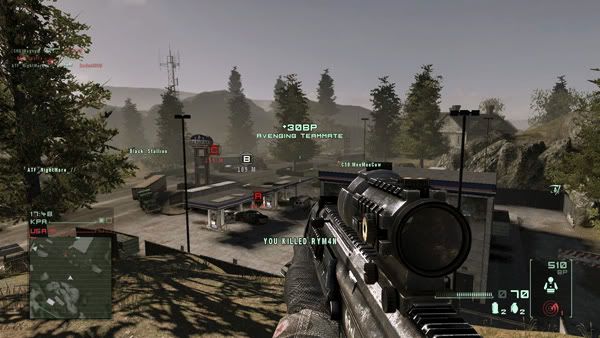 If it sounds like Iím dogging the multiplayer pretty hard, well, I am. The fans of any game deserve better. Companies are too eager to release a product that is by and large unfinished and make the consumer beta test a ďfinalĒ release. The problems with the games cause people to give up quickly and drive them away, most likely back to the old standbys. People can dog Call of Duty all they want, but the game works and it gives fans what they want. Thatís why they are continually populated long after initial release.
KAOS tries to mix up the familiar ideas prevalent in most shooters, hell, most games with multiplayer. You still rank up and unlock weapons, perks, and vehicles. You also earn battle points during gameplay to purchase weapons or vehicles instantly in battle. If you die and have enough points, you can respawn in a tank. You can buy body armor or an RPG on the fly. You have class slots to customize your weapons and perks. The obvious drawback of this system is getting your ass handed to you when you first start playing because people are higher level and have access to more devastating equipment than you do. Unlike Battlefield where vehicles spawn in certain areas and are accessible to anyone, the player calls in their designated vehicle. This almost penalizes a player for being low level, low skill, or on a really bad team. If the other team is calling in their tanks and helicopters, that most likely means your team is getting beaten badly. As you progress, youíll get better at getting kills and understanding what equipment and perks work best for your play style. Though they have different names, the perks are almost identical to the perks found in Call of Duty or Battlefield.
I think thereís enough going for Homefront that it has its own voice in the shooter genre, but it borrows from many of its peers.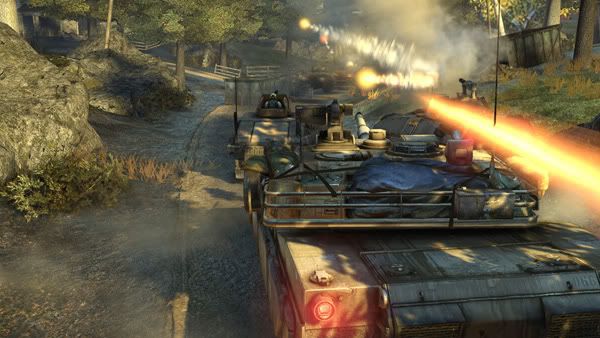 Call of Duty (Modern Warfare/World at War/Black Ops)
Experience system that unlocks customizable weapons and equipment as you rank up
Customizable classes to outfit specific needs for play style
Perks
Controls
Weapons and attachments
Battlefield
Vehicular controls and combat
Large open maps with varying settings and terrain
Ground Control game type equivalent to Rush and Conquest
Counter-Strike
The battle point system is a derivative from KAOSí previous game Frontlines, but it clearly resembles the equipment purchasing system from Counter-Strike.
I donít find fault in the implementation of these things if the multiplayer has content and is fun. Sadly, Homefront falls short again with a lack of depth in play modes and multiplayer maps. The Xbox 360 was lucky enough to get an extra map bringing the grand total to eight. The problem with that is they all feel so similar and the lack of choice of the map youíll be playing makes it seem like youíre playing the same few maps over and over. I do think they are designed well and they look great. Buildings and streets are littered with trash and debris. One level has you fighting in the middle of a city with a collapsed freeway. There is no shortage of places to camp or snipe from on all of the maps.
The play modes are restricted to Team Deathmatch and Ground Control and their Battle Commander variants. KAOS needed to come out of the gate with more than this, especially with a criminally short single player campaign. Ground Control has the two teams fighting over three capture points. Once enough points are earned by the winning team, the points change. The first team to score twice wins. Team Deathmatch is what we all know it to be. Battle Commander simply introduces a commander that calls out orders that most everyone ignores. Players on a kill streak (or a streak using the air drone for targeting) are called out and marked in the vicinity on your map. I actually kind of liked this idea. It adds a level of intensity to a game if you are racking up kills. With 32 players in a game, 16 on each side, that could be a lot of players gunning for you.
The multiplayer is surprisingly aesthetically pleasing, but it is hampered by the frame rate and connectivity issues. Many wonderful explosions, 32 players, and vehicles can be taxing on the single red bar connection in a game over Xbox Live. It just cripples your game and one hiccup and youíre dead.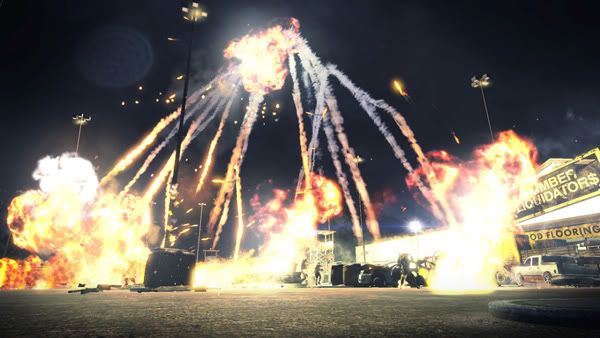 KAOS really tried with Homefront. Unfortunately, they missed the mark on so many fronts. Sales were good though and I have no doubt the immediate future of the franchise is safe. They simply most focus on improving on both sides of the coin for a sequel. Campaign must be beefier and must run smoother. I need more character development and possibly a distinct antagonist to invest emotionally in the story. They did a solid job with the look and feel of the setting. They need to push some boundaries if they want to cut into a more significant piece of the pie.
The multiplayer needs work. The servers have to work. The connections must be better. There simply needs to be more play modes and maps, though I would forgive that if the multiplayer just plain worked. Right now, connectivity over skill is a major problem and as much as I want to play it more, Iíd rather go back to Black Ops or Battlefield Bad Company 2. The problems aren't cultivating an online community. You'll see this on people's wanting to boost list, which is a shame.
I would love to score Homefront higher, but I really can't see how it is much more than average at best.


2.5 out of 5 stars
| | |
| --- | --- |
| Comments (Total Comments: 0) | |
Recent Blog Entries by mike.m