| | |
| --- | --- |
| | |
PAX Prime 2011: Gotham City Impostors and Lollipop Chainsaw

1272


views
The WB Interactive Booth was a crazy spiral of lines.
Batman Arkham City, Bastion, Dungeons and Dragons Online, some Harry Potter game, Gotham City Impostors and Lollipop Chainsaw.
I skipped the Arkham City lines because: Hey, I played Arkham Asylum and I know they're not going to intentionally screw up the sequel. All I knew of Gotham City Impostors (GCI) and Lollipop Chainsaw before PAX was that GCI looked like a knockoff TF2 with Batman, and Lollipop looked like
a remake for the west of Oneechanbara
. If you can't tell, the italics imply derision.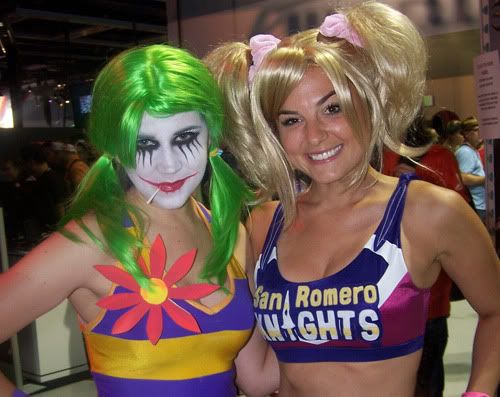 Lollipop Chainsaw is a lot like Oneechanbara, but not in a cheap budget title bad way, but an awesome rainbows and pom-poms way. The first thing I noticed was the rumble of the chainsaw. Every time you swing the chainsaw, you get a nice hit of feedback rumble that only increases when you're pulling off special moves with it. My favorite move has to be the bisection vertical slice, from crotch to crown that showers out gratuitous rainbows.
I really dig the way the game moves and can't wait to find out more about what the "Rock and Roll Lords" (What the booth person called them) have to do with the Zombie Outbreak. The humor seems on spot, James Gunn and Suda 51 are involved after all. Lollipop Chainsaw is definitely on my radar now, and hey and any game that gives out foam chainsaws at PAX can't be all bad.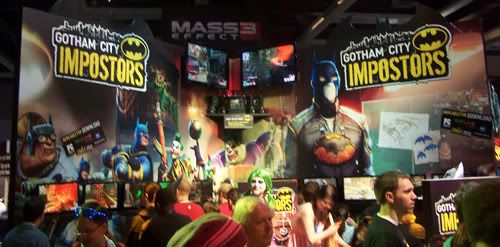 Gotham City Impostors (GCI) was another surprise. Definitely not TF2 with Batman skins. Body type determines speed and health (And probably other stuff, but hey, I only knows what I was tolds), weapons and items are freely equip-able by all. I liked how items actually provided effects, the cape lets you glide, roller skates increase movement, the grappling hook grapples... Yes, it's a team based shooter. CTF, Control Point, and all the familiar modes will probably be in there. What makes this different from the hordes of other downloadable team based shooter clones, isn't the Batman-themed window dressing. It's that GCI is actually decent.

It looks nice, plays nice, and offers a fair deal of customization. I'd go as far to say that GCI could have stood on it's own without the Batman-theme. Though I'm sure someone in management would tell me; with an established IP to base it on, the game is guaranteed to sell at a certain level.

| | |
| --- | --- |
| Comments (Total Comments: 0) | |
Recent Blog Entries by zenprime