| | |
| --- | --- |
| | |
Favourite Visuals in Video Games

681


views
This is complete opinion (complete with explanations), and also to get some of your opinions too on what you believe are great looking games and why.
My first choice for favourite visuals is Gran Turismo 5. Keep in mind, I've yet to check out Forza 4, I'm not sure how it compares to GT5. Personally, I don't think I've seen more photorealistic visuals in a game, ever. The attention to detail is unbelieveable, and the cars have a very sleek look to them, which I like.
My second choice would be Crysis. You may be wondering why I didn't choose Crysis 2, and the reason is just that Crysis was the game to raise the bar up about 12 notches, and was untouchable for quite a while. Crysis 2, whilst still amazing visually, isn't really that taxing of a game compared to what Crysis was when it first came out.
Candidate number 3 may surprise you, but this would have to be Devil May Cry 4. Whilst not the most graphically superior game, the environments are amazing to me which is a very large factor of a games overall visual score, I love some of the places you get to go to in this game (particularly the forest stages, they look beautiful in HD). The gothic look of the game is brilliant too in my opinion.
The first next-gen game I ever owned was Bioshock on the Xbox 360, and what a game to introduce me into the graphical capabilities of next-gen consoles. Rapture is quite a place to explore, especially when you get the opportunity to look out of windows and see the undersea business. The characters hands on screen looked absolutely amazing in my opinion too.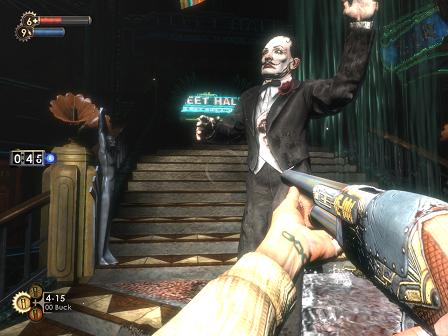 Honourable mentions:
Final Fantasy XIII (Not played it properly, so I didn't put it on the main list).
Tekken 4 (My personal favourite visual engine of the Tekken series)
The Legend of Zelda: Ocarina of Time (Environments alone).
Uncharted 1 & 2
The Silent Hill series (Not played too much of the games, but the entire idea of Silent Hill's environment is brilliant to me).
Metal Gear Solid 4 (Gorgeous graphics).
Mass Effect (Again, gorgeous graphics and brilliant visualisation of space).
The Halo series.
| | |
| --- | --- |
| Comments (Total Comments: 3) | |
panzerfaust
- 10-18-2011, 09:27 PM
Brownjohn
- 10-19-2011, 08:23 PM
lionheart4life
- 10-24-2011, 04:32 PM
Recent Blog Entries by Little-Wildman