| | |
| --- | --- |
| | |
NFL Blitz Demo Review (360)

By

budz

01-04-2012 04:56 PM

726


views
It's 1999 all over again!
It's a little weird (read: stupid) that this game is coming out 4 months after the season started, but here it is: NFL Blitz. Today I downloaded the demo... and, as a fan of the arcade classic, it's a little "out of bounds".
Not a Screencap from "The Dark Knight Rises" Trailer
Graphics
: They're great and capture the essence of NFL Blitz overall. Although they do look a little "Madden-like" instead of the steroid-fueled player models of yesteryear, The isometric view is still there and is still over-the-top in animations (although it is quite toned down in one area, but more on that later). Instant replays are there, but I feel that they bring down the game, even though they're not seen on EVERY touchdown. (Then again, I hate them on every sports game, even sim-sports. Maybe it's just me.)
Sound
: The original announcer (same guy from NBA Jam, awesome) is here, along with... some other guy (He's okay overall). They interact with one another, and helps limit the same soundbites you heard a million times in NBA Jam. Hits and powerup sounds are fine, and there's no stupid current-hits soundtrack that EA likes to do with every other game.
Admit it: Your First Thought was a Pat Tillman Joke Too...
Control:
Not what I expected.
On the offensive side, you spin move by hitting the RT twice, and juke with RT + X button. They work okay, but I wasn't able to effectively use it on the computer opponent during my time with the demo. You hike the ball with A button and pass to the flashing player with the B button. I (even back then) wish that I could have more than one option to throw to, especially now that controllers have dual analog sticks. It's a wasted opportunity, especially since even NBA JAM missed up their controls (which I like).
On the defensive side, you switch (randomly) with the B button, and dive with the A button. It's simple, and works fine, but I just wished that they considered the new Madden scheme where you can point to the player with the stick to pick him instead of wildly tapping "B" until you get the player you want.
You also control field goals and punts by a "back and forth, tap "A" at the right moment" meter. It works fine because I didn't appreciate the random "semi-automatic" field goals of the original Blitz, and although it's new, it still brings that arcade feel. Point afters are also still automatic, which is convenient as well.
Gameplay:
It's Blitz, for better or for worse.
Which team does Michael Vick play on again?
There's 2 pages of plays for the offense, and a whooping 1 page for defense. But you don't play this game as a defense playbook-simulation. You whip the long ball in this game a lot here. In fact, I didn't see a single running play in my playbook, although I saw the computer run a draw on me. (so confused...) But passing is fine by me on defense, as long as you beat the tar out of the wide receiver after the play... which you can't.
You see, in my opinion, they (EA, or the NFL, who knows?) omitted late-hits in this entry along with pile-drivers, German suplexes, and most of the other insane tackles of yesteryear.
Fun:
Since it's only the demo, I have no idea if the online-play or the Blitz-card single player is worth the price of $15. But for the main gameplay, it's okay. I would prefer this to be a $10 game (especially since it came so late!), but with no late-hits, even local multiplayer would be lackluster than what it could have been.
Bottom Line: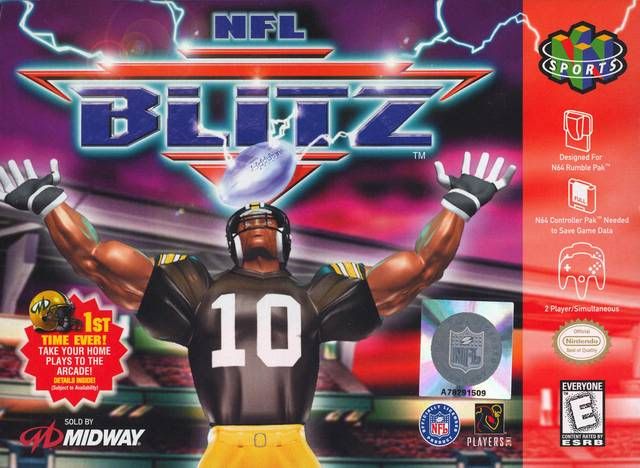 I Miss the 'Roids!
| | |
| --- | --- |
| Comments (Total Comments: 6) | |
4thHorseman
- 01-04-2012, 05:55 PM
mitch079
- 01-04-2012, 07:49 PM
CD6405
- 01-04-2012, 09:57 PM
budz
- 01-04-2012, 10:28 PM
radioactivez0r
- 01-05-2012, 08:34 AM
budz
- 01-05-2012, 08:15 PM
Recent Blog Entries by budz