| | |
| --- | --- |
| | |
Well, I'm off to Skyrim. See you in several months.

450


views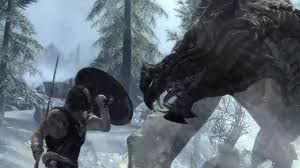 It may seem a bit presumptuous to make a blog post announcing to the world that you're about to start playing a new game, even if that game is a universally loved, epic, all but consensus Game of the Year. I mean, who cares what I'm playing, right? Right. That's not the point of this post, though, or at least not the main point. As I've been preparing to start Skyrim, I've been thinking about the idea of stepping outside of one's gaming "comfort zone", and wondering how often gamers do that. For me, there could scarcely be a game more outside my personal comfort zone than Skyrim.
I've never played any of the Elder Scrolls series, and in fact my RPG experience is limited to... well, let's see.... Mass Effect 2, the Zelda series, and that's about it. Some hardcore RPG fans might argue that those are RPG-lite, or may not consider them part of the genre at all. No, I'm usually playing 3rd person action games, platformers, racers, or sports games. And the occasional FPS or Fighter, just for variety. The other reason Skyrim falls outside my comfort zone, along with most RPGs, is the time commitment. Games that reportedly take 80-100 hours to fully experience are games that I generally avoid like the plague. I'm a very slow and methodical gamer, with 5-10 hours a week to spare for gaming on a good week. I can see Skyrim swallowing my gaming life whole until May or June, easily. To someone who would really like to make a dent in his ever-growing backlog, this is a daunting prospect. My wife gave me the gigantic Skyrim guide for Christmas. Just flipping through the introductory stuff about the choices to be made leaves me feeling a little overwhelmed.
I wonder how often my fellow CAGs are swayed by overwhelmingly positive word of mouth, and give a game a try even if it falls outside of what they're used to playing. I also wonder how many other CAGs have jumped into Skyrim from the same RPG newb point of view as me. It's a weird feeling, going into a game almost intimidated to even play it. Oh well, here goes nothing. Get comfortable, backlog. I think you're going to be here awhile. Oh, and I promise not to make a blog post about it when I finally get around to starting Rayman Origins or Forza 4.
| | |
| --- | --- |
| Comments (Total Comments: 4) | |
panzerfaust
- 01-24-2012, 12:41 PM
Shimrra
- 01-24-2012, 04:51 PM
Halo05
- 01-24-2012, 06:41 PM
Recent Blog Entries by Danimal