| | |
| --- | --- |
| | |
The Tragedy of YU-NO: The Girl That Chants Love at the End of the World

964


views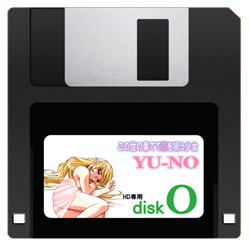 Don't copy that floppy!
First of all, I just want to mention that the hardcoregaming article is superbly written and details everything perfectly. I even jacked this image from that site. I recommend that you provide them patronage.
http://www.hardcoregaming101.net/yuno/yuno.htm
Spoilers ahead so be warned, though I doubt any of you have the patience to sit through this game anyway. I barely had it.
Yu-No is a visual novel. Or I can be honest and call it an eroge, the Japanese bastardization of erotic game.
At first I was skeptical of the whole visual novel/eroge genre, simply because I thought they were just games for people to get their rocks off. Certainly you can't get good storytelling out of them. Furthermore, they were in that anime style, and modern anime is terrible.
But... then I played 999: 9 Doors/People/Hours or whatever it's called. Of course over here it's called an adventure game because it sounds more acceptable. And obviously there's no sex in it. Still, it was a pretty interesting approach to putting story in a game, and it kinda warmed me to the visual novel genre. It's still not my favorite genre, as I actually prefer my reading to be nonfiction, but there's a couple of good gems in there.
Yu-No came out with a translation recently. This is one of the earlier visual novels, and it shows because there's even a monochrome mode. The concept is interesting, and there's a lot of cool theory about history and alternate worlds, which is perhaps one of my favorite topics ever. The last part of the game was a gripping 2-3 hour read, which put the entire game together and explained everything neatly.
Unfortunately, the sex ruins the game. And I mean it this time. In the last route of the game, you end up meeting your wife and having a daughter. Ok, ok, not so bad. But instead of the classic father-daughter bond that many guys can empathize with (or at least yearn for), it takes a turn for the worst as daughter repeatedly tells her father that she loves him...
And then you have sex with her.
WHAT THE FUCK IS WRONG WITH THE GAME DEVELOPERS?!
One of the things that brings the entire game full circle is the fact that that bond is the bond that saves the world, similar to Final Fantasy 8's ending and how the love enabled Rinoa and Squall to come back home and be together.
Father/daughter, I can buy that. Family is a great theme. Family made DQ5's story amazing.
BUT YOU HAD SEX WITH YOUR DAUGHTER
HOW THE HELL CAN YOU TURN FAMILY INTO SLUTTY ROMANCE
HOW CAN YOU RUIN A DECENT STORY LIKE THAT
I used to get mad 'cause I'd google YU-NO and end up with that silly "Y U NO" meme. I'm sure there's a Y U NO something something incest meme that's appropriate, but I'm so mad at the game that I'm just gonna assume one is there.
There's certainly a lot of cheap sex and cheap fanservice in the game, but plotwise it was tolerable since it didn't ruin anything. This one just absolutely destroyed the momentum and the good graces of the story. I just can't believe they'd put something like that in there, and I feel so betrayed that I was made to feel one way only for it to sink in a puddle of its own filth.
| | |
| --- | --- |
| Comments (Total Comments: 2) | |
JEKKI
- 02-06-2012, 10:02 PM
kainzero
- 02-06-2012, 11:57 PM
Recent Blog Entries by kainzero