| | |
| --- | --- |
| | |
How I Got My Playstation 3

3067


views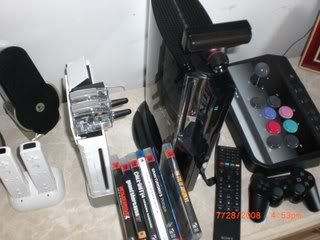 It was early July the Year, 2008. The sun is shinning as the birds are singing. Everything seems to be going exactly the way the earth has planned it to be. My son, (who is now 1) is going to turn 1 year old on the 8th of this month. My wife and I had already planned ahead of time to throw a huge 1 year birthday bash for him. As like any other party, we had lots of planning to do and items to buy! Exactly like any other plans, the confusion and frustration comes into play when one is seeking a different view than the other.
The problem escalated on the 3rd of July, 2008. My wife and I had an argument over me spending way out of our budgets and I blamed her for the lack of planning / helping me with the birthday party. The argument fast paced to a boiling point, to where she knew she had to leave or it'll get physical (not that I'm abusive). Blasting her way out the door with our son, I puzzled and thought to myself, .o0(what is her problem?) Coming back to my senses I went to my computer and continued working on the Birthday Invitation cards.
Meanwhile, approximately two hours later my wife came barging through the door and ASKED ME TO TURN DOWN THE MUSIC!? I replied, "hi honey! You like our new speakers?" Suddenly I was confronted with a rush of anger as I felt my stomach ache. She had struck me with her bare hands! What happened was Amazon had this deal on a Logitech G51 5:1 Speakers for $80 after a $40 mail in rebate. I had to jump on it, although she had deliberately told me not to buy it.
After that heated battle I had to get out of the house myself. I left to mall with my brother and his friend. Inside I was feeling really frustrated and angry. I knew I had to get her back! The only one thing I knew that would get her really agitated was to buy the Playstation 3 Metal Gear Solid 4 Bundle. Plenty of times my wife has scolded me about games . *quote from my wife* "Stop wasting money on GAMES!"
To be continued….... The End =(
Thanks for the great comments all. Every little tips help. I just want to reassure everyone that my wife and I are doing great and so is our handsome 1 year old son. Every relationship has it's struggle. In the past we've been through many arguments because our relationship was still blossoming. Yet we've manage to always come around and go to what matter the most, Our Family.
| | |
| --- | --- |
| Comments (Total Comments: 67) | |
PenguinoMF
- 09-02-2008, 10:00 PM
Roth
- 09-02-2008, 10:03 PM
distgfx
- 09-02-2008, 10:48 PM
darkslime
- 09-02-2008, 11:43 PM
Sparta
- 09-03-2008, 12:14 AM
SnatchMan
- 09-03-2008, 12:31 AM
JMEPO
- 09-03-2008, 12:42 AM
KingBroly
- 09-03-2008, 02:48 AM
Tsukento
- 09-03-2008, 07:10 AM
UjnHunter
- 09-03-2008, 10:00 AM
Chronis
- 09-03-2008, 11:08 AM
crunchewy
- 09-03-2008, 12:12 PM
cdrober
- 09-03-2008, 12:41 PM
woodcan
- 09-03-2008, 12:43 PM
daroga
- 09-03-2008, 12:50 PM
The Mana Knight
- 09-03-2008, 01:19 PM
smiggity
- 09-03-2008, 01:39 PM
supermodestmouse
- 09-03-2008, 01:59 PM
supraazn
- 09-03-2008, 03:05 PM