| | |
| --- | --- |
| | |
My Dog is Gone!

1112


views
Today was like any other day. I woke up around 6:30 am to get ready for school/work and left the house around 8 am. On the way out I waved to my 2 dogs, Daisy and Gigi, and said the usual, "I love you girls! Be good!" and then left.
Usually I get home between 5:45 and 6:45 pm depending on my class and work schedule. Today we had a meeting at work so I didn't get off until 6:45 since the meeting ran a little late. When my mom picked me up she told me that my grandma called her because my uncle called my grandma. Apparently my uncle, who live down the street from us, came over to pick up some bags he left in the backyard and also decided to clean the yard a little bit while he was here. He told my grandma that Gigi got out of the yard and when he tried to chase her down that she kept running and was now gone.
I was shocked and sad because Gigi is my dog Daisy's friend and even though Gigi is annoying sometimes I still love her and know that her and Daisy are friends. The reason why we even got Gigi is because my mom's old dog, Truffy, passed away last year and Daisy was lonely so we got her a playmate.
When my mom and I got out of the car we heard barking. It was Gigi! We were both happy because we figured that someone found her and somehow found out who she belonged to and returned her. I went into out gate and there she was, Gigi! Next I happily walked to our door and then realized that I must've missed Daisy in all my excitement that Gigi was safe. WRONG! Daisy was nowhere to be found!
It turns out that either A) my uncle mistook Daisy for Gigi and it was really Daisy who got loose or B) Gigi really did get loose, but someone found out where she lived and returned her, but then saw cute little Daisy and took her after returning Gigi.
A is my theory and B is my mom's. Either way, I don't care. Daisy is gone and now I'm extremely sad.
That sadness is also mixed with anger at my uncle because he never should had been at my house without us there and my guess is that none of this would have ever happened if he wasn't there. If he never came into the yard (which puzzles me because last time Gigi was here she barked at him and tried to bite him since he was a stranger so why the
would he even come over without us here) then Daisy/Gigi would have never gotten out of the yard.
Now I'm hoping that my fellow CAGs could lend me some advice about what to do in trying to find my dog.
1) Make a flyer and post it around the neighborhood. - I'm creating one right now and will make the copies at work tomorrow and then I'll post them.
2) Call the Humane Society/Look at their website - I'm guessing the HS is closed right now so I'll call them tomorrow and am looking at the website now.
3) Post a Lost ad on the Humane Society website. - Also working on that now.
4) Post a Lost ad on Craigslist. - Just signed up for an account and will be posting an ad soon!
Any other suggestions? They are greatly appreciated.
P.S. Some of you may be asking if my dog has tags. I do have some but they are attached to her collar and I only put the collar on when we leave the house such as for a walk or something. Obviously she was at the house when she was lost/taken so the collar was not on. Also, the reason why I don't leave the collar on all the time is because Daisy is tiny (< 5 lbs.) and the collar is heavy even for her and it must itch because she would always try to scratch at it or shake it off. Basically, I take it off at home for her own comfort.
Now for some pics. Daisy is a chihuahua and I love her dearly. Please avoid the usual "rat" and other similar comments.
Daisy as a puppy.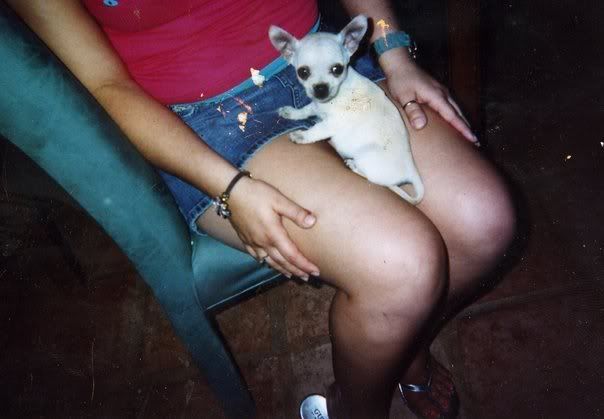 Daisy as an adult.
Adult Daisy and Puppy Gigi.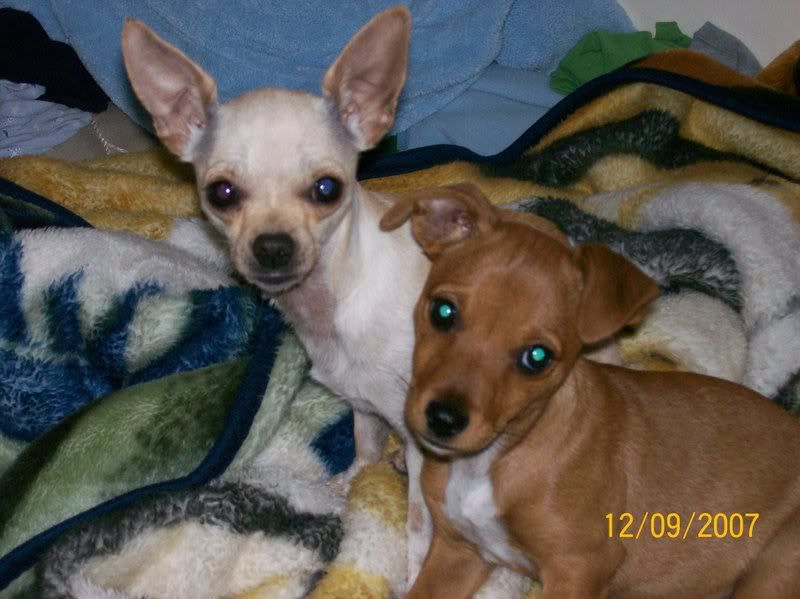 Now Gigi is about 3 times as big as Daisy, but I don't have any of those pictures on my computer yet. They're still on my camera.
I miss her so much!
| | |
| --- | --- |
| Comments (Total Comments: 10) | |
Chronis
- 09-11-2008, 12:20 AM
Layziebones
- 09-11-2008, 01:41 AM
Cleaner7
- 09-11-2008, 02:30 AM
yohsh
- 09-11-2008, 02:47 AM
bmachine
- 09-11-2008, 03:12 AM
mrs. shipwreck
- 09-11-2008, 08:12 AM
mrs. shipwreck
- 09-11-2008, 08:15 AM
Weedy649
- 09-11-2008, 07:59 PM
machoman_93
- 09-11-2008, 09:31 PM
Recent Blog Entries by Cleaner7