| | |
| --- | --- |
| | |
Persona 4 Hitting The States This Year! What Needs To Happen:

698


views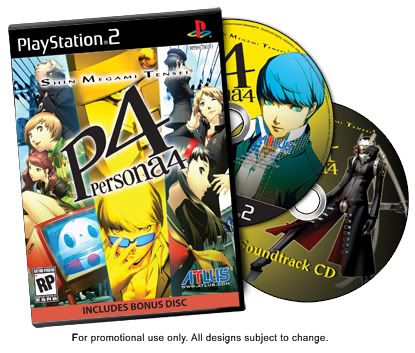 It's been rumored for a while now that Persona 4 would be released in the US before year's end, and as it turns out, that's absolutely true. According to
Siliconera
, the game is slated for a December 9th release, and it's a 2-disc set with a soundtrack. My hopes and dreams for Persona 4:
1) More than one dungeon. I loved Persona 3, but there was a
serious
lack of variety. After playing through Persona 2 a month ago, I really want to see a return to that approach to dungeon crawling.
2) More school! Going to class was easily one of the most enjoyable parts of Persona 3 - it was a fantastic idea. I want to see more - more activities, more involvement, more ways to work on social links - whatever. Atlus has an awesome gameplay concept, so they need to milk it for all it's worth.
3) More music. Persona 3 had approximately 4 music tracks in the whole game. While they were good, that's simply not enough. What happened to the inspiration Atlus found with Nocturne where there were at least 5 or 6 battle themes? We need that, especially with the sheer length of a Persona game.
4) Japanese voice actors. Look, Atlus, if you just throw in the Japanese voice actors instead of recording a ton of new dialog, you'll save money, still be in accordance with Sony's now-lax requirements for PS2 titles, and protect our ears from another Fuuka Yamagishi.
5) No FES equivalent. I just want to buy this iteration of the game and be done with it. The storyline needs to be complete rather than artificially lengthened by a 15-hour dungeon crawl. It's not like people aren't getting their money's worth after 60 hours of gameplay.
Of course, the game is out in Japan on July 10th, a mere five days from now, so hopefully the first three changes are in place. And hopefully Atlus USA will seriously consider #4. For the sake of us all.
| | |
| --- | --- |
| Comments (Total Comments: 13) | |
Nibi
- 07-05-2008, 11:05 PM
jer7583
- 07-05-2008, 11:18 PM
Chacrana
- 07-05-2008, 11:20 PM
Moxio
- 07-06-2008, 01:23 AM
Krymner
- 07-06-2008, 01:27 AM
Dark Slayer120
- 07-06-2008, 03:36 AM
Chibi_Kaji
- 07-06-2008, 07:57 AM
pete5883
- 07-06-2008, 08:16 AM
linkpwns
- 07-06-2008, 11:30 AM
Chacrana
- 07-06-2008, 09:24 PM
greydemise
- 07-06-2008, 09:28 PM
MarkMan
- 07-07-2008, 12:01 AM
Recent Blog Entries by Chacrana