| | |
| --- | --- |
| | |
Underrated Video Game 11 - The Legend of Zelda: Majora's Mask [N64]

2714


views
The Legend of Zelda series has spanned across multiple Nintendo consoles for over 15 years now, always attracting a bigger fan base with each game. But there is one very unique game out of the mass, one game that is very different then the others. And that is:
The Legend of Zelda: Majora's Mask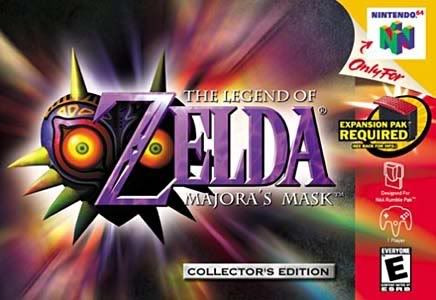 This game was released only 2 years after the Legend of Zelda: Ocarina of Time, one of the biggest games of history. Not only did OoT score near perfect ratings from every critic, but it set a gold standard of Zelda games that all fans wanted future games to follow.
SO when Nintendo announced that a new Zelda game was coming out so soon after OoT, fans everywhere were pshcyed! What many of them got though, was not what they expected at all, in fact very far form what they expected. The OoT follow up they wished for wasn't there, instead, they got Legend of Zelda: Majora's Mask and its about as different as you can possibly get without changing the core elements that make it a Zelda game.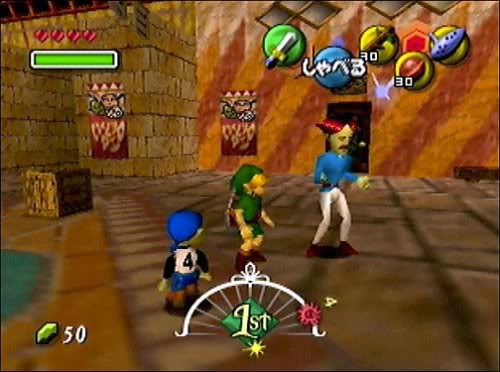 This game takes place after the events in Ocarina of Time. Link finds himself in a parallel world that has many similarities to Hyrule. This land is called Termina and at the center of it all rests Clock Town. It is here that a huge clock keeps track of the time, which happens to play a very important role in this game. You see, in just three short days the moon will collide with the planet and destroy everything in its path. It is up to Link to find a way to stop this catastrophe from happening. To make matters worse, a mysterious Skull Kid has acquired the mystical Majora Mask, turned our hero Link into a Deku Scrub, and stolen his magical ocarina. Thus, Link's new adventure begins in a strange land with a strange body and with the clock steadily counting down the hours until the end of the world.
TIME is the key focus of the game. Just like in the film, Groundhog Day, the days repeat themselves. Over the 3 day period you are free to do whatever you please, but before the 3rd day ends you must literally go back in time using the ocarina to avoid a certain lunar catastrophe. The concept is quite simple, but the execution really allows for a lot, and I mean a heck of a lot of variety.
The time affects everything in the game, from places you can access, to quests you can complete, and for the first time, you need to follow a schedule. You really will be overwhelmed initially; there's just so much going on at once, there's no way you can be everywhere at once... but as you play the game more, you will begin to understand the system, and then you can do it all! There are a ton of side-quests to experience and each one depends on certain circumstances. You have to be at a certain place, at a certain time, with a certain character present, or with a certain item on you. The variability is astounding (especially for a 20th century video game!) and you will lose track of the many tasks available to you.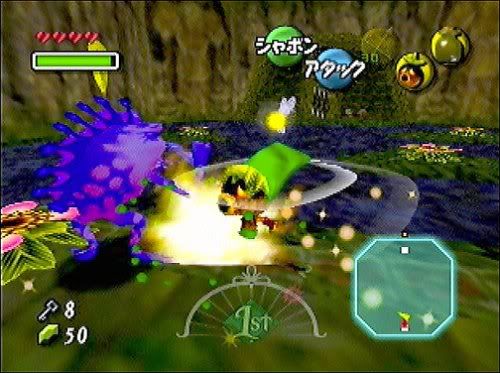 To help you organise yourself more, you are given the Bomber's Notebook early on in the game. This helps you track down what promises you have made, what items you have obtained, what things you have accomplished, everything really. This way you can focus on what you really want to achieve in a single 3 day loop. There's a lot of replayability to be had here. It is more fun than you imagine going back and doing things differently to generate different outcomes. With every action there is an equal an opposite reaction (Newton's 3rd law) and this concept applies here in every meaning possible.
With the time limit, some have argued that freedom is limited. I wholly disagree with this. Time does make you have to work harder. But you can slow it down somewhat to make each 3 day cycle last for about 2-3 hours; how much you should be playing at one time anyway! The inevitable disaster is something to make you stop with the dilly-dally in dungeons, but with what I consider to be the grand feature of the design, that is the multitude of side-quests, time is not a negative factor in any way.
So by now many of you are asking if this IS even a Zelda game?! Well, Yes it is. Even though there is a massive focus on non-essential questing, there is still the main adventure to go through. This consists of finding an item by means of talking/helping people or searching the land, and then using the said item to help you pave the way to your next destination. The major highlights are again the dungeons. Although there are only 4, a far-cry from all past Zelda's, they are just as challenging and rewarding to get through. They are also more engaging, and you will find they play longer then OoT.
But with just 4 dungeons, it seems quite short. Luckily, besides the masses of sidequests, there are an assortment of smaller dungeons. These are generally less taxing to the brain, and usually more action-packed (thumbs-up here!) And getting to and fro requires certain conditions, such as destroying that large, obstructing rock with dynamite, or finding your lost horse, Epona again. This equates to more overall time OUTSIDE, and I really can't see how this is a bad thing; you are not confined to dank, bland looking corridors too much, so I'm not complaining!
Besides the inclusion of time in this new Zelda game, Majora's Mask offers yet one more huge difference that may have turned OoT fans sour towards the game. This is the role collecting and using "masks" play in the game. It is an extension from the mini-quest featured in OoT, but now there are 24 masks in total to collect! Each one is also unique in their own way and they no longer are just a simple trading tool; by wearing them, Link gains a whole host of different abilities.
The 3 main masks allow you to transform into a deku scrub, a goron, and a zora. These transformations result in a brand new look with a brand new moveset to compliment. So essentially we have multiple characters to play as! Use of the different transformations will allow you to overcome obstacles you encounter. For example, as a zora your swimming is unsurpassed and you can easily navigate any ocean with ease. This adds more strategy of thought when attempting to solve problems (after all it is a problem-based game) and freshens the whole "use that item to unlock the next part" focus that Zelda probably overuses too much.
As for the other masks, there is no physical change, but they are still useful in their own ways. The bunny hood allows you to sprint (good seeing as Link moves slower than a deku in 3D), the great fairy mask helps with locating stray fairies within dungeons, and the postman's cap allows you steal stuff from mail boxes (bad link!) That's just a taste of things, and there's an individual purpose for each and everyone of them which makes collecting them highly satisfying, despite the fact that they are not essential for main game completion. They are helpful and make progression more un-linear and free than ever before.
As far as graphics go, Majora's Mask pushes N64 to its limit while utilizing the 4MB (required) expansion pak. The backgrounds and different locations are simply spectacular. While exploring around Clock Town, you get the feeling that you are exploring around a real town. As you take your first steps into Termina field surround Clock Town, you can see from here to forever. There is not a drop of fog to be found anywhere within Majora's Mask, and all of the scenery is beautiful.
All the Crazy and cooky characters and even more are back as well. With Majora's Mask offering More NPC's then ever before, everyone is surprisingly unique. While all the characters follow the cooky strange look that all Zelda games have had, the uniqueness of the NPC's is outstanding, allowing the player to really connect with the game.
The music in Majora's Mask is incredible and without a doubt one of the best soundtracks on the N64, with the correct timing and tone to affect the mood and feeling of the game. The sound effects are also perfectly timed and give a great sense or realism to the game. Also, the playing of the ocarina and other instruments in different forms sounds great too. The different instruments fit the different transformations of Link well. While the midis could stand to technically sound a little better, the quality of the music and effects overshadow this minor flaw.
Overall, Majora's Mask is a great game, but it is so different form any other Zelda game, that some may grow to hate it. Even though it uses the same engine that drove Ocarina of Time, and the gameplay is the same on the surface, the adventure is extremely different. In a way, its sort of a love or hate thing. I don't think you can just say this game is ok, thus why is was so underrated. Some will appreciate the game's differences, and claim this the best game of the series, while others will find the game's focus on minigames and side quests, and the constant time restraints as tedious and frustrating, and wish the game has never been created. In the end though, the game deep down offers and new and intuitive style of play, and while no OoT, is still very fun and enjoyable. Perhaps if this game came out before OoT, it would have got the recognition it deserves, but nevertheless, It is definitely worth a try from any Zelda fan if you haven't played it already.
| | |
| --- | --- |
| Comments (Total Comments: 8) | |
willardhaven
- 02-27-2009, 10:23 PM
Chuplayer
- 02-27-2009, 11:04 PM
pop311
- 02-28-2009, 01:27 PM
Chronis
- 02-28-2009, 02:07 PM
darkcecil32
- 02-28-2009, 02:51 PM
chewy35
- 02-28-2009, 07:37 PM
Recent Blog Entries by the_grimace