CAG SFIV Monthly Classic Tournament #1 [PS3 Tourney Mar 18/19] [360 Mar 25/26]

761


views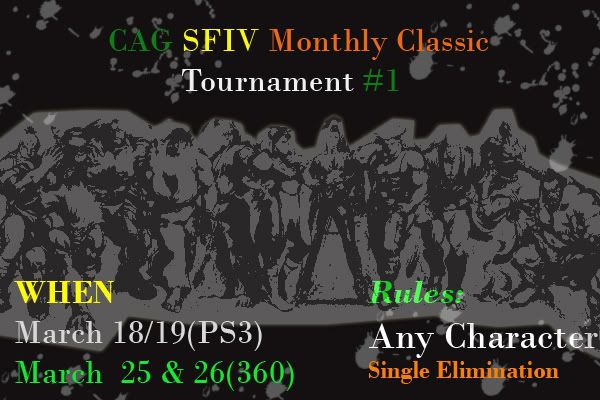 SIGN UP!!!!!!!!!!!!!
http://www.cheapassgamer.com/forums/...d.php?t=216447
Please we need people to donate prizes!
Anyone who donates Fighting Game Stuff or SF4 Promo Items as a prize will have their Trade Lists Featured On this thread and on the PMs i send out and on the next month's Tourney!
the cooler or "better" your donation is the bigger your trade list will be shown.
Already A set of Prizes from Chewy35!
Check it out He is donating 4 Volumes of this SF Manga!
http://www.amazon.com/exec/obidos/AS...eapassgam08-20
THanks Chewy35
| | |
| --- | --- |
| Comments (Total Comments: 5) | |
JEKKI
- 03-02-2009, 11:04 PM
Furashu
- 03-02-2009, 11:12 PM
DaddyBoJangles
- 03-03-2009, 09:47 AM
Furashu
- 03-03-2009, 10:42 AM
Furashu
- 03-03-2009, 01:29 PM
Recent Blog Entries by Furashu