| | |
| --- | --- |
| | |
Underrated Video Game 13 - Killer Instinct [SNES]

2253


views
Some of you may disagree with me on this one, and think it DOES suck, but nevertheless, I found this to be a very good fighting game for the SNES, and I think it deserves a little more respect. That said. I give to you:
Killer Instinct
A breakout arcade classic, Killer Instinct was the Rare/Nintendo entry into the competitive Fighter genre, back in the days of 16-bit consoling where Mortal Kombat and Street Fighter II were king. After several repetitive Street Fighter Alpha 2 Turbo-Mongoose-Editions and dozens of Mortal Kombats, each with even more vicious/bloody/ludicrous moves, Killer Instinct was a breath of fresh air with cool computer-generated graphics and a variety of fascinating characters.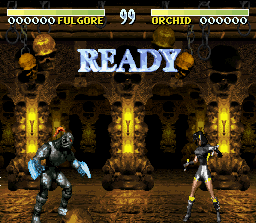 Killer Instinct had a thin plot, as most fighting games did, about an evil company holding a fighting competition, or something, I can't really remember. More importantly, it's great characters were all so balanced and interesting that the combo-based fighting was all the more fun. Individuality was the key - everyone had their own particular character to complement their style, be it the flame-addled Cinder, the howling Sabrewulf, or the huge robotic Fulgore, each character was balanced and truly awesome, including lots of unique moves for combat. Complete with a nifty back-story, there have never been characters more deserving of action figures.
The 3D graphics were rendered on a much more powerful machine than the SNES, then were ported over to use all the power that the mighty SNES could muster. They were worth it - the excellent polygonal characters and backgrounds are awesome, fully rendered in 3D with moves, blood and fatalities. This was definitely a much better and more realistic look then any game before.
The fighting system, and actually gameplay, although effective and fun, was flawed. Combo breakers were sometimes useless, which doesn't help against 21 hit combos and often makes for an unfair fight. Some moves were also unbalanced and made awkward by the slightly unresponsive control, and the game's difficulty got quite insane, but none of these are unique problems to the fighting games of that era. All the other fighting games had these problems even worse. And though not the type of system we would expect today, was actually quite good back then. The fatalities were also a mixed bag, with some truly strange and unimpressive moves thrown into the mix.
Originally, Killer Instinct came with a bonus CD, Killer Cuts, featuring the music from the game - this remains a popular item today, as the music in Killer Instinct was some of the best tunes ever featured in a game! Defining the fighting arenas, it went to show how much a great soundtrack can make a game more memorable.
Overall, for it's time, Killer Instinct was awesome (even with its faults), and was probably one of the most advanced fighting games of itís time. Though not perfect, it was definitely fun to play then and it remains fun to play now.
| | |
| --- | --- |
| Comments (Total Comments: 14) | |
Klank
- 03-03-2009, 10:47 AM
joshnorm
- 03-03-2009, 11:06 AM
doctorfaustus
- 03-03-2009, 11:57 AM
smoger
- 03-03-2009, 12:20 PM
johnnypark
- 03-03-2009, 12:36 PM
Blackout
- 03-03-2009, 12:57 PM
Chronis
- 03-03-2009, 05:42 PM
VidPower
- 03-03-2009, 08:23 PM
Wingwright
- 03-04-2009, 12:29 AM
basilofbkrst
- 03-04-2009, 02:30 AM
kilatofu
- 03-04-2009, 02:41 AM
soliddragon
- 03-04-2009, 09:12 AM
UjnHunter
- 03-04-2009, 09:55 AM
DarkKenpachi
- 03-05-2009, 04:03 PM
Recent Blog Entries by the_grimace