| | |
| --- | --- |
| | |
Lulu's Dating/Ex-Dating Life: Birthday edition

798


views
Thursday:
My marvelous boyfriend came over straight from work which means he's icky dirty from working at the port even if he is supposed to be a desk worker. I made sure to wear a cute little number so he would be particularly glad to see me.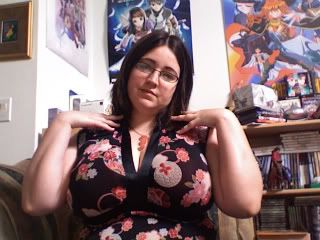 We went out to eat immediately to this little Irish pub where I had this Steak Foccacia sandwich which was to DIE for. I am beginning to think the Irish pub can be our lil place to go. We also went to a comic shop and a movie store.
We came back to my place where we took our first shower together. Yeah it was awesome. Though we were taking a long time so I know my water bill is going to be through the roof now. It was hot as hell though. My former boyfriend never enjoyed showering or bathing together. So it was nice.
This led to other activities. But surprisely I couldn't get him done. It was the first time we did things at my place so I guess it was unfamiliarity with the environment or something.
We then watched Dane Cook until bed.
Friday: We woke up late and I was horribly indecisive on what clothes I needed to bring to his dad's house. I could just feel his irritation. *sigh* I really didn't mean to make him irritated. Anyways I was feeling quite sad because I managed to upset him. I was hoping my cuteness could get me out of this one and it did once we got to his place. I certainly made up for the night before on this one.
We picked up his mom at the airport and went to dinner with her and took her home. Then we went to his dad's and watched Semi-Pro O.o
Saturday: I helped stain the outside wood planks on the house. I lasted three hours working and then went inside while he spent the whole say staining. I felt bad but I warned him I wouldn't last outside long. I took a nap and then went back outside to help for 30 minutes because I didn't want to get burned. I actually managed heat exhaustion anyways because I'm such a frail flower
. His dad and step mom cooked a great dinner and had bought me a birthday cake. I had only met them once before and they did that for me. It was so sweet.
Sunday: I woke up and was greeted with a hug and birthday wishes from my boyfriend. It made my day. It really did. I would have ended the day right there to end it on a high note if I could. Well, we went back to Tampa and stopped to pick up shoes for him (since the stain ruined his). I found some great Sketchers on clearance for myself. We then went to the mall where I got Scrubs Season 1, Psych Season 1 and Scrapped Princess. Lastly I found a used copy of FFTA2 at Gamestop. The mall was good fun. We came back to my place to find my class pet, a hamster, had died with a clean cage, full food dish and full water. I have no idea what happened. It was sad but my boyfriend shook the hamster and that image is forever going to make me laugh. So we threw it cage and all in the dumpster. My room-mate, the bane of my existance, did not give me birthday wishes, instead asked if his friend could come to my birthday dinner. And then proceeded to leave to go get orange push pops for some reason. While he was gone, my boyfriend and I took full advantage of it.
Birthday dinner: We went to Outback. It was my boyfriend, my room-mate, his friend, my ex- room-mate and my best friend. My best friend was an hour late. My room-mate ignored me. My ex-room-mate got huffy when I asked what he wanted us to do with his stuff. My boyfriend left early because he wasn't feeling well. So imagine a large round table with seven seats. I have a chair empty on both sides. My ex-roomate is a chair away from me ignoring me. My room-mate is a chair away talking to his friend and made plans to see a movie afterwards. My best friend is directly across enjoying the company of the two next to him.
Yep, I felt extra special.
After dinner I returned to my place with my best friend and ex-room-mate. We tried playing a game but I just was not into it so we talked for awhile.
My weekend was wonderful with boyfriend... miserable without.
| | |
| --- | --- |
| Comments (Total Comments: 5) | |
lordwow
- 07-07-2008, 12:41 PM
AngellicLulu
- 07-07-2008, 12:49 PM
manthing
- 07-07-2008, 01:28 PM
lilboo
- 07-07-2008, 02:15 PM
AngellicLulu
- 07-07-2008, 04:49 PM
Recent Blog Entries by AngellicLulu