| | |
| --- | --- |
| | |
Who Am I?

857


views
Who am I? Ever bothered to ask yourself that question?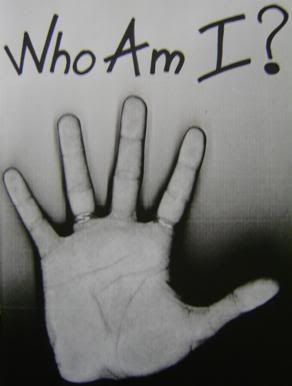 I hadn't, until just recently. My whole life, I have lived for my hobbies. Whether it be video games, aquarium fish, tennis, or anime, I have always placed my hobbies on a pedestal, devoting the majority of my waking hours doing them, talking/writing about them, or just plain thinking about them. They have given me something to do in my free time, helped me to relax, and most importantly enjoy my life, to an extent. However, as I enter into my college years and get closer to graduating into the "real world," I have to wonder: Will my life always be like this, revolving around my hobbies, or will I eventually find a deeper, more meaningful reason to live? I'd like to think that I'll one day magically find one, but I know nothing is going to happen unless I make it happen. And I don't think I'll find true happiness in life until I do so.
My introversion is a big part of the problem. As a kid, I had no trouble making friends and enjoyed their company. However, as I grew older (starting with my elementary school years, and taking a drastic turn for the worst during middle school) and for reasons unknown, I became less and less sociable, more reserved and withdrawn. I was more self-conscious about everything, and school became a little less than torture. I treasured any time when I could be alone, or at least at home, away from everyone's criticisms (that really didn't exist, but I thought they did anyway). During these times alone, I turned to my hobbies and became completely absorbed in them.
Obsessed
, even. Although I have been able to break out of my shell somewhat, I am still living a material life, centered around petty activities with no real purpose other than temporary satisfaction. To be honest, it feels like a pretty pathetic existence.
Right now I feel like an empty shell--nothing more than a collection of interests, easily influenced by what others think/say. I have no sense of who I really am as a person. And it took me 19 years to realize this.
| | |
| --- | --- |
| Comments (Total Comments: 10) | |
PrarieD0G
- 08-07-2009, 06:14 AM
the_punisher
- 08-07-2009, 11:01 AM
PrarieD0G
- 08-07-2009, 03:06 PM
the_grimace
- 08-07-2009, 05:41 PM
IRHari
- 08-07-2009, 07:57 PM
Chronis
- 08-07-2009, 08:12 PM
mitch079
- 08-08-2009, 12:50 AM
PrarieD0G
- 08-08-2009, 01:07 AM
Jest
- 09-17-2009, 06:59 PM
Recent Blog Entries by PrarieD0G