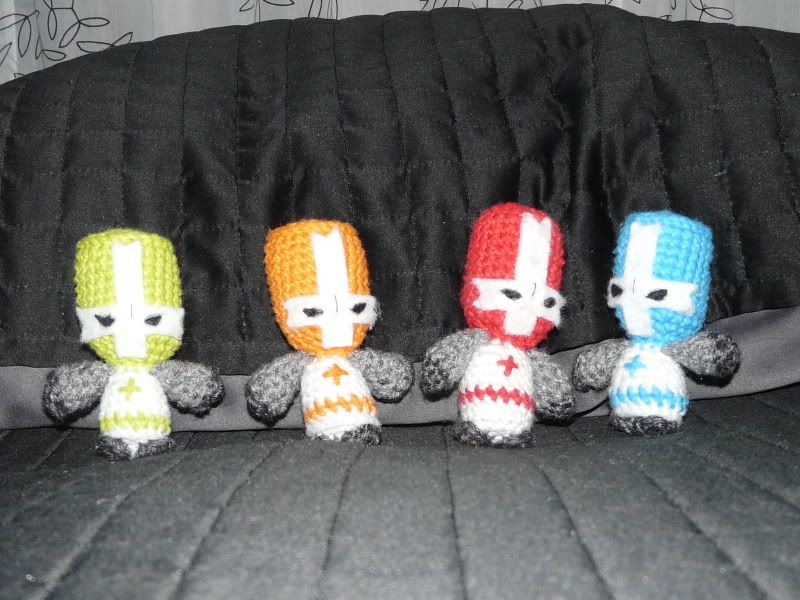 My sister likes to crochet, and she made these awesome Castle Crashers characters for me for Christmas. They're much cooler than the expensive plastic cast figurines on the behemoth's site IMHO.
Just thought you guys would like to see them.
Oh and she made it even better by wrapping it in this pedophile Santa Clause bag (pedobear even showed up, taped to the back of the bag!)
Merry Christmas/Happy Holidays everybody!
There are quite a few games that I would love to play, but don't really want to buy. Because of this, I've been thinking about getting Gamefly.
I know that many CAGs are gamefly subscribers, so hopefully I could get some advice on whether or not I should bind my soul to a contract with Gamefly.
Overall, is the service worth paying for? Are you satisfied with it? Could you do without it? 1 or 2 games?
Also, any deals/promotions would be sweet...
Thanks
As many of you know, Rock Band 2 shipped was shipped with a promise of 20 free songs by the end of the year. These 20 DLC songs would boost the RB2 setlist to over 100 songs!

Since Rock Band 2 came out, I've been waiting for the official list to be announced and wondering if any of my favorite songs would be included.

Well, the list was announced and it was a shocker. For anyone who was expecting to rock out to 20 more rock classics, be warned. This pack features only songs by not-so-known artists. In fact, I wouldn't be surprised if the majority of people didn't know any of the songs.

Here is the list:

The 88 - "Sons and Daughters"
Authority Zero - "No Regrets"
Between the Buried and Me - "Prequel To The Sequel"
The Cab - "Bounce"
The Chevelles - "Get It On"
The Cocktail Slippers - "Give It To Me"
Dealership - "Database Corrupted"...
I can either buy it on Xbox360 or Wii.

XBLA will give me achievements (and therefore more replay value), but WiiWare will let me use the classic controller or NES style Wiimote (superior to the 360 controller for this type of game).

Im not sure which one sounds better. I suppose I'll wait and download the XBLA demo to see whether or not the 360 controller works well for this game.

I can't make up my mind. What system are you buying Mega Man 9 for?
I can't believe that I lived through the SNES era and never played Super Mario RPG. Being exposed to hundreds (thousands?) of rabid fanboys claiming this game as the second coming made me wonder what I was missing out on. When it was finally released on Virtual Console, I was happy and bought it right away.
While it may not be the greatest game ever created, the game was fantastic. To be honest, I think that its a must play for anyone who is a fan of Mario, or RPGS in general. I enjoyed just about every minute of it. ( I still think that Thousand Year Door was better, but that's beside the point)
Also, I now see why everyone whined about Geno not being in Brawl. He would have made a cool character...
And thank God that Nintendo didn't re-use (abuse) the character Boshi like they do many other characters(Birdo).
Bondage...
In case you didn't read my last blog, let me sum it up:

My 360 HDD broke last Saturday. I called MS and they offered to replace it for free. I was to ship them my broken HDD, and they would mail me a brand new one.

The thing is, I couldn't send them my broken HDD until I got a mailing label emailed to me. The email was supposed to come on Monday, but it never did. I waited patiently and finally called them about it today.

Good news.

The lady told me that my new HDD was already processed and shipped on Monday. She told me to expect 7-10 business days.

I'm pretty excited for several reasons.
1. I will be getting my HDD much faster than expected. I was expecting a month without it or something.
2. I may get it sometime next week. Next week I have vacation off of work and school, so I was pretty dissapointed in the untimely death of my 360 HDD. Now I may have some quality gaming time with my 360 during...
Yesterday, while rearranging my entertainment center, I accidentally dropped a small square piece of wood (about 1' x 1' and no more than a pound in weight) on top of my 360. The wood fell from about 6" above the Xbox.
Now when I try to play with the HDD attached, I get an error message (E68) and one red ring.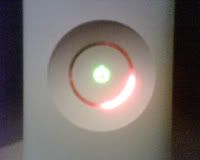 Without the HDD on, the Xbox plays perfectly, but I obviously have no gamertags, downloads, or saves.
I called up MS, and they are going to replace my HDD for free. Of course that means that I'll be without my Xbox for a while. I was planning on playing a ton of games next week too because I will have more free time than usual.
I know it's my fault for dropping something on my Xbox, but it was hardly destructive. If I would've dropped the same thing on ANY other system, nothing would've happened. The Xbox is very fragile...
Anyway, thank god...
No matter how hard I try, I can't get into this game.

I really wanted to, but I quickly get bored every time I play. I realized that I'm only playing to finish the game and not because I enjoy it, so I am giving up.

I can't even put my finger on what exactly is missing either. And whats funny is that it seemed like my kind of game. Every article I read praised the game for its setting, narrative and RPG elements. Why I wouldn't enjoy a well-reviewed scifi RPG by an acclaimed developer is beyond me. Its by all means not a horrible game, I just personally can't get into it.

Surely I'm not the only CAG underwhelmed by Mass Effect...

Perhaps some day in the future I'll get the urge to play, and I'll finally finish Mass Effect, but until then I have too many other games to play.

Speaking of other games, I'm off to play Castle Crashers...
As many of us know, Rock Band 2 is coming out soon! The game will feature 84 tracks on the disc and Harmonix has promised 20 free DLC tracks to follow!
Here are 20 random songs that I would LOVE to see (for free)!
1. Muse - Knights of Cydonia
2. Billy Idol - Rebel Yell
3. Slough Feg - Tiger! Tiger!
4. David Bowie - Rebel Rebel
5. The Darkness - I Believe In A Thing Called Love
6. Foo Fighters - Monkey Wrench
7. 311 - Omaha Stylee
8. Kamelot - Forever
9. Led Zeppelin - Immigrant Song
10. Michael Jackson - Beat It (you know you would want this!)
11. The Smashing Pumpkins - Tonight, Tonight
12. The Sword - Fire Lances the Ancient Hyperzephyrians
13. Twisted Sister - We're Not Gonna Take It
14. Quiet Riot - Cum on Feel the Noize
15. The Strokes - Heart In A Cage
16....
After seeing Nintendo's underwhelming press conference, I began to wonder what it would've taken to impress me. They could've easily impressed me (and many other gamers) with a few mentions that were nowhere to be found. Here are some things that would have got me excited about owning a Wii.



A NEW IP

- We all love Mario, Zelda and Metroid, but those games have already been made on Wii. I always look forward to what new games Nintendo has to offer each generation. The Gamecube brought us Animal Crossing and Pikmin. N64 brought us Smash Bros. It would have been great to see a new IP for Wii. I know that they are making Captain Rainbow, but who knows if that will even make it to the states... Show me something new Nintendo!



A "AAA" WIIWARE GAME

- I was very impressed with the XBLA announcements this E3. Just to name a few, they are getting Banjo Kazooie, Castle Crashers, Braid, Geometry Wars...