Uncategorized:
Entries with no category
| | |
| --- | --- |
| | |
What's the difference between love and hate? Obviously, loving someone means liking someone and hating means disliking someone. But because love and hate are opposites, doesn't that mean in a way they are very much alike? People can fall in love with someone and after awhile begin to hate them, but still love them at the same time. You can love how something makes you feels, but hate the after effects. There is so many love/hate relationships, does that mean you can't have one feeling with out the other? Or does it mean you don't fully feel the emotion of love with out the feeling of hate as well? I'm at school, yeah I should be working on Photoshop,
you Photoshop, so boring! But I felt the need to write, I'm not sure why but when I am in school I usually feel like writing, but when I am at home and have free time I don't feel like writing... It's kind of crazy. I have so many things I want to express and write but for some reason I can't find the words to express those ideas, emotions...
W00t, they hurt pretty bad, but damn it hurt so good! xD
| | |
| --- | --- |
| | |
So the other day I watched a movie called, He's Just Not That into You since my sister wanted to watch it and I was pretty much amused by being on my laptop. Anyways, after awhile it started so I began to watch it. The beginning started out with a little boy pushing a little girl and saying she smelled like poo or something like that. Anyways, the little girl cries to the mother and the mother tells the girl that the boy did that because he actually likes her. And then it makes a good point that from then on, we are taught from a young age that guys are mean to use because they like us. Which was true now and then back in middle school, however as you grow up things change, guys can pretty much be assholes, just to be that, an asshole. The movie basically goes on about this girl who keeps getting dumped, with some good reasoning and how she's naïve enough to think that when a guy says he's going to call her, she thinks he actually will. The movie introduces a few asshole guys such as the...
On Monday, May 25th I went to a No Doubt W/ Paramore concert. It was a really damn good show! Gwen and Hayley looking gorgeous as always and both were energetic on the stage!! (See Below And Click On Link To See Whole Album)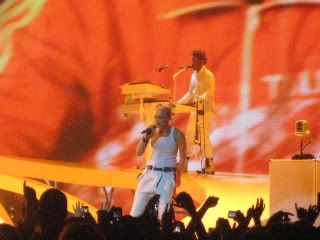 http://s5.photobucket.com/albums/y17...ubt%20Concert/
From Tuesday, May 26th to Sunday, May 31st I was in Colorado visiting. On the first day of my visit was the NiN|Ja (Nine Inch Nails, Jane's Addiction) concert.I had bought the tickets on NiN.com for pre-order sale and there for was able to get 2 GA tickets, one for me and my friend. Of course, for not a very cheap price, but 100% was worth it, beyond compare!! We were close, very close, it was orgasmic to say the least. Anyways, the opening band was Street Sweeper Social Club, I have to say they were AWESOME. They really got the crowd going and were great at interacting. Also,...
Here is part of a conversation I had with my friend Brad, we've been friends for a few years now and he is currently in Baghdad since he's military. Anyways I haven't seen him in a little over 8 months so I was telling him how I've gained some weight, got some new tattoos and what not. Anyways, here is part of the message after that:
(Side note: Anne is his girlfriend.)
[09:11] Brad: Uh, Even so. You're waaaay cute and you're personality is awesome. Plus you're kind of a nerd and thats hot. I wish Anne was a nerd!
[09:11] Crystal: Ugh... thanks
[09:11] Brad: Lol, yeah. Maybe a little too much anime, but other than that you're freakin' awesome.
[09:12] Crystal: Too much?
[09:12] Brad: And don't think you're fat either, you're just curvy
[09:12] Brad: Yes too much!
I know it was meant to make me feel better, but it just made me feel more like a loser! Plus even though I am a geek/nerd, people worth having around...
| | |
| --- | --- |
| | |
So, I'll start out on Friday 8th, after work I decided I would go with my little brother, little sister and my mom to the park. Before that though we decided to go eat, once we arrived at the restaurant we were approached by a cop who was telling us about how there will be cops inside the restaurant helping the waiters/waitresses and basically it was a "tip a cop" program, all the tips would go to cancer fund. (Yeah, pretty sad that cops have time to do this.) Anyways, so we go in and get seated. Our waitress comes up and asks for our drinks; still no cop has approached us. After 15 minutes we still have had no cops approach us and no drinks yet either. I began to notice that there are about 5 cops in the restaurant, the restaurant has only about 15 tables, not a very big restaurant but it does get busy. These cops are going around and giving roses and teddy bears to all of the woman who are with their kids or even look like they might be mothers. Still none have come over to the table....
There are multiple things I hate about the state I live in, Utah. I'm trying to think of where to even possibly start. I'll start alphabetically and see if I can come up with something for every damn letter of the alphabet. (Yes, I have a lot of free time at work today)


This is only for shits and giggles, I do plan on moving out of this state and am only doing this blog for mainly a joke! So please take with a grain of salt or stuff it up your ass either way, you know.


A - Alcohol
Utah has some of the weirdest alcohol laws, I have EVER seen, here is a few:
·Patrons may order liquor by the drink, wine by the glass or bottle, and beer in bottles, cans and on draft. Packaged liquor, wine, and heavy beer (over 3.2%) are available in State Liquor Stores and Package Agencies.
·Alcohol over 3.2 percent is available in State Liquor Stores and Package Agencies, but not bars. In commercial facilities, the time...
Okay, Because of my last blog we got on to subject of size differences between Japan and USA condoms. So I decided to do some online research and this is what I found!

These are averages.

Japan Standard Condoms ------------------USA Standard
Length - 170 mm ----------------------- Length - 194 mm
Width - 52 mm ----------------------------Width - 55 mm

Japan Large Condoms ---------------------- USA Magnums
Length - 180 mm------------------------ Length - 205 mm
Width - 55 mm --------------------------- Width - 60 mm

Japan XLarge Condoms ...
Do you ever wish we all had a switch that controlled our emotions that we could just turn on and off? I do and I want one right now! I'm having a pre-midlife crisis and it's the stupidest thing in the world. I'm too young, but I've always had issues with always thinking too damn much. It's always about work, what to do about school, my friends, lack of social life because I'm too busy and my way too strong of feelings for someone that I don't know if feels or will feel same way about me. It's all too much for my poor little brain even though most of it is out of my hands. It still irritates me! I hate the feeling that maybe I'm wasting time! Then again, I'm just bitching now!
In other news, here are the cutest freaking "dong bags" (as my friend would call it) ever! I bought these but to not use them actually....
...
So, today is my birthday, another year down the drain. You see birthdays are usually not a fun occasion for me, it's more depressing. I'm 23, single, I have never been married and have no kids. Now none of that is depressing actually. I'm an office manager and get paid shit, I don't have much of a life outside of work because of how many hours I work. I also went to college for a year and had to stop because of work and money issues. I have yet to return to college even though I really want to. I want to try to get back in with in the end of this year. So that part is depressing.

Let's see, I also still live in Utah, that's a big depressing issue right there. The boy I really like lives in a different state, doesn't know if he feels the same way about me and I have decided to not date anyone else until I get an answer. Which most of my friends tell me I'm crazy, but what can I say, I really like the guy. Now most of my friends are either in a relationship, married, have kids...
So, I had a pretty weird yet fun weekend.
Saturday I went to Utah Jazz VS Phoenix Suns basketball game. I am a HUGE Suns fan! Anyways, so me and my family went to the mall to get some new Suns gear. While shopping (Which I rarely do for clothes and what not) I found a new bag and bought it. (See Below) It's the cutest freaking thing.
At the game there were 3 pre-teen looking emo boys, about 2 rows behind me, yelling at me to shut up and throwing things at me since I was cheering for the team going against my states team. Finally, I turn around, gave a dirty ass mean look and said, "I swear to god if you don't knock it off, I'm going to go up there and kick your ass." A few minutes later they got up and left.
Sunday, I spent most of the day inside since we got about 6 inches of freaking snow that day. I ended up baking 2 cakes, one didn't come out pretty but...
So about a year ago, my friend was in dire need of money so in order to help her I sold my Nintendo DS and DS games to help her out!

Anyways, now I finally don't want to go on with out one! So where should I get my DSlite? I sure as shit don't want to pay extra to get a DSi! What the hell do I need a camera on my damn DS for?!? Well, anyways I am trying to decided where would have the best deals since I'll need to buy the DSlite and games for it again! Any suggestions?
So I was checking my email and saw that I had a new PM for this site, I had quit this site for one reason or another but wasn't sure how to delete it, anyways the PM was saying I should join Girls of CAG. That's when it clicked to me, I should do that! It's so hard for me to find other gamer chicks to play with and/or chat with! So in a way yeah, I'm back for the ladies! Anyone else, well, you're just not as high of a priority. <3
There's nothing funnier than talking to someone who accidentally writes in the wrong screen and sends a message to the wrong person. Here is one that happened last night to a boy I was talking to.

????@yahoo.com: oh thank you
????@yahoo.com: so how has work been lately for u
????@yahoo.com: hmmm
????@yahoo.com: if i know everything and am still here i will want u more when i get there
????@yahoo.com: just love ur body
????@yahoo.com: just take a few topless photos
????@yahoo.com: wrong screen
????@yahoo.com: that is my cousins screen
????@yahoo.com: sorry about that
????@yahoo.com: she was going for a movie shot and we was joking about boobs selling for film artists
????@yahoo.com: she is very self consious
????@yahoo.com: like most people
????@yahoo.com: u still there

Funny enough he tries to cover up his miss tell of the dirty message by saying he was talking to his "cousin",...