Sexytime:
Wut Da Internetz iz foar.
| | | | | |
| --- | --- | --- | --- | --- |
| 0 Comments | | | | |
You might remember CheapyD giving away these little Japanese "capsule" toys (also known as "gashapon") that feature the familiar sounds and themes of popular video games like Super Mario and Zelda.
Well, those of us with more...adult tastes might find these interesting. Capsule toys featuring the sounds of popular Japanese AV actresses! I found this one off of yahoo japan auctions, it's of my favorite AV Idol, Yuma Asami!
While the pic is hard to read, her sound bites include things like "More!", "Do it [for] me!", and "I'm lonely [for you]". Er, they probably sound better with her actually saying it rather than me typing it on some blog. :p
Lovely Yuma also has a new trading card set out in Japan right now, that I might talk about in a future post.
By

gunm

08-12-2008 09:14 PM
...is Haruka Sanada. Yowza.
(No nudity, but still NSFW I imagine.)
By

gunm

08-05-2008 09:58 PM
...is Mihiro Taniguchi! Or just Mihiro. Quite possibily the cutest whore in Japanese pr0n ever.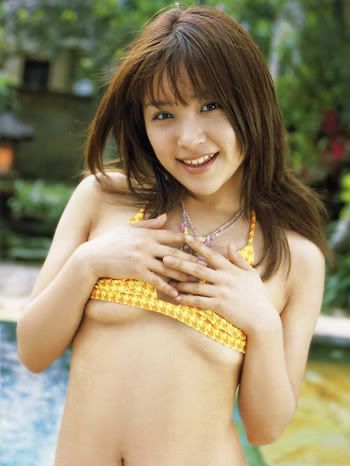 (NSFW)
By

gunm

07-22-2008 02:36 PM
...is Mikie Hara!
This chestacular honey actually plays a honey on Japanese TV. Cutie Honey to be exact!
If you like Bewbs, even potentially "enhanced" ones like Mikie's, then look no further. Well, ok, you can keep looking. I do. :p
BTW, I think Japan's bewb surgeons must be pretty skilled, considering such hotties as Aoi Sola and Aki Hoshino (each potential future babe o' the days here as well).
By

gunm

07-16-2008 12:53 AM
Today's sweet, sweet goodness of an AV idol is...Yuma Asami!
She presents herself on-camera as goofy and fun-loving--almost comedic...until the clothes come off and she becomes the manhood-draining fantasy whore you've always wet-dreamt about. One of the most popular AV stars in Japan as well as abroad, she has a new trading card set coming out in September.
I might talk about those AV trading cards in a future blog...I dunno...
We continue our ongoing series of Internetz Clutter with moar grrl pix.
Today we feature the young and cute Aino Kishi!
A former bikini model, Ms. Kishi made the fateful decision to enter the often strange and annoyingly mosaic'd world of Japanese pr0n, thus ensuring her greater financial opportunities as well as an even larger and scarier fan base than she ever had before.
Look, she has a PSP! And plays Monster Hunter Freedom 2G! <nerd alert>
If you like what you see and can
read Japanese
use a web translation tool, you can check out her
blog
to find out about such exciting personal details as her most recent meal and the blurry behind-the-scenes cell phone pics of the goofy cosplay photo shoot she did last week.
| | | | | |
| --- | --- | --- | --- | --- |
| 4 Comments | | | | |
By

gunm

07-03-2008 04:29 PM
In honor of America's birthday, here is Jaime Pressley in a bikini. Hey, she's Tina from DOA, so it's kinda game related.
No, I'm not doing this every day. It's just that blogs without pics are sad face blogs indeed.
Presenting my fave G-cup gravure idol...Yuuri Morishita!
| | | | | |
| --- | --- | --- | --- | --- |
| 8 Comments | | | | |