Media Reviews:
This covers Games, Movies, Videos, Books, and anything else that could be considered Media.
Eternal Sonata is a JRPG, originally released on the Xbox360 and later ported to the PS3. I played the PS3 version.
The story revolves around Chopin, a famous 19th-century pianist. The entire game takes place in his dream, moments before his death. I don't know about you, but I think its kinda creepy to be dreaming about 14-year old girls right before you die.
There are only two primary reasons to play this JRPG. The music, and the battle system. Do not expect a great story, cause you're not gonna find it here. What you will find is a wonderful score, with a peaceful, up-tempo theme highlighted with some of Chopin's own original piano pieces.
The most surprising aspect of Eternal Sonata is the battle system. It is a robust system, at its heart turn-based, but it incorperates enough elements of action and strategy to make the battles interesting....
I finally just finished my first play-thru of Final Fantasy XII (12). Overall, it was an enjoyable game. It certainly isn't the worst of the main FF series, but its far from the best.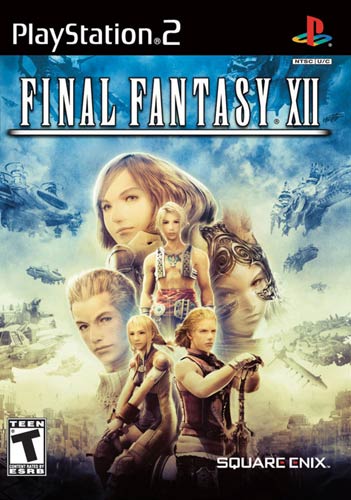 My biggest complaint with FFXII is Vaan. The main character, Vaan, was terribly undeveloped, moreso than any main character in any FF game in a long time. As I played the game in his shoes, I never overcame my feeling that he was just along for the ride; some street urchin whom everyone just picked up and kept like some lost puppy-dog. He really had no business traveling with the queen (Ashe) of a country, and why she even tolerated him to be in the group was never even explained. He really had no knowledge or training to be a sky pirate. It felt to me like Balthier took him under his wing because he felt sorry for him moreso than any innate talent Vaan had. Like, he was just there, so Balthier...
Being a fan of the Star Wars series of movies, I'm probably one of the few who actually liked the prequel trilogy. Yes, I do believe that it is nowhere near as good as the original trilogy, but I don't vomit like some at the thought of them. They've all got their problems, but as a whole, I find them entertaining and generally fun to watch.
I wasn't really too excited about George Lucas' newest project to expand on the Clone Wars saga with an animated feature film. Especially after seeing the animation style and hearing a little about the overall story, I was expecting a mediocre film geared more towards young kids. And that's pretty much what I got. There were, however, some things that really irked me.
First off, is the animation. Predominately, the whole movie felt like I was watching a video game cut-scene. And...
Continuing to count down the 10 best Gamecube Role Playing Games.
5. Gladius
(Lucas Arts)
Another multi-platform game (also on both PS2 and Xbox) as well as another SRPG. In this game, set in a world similar to ancient Roman times, you choose either a Roman-like male soldier or a Norse-like woman princess and take control of a school of gladiators traveling the known world and competing in tournaments. The graphics are sharp, but kinda dull and brownish and the music can get repetative, but the voice acting is done rather well, for the most part. What makes this game so fun is the gladiator tournaments. Similar to Fire Emblem, combat takes place upon a grid and gladiators take turns based around their speed and skills. The goal of combat isn't always about beating the other side in battle, but often challenges players to do things like "King of the Hill"...
I know, most of you are probably surprised that there really are 10 RPGs on the Cube, right? There's actually a couple more than 10, and maybe even more than that depending on what you consider an RPG to be. As far as this article is concerned, I will define an RPG to be something primarily dealing with controlling a "party" of individuals who "level up" by menu-based (or menu-driven) combat.
It should be important to note that these are just the 10 best
Gamecube
RPGs, and not really the 10 best period. Some of these aren't really all that great in comparison to other RPGs like Final Fantasy, but they showcase just what little the Cube has to offer.
10. Pokemon XD: Gale of Darkness
(Nintendo)
Yeah, that's right. I said Pokemon. This is a short and linear RPG where your party consists of a group of Pokemon you mostly steal from...
As a fan of classic black-and-white movies, I oftentimes find myself turning to the TCM channel to see what's playing. This morning, I was lucky enough to catch a wonderful movie I had seen years ago called
On Borrowed Time
.
This movie could have easily fit into an episode of the classic TV series The Twilight Zone. Based on a stage production, it is slow and wordy, but it has some great actors that really push the script to an emotional high.
Aging, wheelchair-ridden Julian Northrup and his wife Nellie have custody of his grandson Pud. After Nellie dies, Julian has to face the efforts of Nellie's shrewish sister Demetria Riffle to gain custody of Pud. But then Mr Brink, the angel of death, appears to take Julian. But instead Julian tricks Brink into picking an apple from the tree in his yard and then traps him up there. When Julian starts talking about Mr Brink, who...
So I've been watching this series over the past couple of months, and now that I've finally finished all 3 seasons, I can easily state how utterly disappointed I am.
And it isn't just the series itself. It's also how George Lucas went back and edited the series. You see, he wanted to make the series more feature-like, so the viewer would feel as if they were watching a movie. Well, since the episodes aren't feature-length, being for an hour-long TV spot, he decided he would make them feature-length. He did this in two ways.
One, he just took two episodes and crammed them together. Whether or not the two had anything in common or not.
And two, he would take a single episode and add some more content to pad the length. Oftentimes, he filmed new scenes for the episode, recalling some of the actors back to their roles. He did this several years after they had originally...