Uncategorized:
Entries with no category
After having the Hauppage recorder on my wish list for years, I caught wind of the new game capture device and talked myself into getting it. Perhaps it was the HDMI connectors or the fact it was a hyped and sparkly new product. I had put this off as a luxury item, but now decided it's a hobby item.
So now I'm deciding what to record and trying to find a good software for a beginner (with plenty of technical inclination) to edit said videos. I don't want to do commentary, but perhaps overlay another audio track or audio clips. For example, this fan made Legion tribute:
http://www.youtube.com/watch?v=cJA2O...t=HL1338569149
Suggestions on editing software would be appreciated. I'm also deciding what to record. I have two things in mind thus far. One was a Bioshock story vid, taking all the aspects of "Would you kindly?" and compiling them with the big moments like the Andrew Ryan confrontation and ending....
Hopefully some members of this group will see this blog posting and remember to jump online and start racking up the achievements. Don't be discouraged, we may not finish first, but I think there were prizes for the top 3 or 5 groups. So let's keep fighting the good fight here in Gears 3! I'm working on the 4 player campaign run on Hardcore, should be done today.
IMAG0182
by
PJL80
, on Flickr
October 2007 - October 2010. Even if I could find my receipt and information, I don't think they are going to honor a warranty.
.
I just had to charge a shitload of money yesterday too on my card. And now this happens. RROD. It doesn't show in the pic, but it's three rings, the lower left one got washed out on the flash. Crap.
I could wait for Black Friday to buy a new one with a bundle, but that's a month away and this was my main entertainment center. I streamed Netfilx about everyday, streamed music from my laptop, etc. I've been playing Reach, Dead Rising 2 and have AC:Brotherhood coming in a few weeks.
Help?
I've been in the system for awhile now. Saving, raising my credit score, speaking with bank loan officers to make sure my debt to income ratio is manageable. But as soon as I finished looking at houses this past weekend, I start to catch signs. NPR piece on the advantages of renting. This article front-paging Comcast's news section:
http://www.businessinsider.com/15-si...ollapse-2010-8
I need to get out of my current renting situation. The place is run down, I need to get away from my room-mate, and I want to move to an area closer to work and family.
Renting a place on my own would cost as much as a mortgage. I can't just crash on couches, I have pets who are coming with me.
Today was the day. I've had the same RAZR phone since 2006, and finally upgraded. I switched over to Sprint and picked up the Evo 4G. I've done light reading and asked co-workers about the best Apps, but I want to know what CAG thinks. Obviously, free apps are loved by us cheap-asses, but it's all about quality.
Any other cool tips, tricks or easter egg type things are also appreciated.
Thank you!
This will be a difficult concept for many of the young'ins I'm seeing flying through this site recently, but I turn 30 on the 15th of this month. I've been trying to decide on a venue, and based on the number of people who could possibly turn out my little apartment won't cut it. I'd like someplace where I could use oven ranges and still have some outdoors area for grilling and setting up tables to play cards.

I'm thinking it might actually split the day, since many of my friends now have children ranging from newborns to 5 years old. So I'd need this for the day and then probably post-game around some bars. Not sure, but it's coming up soon and people have saved the date but I haven't told them where we're going.

Help?
I'm trying to figure out how to begin the home-buying process. I'm admittedly very gun-shy about buying a place, but getting out of my apartment-living situation is long overdue. Now I know this is a deeply complex question with many factors, but I'm hoping to get a shove in the right direction.

The basics:
50K annual salary
22K current life savings


Car payments for the next 3 years, $350
Credit card debt, just under 4K (haven't been making minimum payment, more like $500 month)
School loans, 28K (had been paying this off ahead of time too...could keep this to $600 month)

I'm not sure how to budget some home expenses like insurance, heat, electricity. I've been splitting those bills in an apartment with a room-mate ever since leaving home. My phone and internet have been about nothing since I get monthly stipends for those from work. Health insurance is taken care of through the company as well....
By

Lord_Kefka

10-24-2009 09:35 PM

Updated by

Lord_Kefka

10-24-2009 09:36 PM

(Censoring my own f-bomb)
Chalk up another "we sold your preorder" for Borderlands. No copies at any nearby store either so I could use my credit.

So I'd like to join this train of "suck my balls Gamestop". Oh, and the Best Buy across the street says thank you for the business. Now off to play Borderlands.
Anyone want to explain Lockerz to me? It seems to be the hot button topic around here lately. I know there's some kind of referral system to it. So if anyone is willing to lay it out, explain why I should care and try to get at these prize feeding frenzies, I'll sign up under you.

P.S. I made this a blog because another thread seems redundant....blogs fly by pretty quick.
OK, I did the last one of these after a crappy day and today is no exception. My little Ford Taurus was no match for a side-swipe from a Hummer H3. :(
Exact same deal as before. Couple of pics (which I wish I could take better), too many notes and I go to bed dreaming of a DS remake yet again.
Now, the second and final edition!
Cyan Garamonde: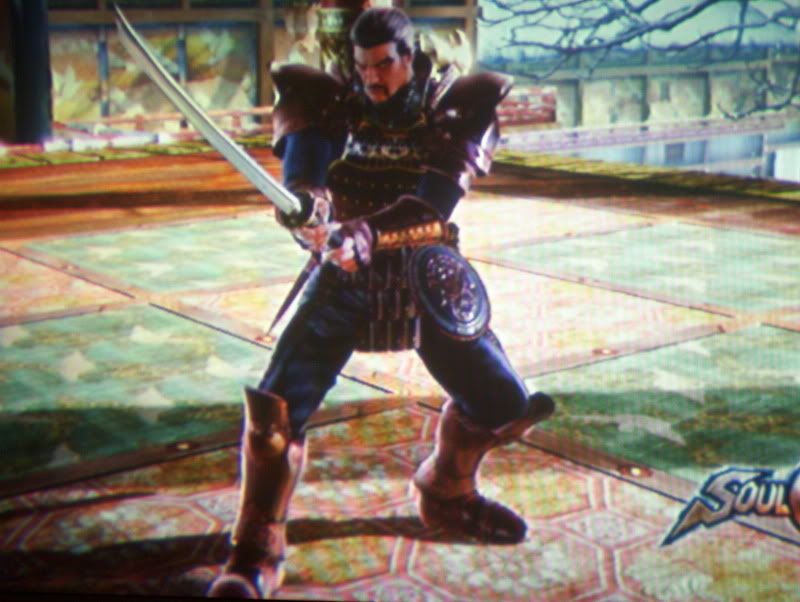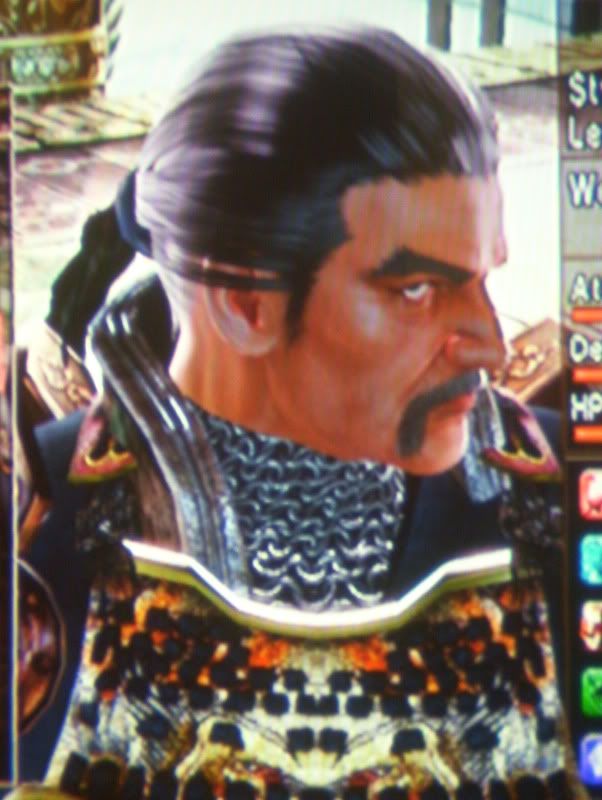 Fighting Style: Mitsurugi w/weapon Masamune
Pretty obvious choice for the "Swordsman", his job class in Japanese was Samurai. Classic sword choice (which I think he can use in the...
I wanted to post these awhile ago, and ended up taking off suddenly to be with family while my grandmother had surgery. She's still battling it out (pneumonia now), but I had to come home for work. : /
Well, let's take my mind off this for now. Here's the full first part of SCIV FF6. Same Terra, new Locke and the brothers Figaro! Including for each is fighting style, weapon and stage. I tried to take pictures of the characters in their "home stages" but the pictures didn't come out that well for some.
Terra Branford: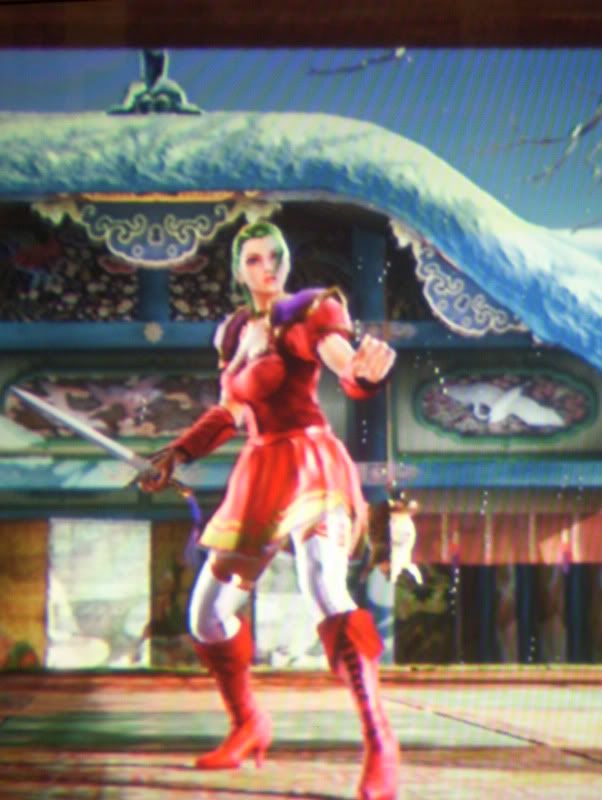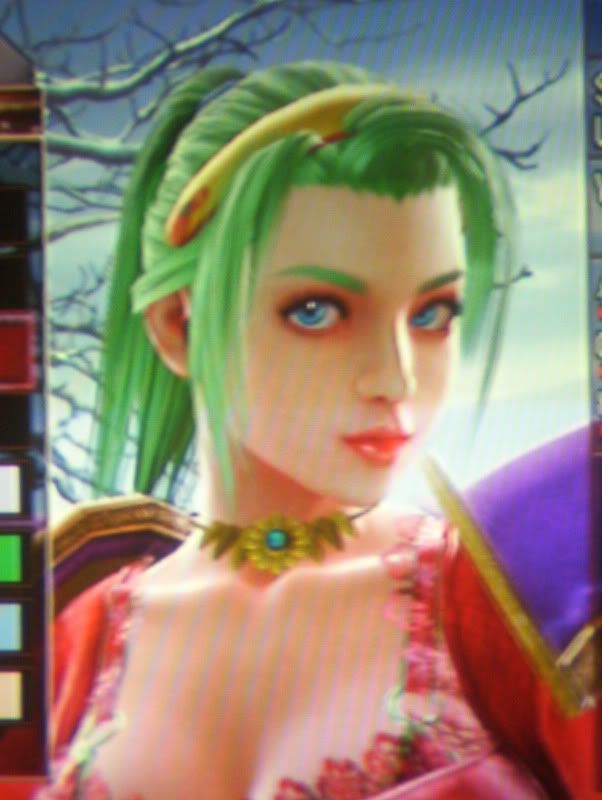 Fighting Style: Xianghua w/weapon Soul Calibur...
I'm massively late to the party (as always) but I just picked up the C.E. of SCIV from ebay for under $25 shipped like a good CAG.
Anyway, I'm massively hooked on the Create-A-Soul (CAS) editor. I wish it was a little more featured, especially with lengths of clothes and such like in the wrestling games. But I couldn't resist getting in there and trying it out after seeing some CAS's online. Naturally, I went straight to FFVI and you can see the pics behind the spoiler tags:
Terra: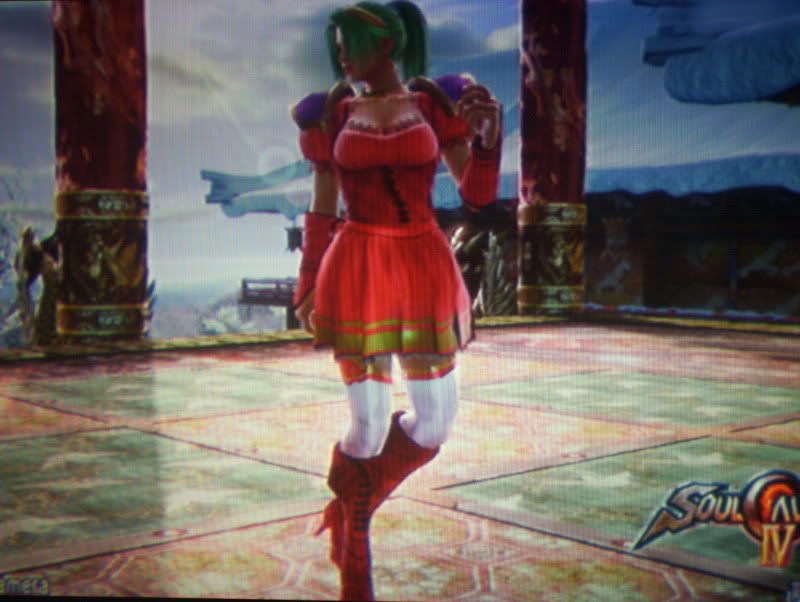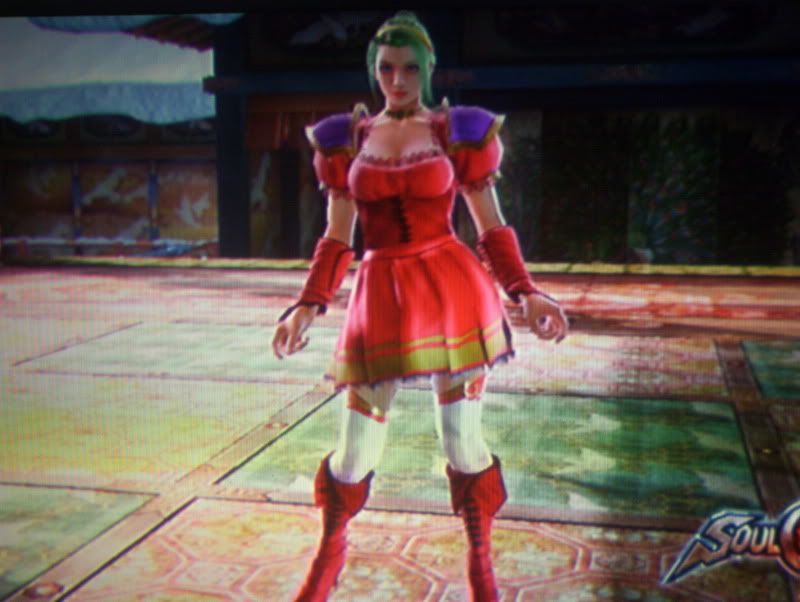 Pro: My second attempt at her. The first had Xianghua's costume, but I like this better. From the second...
Answer: when you can't remember enough of them right after waking up to even try to figure out what your brain is saying. I recall a little of it still. Bedroom in my parents old house, where the floorplan was a circle...you could get around to anywhere by opening up the doors. Some voice was telling me a witch (i.e. Left 4 Dead) was outside the left door. By process of sneaking around the right and using other people as distractions I get around behind the witch. Of course, now there's two of them and they are stark white. I go to shoot one crowned style. It's actually my cat. And I'm shooting a water pistol. Confusion reigns. I seem unprepared.

Only thing I can figure out is that I play too much Left 4 Dead before bedtime.
So, I've been considering this for awhile now and I'm no closer to an answer. So I am of course turning to the internet for answers.

I'm considering quitting my job. Which is insane considering these economic times. The one thing I could say is that I work in I.T. and there's been a decent job market here in the Chicagoland area. But there's one thing I can't shake....I'm not happy. I don't like my job.

I've been doing this for a few years now, and while this job is less demanding than my previous company, it's way more frustrating and I don't really feel like I belong here. My skills are mostly under-utilized and recommendations fall on deaf ears. This place really is a career dead-end with little opportunity to advance my skills or network with people who could teach me new things.

So to steal from The Clash:
"Should I stay or should I go now?"