I'm trying to get used to this whole blogging thing. I had managed to avoid blogging up to this point in time, but when Cheapy announced a while back that CAG 2.0 was adding blogs I figured there was no better time to give it a shot. So esentialy, if anyone ends up reading this stuff besides my girlfriend or I, bear with me.

I waited forever to pick up the New Super Mario Bros. because I didn't want to pay full price for it... I sat there listened to all the hype and praise until finally last week amazon had the lightening deal for NSMB; I had to bite, and I'm sure glad I did.

I got to give NSMB a spin yesterday and it is totally living up to the Mario name, bringing back the old school platforming is making for a great nostalgic time. Looks like a really good investment and I'm looking forward to playing through it with any free time I have.

The next DS game on my radar is The World Ends With You. I have no problem waiting...
| | | | | |
| --- | --- | --- | --- | --- |
| 1 Comment | | | | |
So I'm debating if I should drag myself out to a Gamestop today to pick up a used copy of the Metal Slug Anthology for the Wii. I don't think 18 bucks is bad for 7 games. Plus, I figure what better way to celebrate America's freshly defined right to bear arms then with big guns and camel mounted turrets.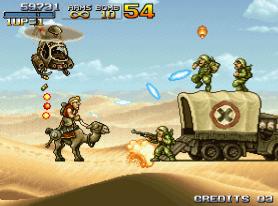 I still think the founding fathers meant this:
| | | | | |
| --- | --- | --- | --- | --- |
| 3 Comments | | | | |