Hi there!
Condition is listed next to title, most everything is like new condition. If you have a question just ask!

I recently was accepted into a Graduate School and came to the realization that I will not have the time to spend playing many games I have in my collection/backlog. Trading is cool with me, especially if its on my want list (paypal may be an offer of mine if you have something I want but nothing interest you of mine) Feel free to make a reasonable offer on anything, I would most likely accept it or counter offer! If you want more than one game I will be more than likely to accept a reasonable deal. If you just want to trade I am really ok with that too, and will CYL! Paypal only, standard CAG rules apply.

PLEASE, DO NOT send a message asking "how much?" I will send you an Ebay price if you do. Sending what you think is a reasonable offer will net you, in the worst case, a "No" or a counter offer. I am willing to negotiate on offers!

Any prices do not include shipping!

I have Sealed Pokémon Booster Packs Plasma Storm/Freeze for $2 each (plus shipping). PM for Details!!!!!!

I will (potentially) trade multiple games for a PS3 copy of Alice: Madness Returns. PM me your offers!!!!


Xbox 360


Call of Duty 2- Not bad $6
Call of Duty Black Ops 2- no manual like new $16
Commando and Conquer Tiberian Wars- No Manual, Very Good
Crash of the Titans- Like New $20
Culdcept Saga- Like New (must be good offer) $30
Dead Space- Like New $12
Elder Scrolls Oblivion GOTY- Like New $15
FIFA 13- Sealed $14
Guilty Gear Overture- Like New $8
Kingdom of Amalaur - Like New $15
King of Fighters XIII- Like New $20
Lord of the Rings Battle for Middle Earth 2- Like New $22
Record of Agarest War Zero LE- Sealed $35
Rock Band 3- Like New $18
Skyrim- Like New $10
Tomb Raider -LE Steelbook Edition, Everything is Really Like New!!! $20
Toy Story 3- no manual, good condition otherwise $16
Transformers Fall of Cybertron- Like New $18



PS3

Aliens Colonial Marines- Sealed $12
Atelier Rorona- The Alchemist of Arland LE- Box in ok shape, game/artbook A+ $60
Enslaved- Like New $10
Guardians of Middle Earth- Sealed (game code voucher + season pass) $15
Mortal Kombat Komplete Edition (GH)- Sealed (make a good offer)
Star Trek- Sealed (for now) $10

Wii

Gulty Gear AC- Disc only, like new
Oregon Trail- Like New (must be good offer)
Pikmin 2- Sealed (better be a really good offer)
Sakura Wars (no manual)- Like New (must be a good offer)
Skyward Sword w/cd- Sealed $44
Super Mario Galaxy- Sealed $18


PS1

MTV Music Generator- Like New $15 (pending out)
Star Ocean- Like New (must be really good offer)
Crash Bandicoot Warped- GH, Like New $8
Spyro the Dragon- Black Label, light scrathes $12
Jurassic Park Warpath- Has some scratches


PSP

Soul Calibur- like new $14
Fifa 11- Like New $10
Naruto Ultimate Ninja Heroes 3- case has a broken hinge, complete like new $12
Naruto Ulitmate Ninja Impact- Insert is wrinkled, complete $12

Both Naruto games for $20!!!!

PS2

Marc Ecko's Gettin' Up Collectors Edition- Like New
Dark Cloud- Like New $11
Jade Cocoon 2 - Insert has water damage, everything else is great- $18
Dragon Quest VIII- Like New (FFIX demo included) $11
Star Ocean- disc one has some surface scratches)
Fatal Frame- Like New $18
Bloody Roar 3- no manual, like new $10
Shining Tears- A+ $20
Prince of Persia Warrior Within- Very Good $7
Silent Hill 2- Disc Only GH, Like New
Socom- Disc Only, light surface scratches (free with any purchase)


GameBoy 3DS/DS/Advance/Original GB (listed in that order for system)

DS- Professor Layton and Unwound Fortune- Sealed $22
DS- Hotel Dusk $20
DS- Coraline- Like New

GBC WarioLand 3 $5

Gamecube

Eternal Darkness- Like New $26
Pacman World 2- Like New $12
Power Rangers Dino Battle- Disc Only $5

N64

N/A

Xbox

Fatal Frame- Like New $18
SNK Vs Capcom SVC Chaos - Very Good- $8
King of Fighters Neowave- $8

Both Fighting games for $14!!!

Dreamcast

N/A

SNES

The Tick- (Cart only), like new $12
Aladdin (cart only)- Like New $9
Top Gear- Like New $5

2 Nintendo Brand Controllers- Very Great Condition $10 each

NES

Yoshi Cookie- Box is in awesome shape, cart in awesome shape No Manual $10
Yoshi- Cart only, like new $6

Both games for 15!!! Yoshi Party Time For You!!!
I Have other NES and Genesis titles I will be adding, PM with questions!

DLC (360 only, prefer trades for other codes)

LOTR Ranger Avatar Costume ( female available)
Aqua XBLA code
Gears of War 2 Flash Map Pack

Misc - MAKE OFFERS! Multiple Guides = Better Deal for You!
Only Love Sayuri Amamiya Figure (quite big, comes in box) looks like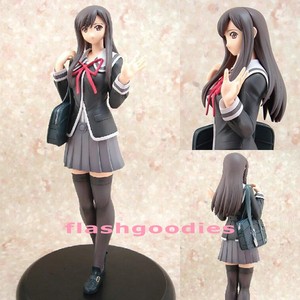 Aya Onechanbara 1/8 LE Figure (looks like this, but with black bikini because of the LE status)
Sakura Wars Preorder Art Book (hardcover)
Witch and the Hundred Knights Soundtrack
Dead SPace 2 Soundtrack
Bioshock 2 Soundtrack
King of Fighters 4 disc Soundtrack- Like New
Skies of Arcadia Guide
GTA IV Guide
Excel Saga Menche Plush- Like New
Vietnam: Purple Haze PS2 Case/Manual
Pacman World Rally Race GC Case/Insert/Manual
NBA 2K10 Case and Manual for 360 (no game)
Dragon Quest XI Case and Manual (no game)
Silent Hill Homecoming Soundtrack- Like New
RE5 Lithograph- make offer!
GTA Vice City Manual and Map (PS2)
Witcher Map/Manual (360)
The Simpsons Game Wii Manual



Spoiler


WANT- $$$$$$ and...

Will consider a trade of mulitple games for higher wants, especially CIB genesis games!

(the more
, the higher demand)

Xbox 360

Tenchu Z
Fable Anniversary

PS3

Sniper Elite 3
Grand Theft Auto V
Yakuza 3
Deception 4

Alice Madness Returns

Tomb Raider Anniversary
Fallout New Vegas Ultimate Edition

CYL

PSN Wallet

PS2

Diaster Report

Legacy of Kain Soul Reaver 2 (pending in)

PS1

DiscWorld
Diablo

Space Hulk
Megaman Legends 2
Adventures of Tron Bonne

Sega Genesis(must be CIB unless it is a real good deal/hard to find game)

Growl
thanks battlousai11!!!!
Earnest Evans

The Last Battle
Mega Turrican
Gaires
Ex Mutants

MERC
Strider (cart/manual)
Brutal Paws of Fury (cart only)
Other awesome action games/shooters, really too many to list. let me know what you have!

DVD/Anime
Persona Anime (both series)
Demon City Shinjuku

Kingpin (the bowling movie)

Misc/Guides/Cases & Manuals
M.U.S.H.A.- Case and Manual (like this is ever gonna happen)

Persona PS1 Manual- don't care about condition, just give me the pages and I will tape/staple them
Cadash (genesis)- Case and Manual
Shadowrun Genesis MANUAL ONLY
(i will punch a person of your choosing in the face for even just an offer on this)
Boogerman- Manual ONLY
Anything Guilty Gear (art books, japanese dvd)
Anything Mass Effect

Castlevania Stuff
X-Files Stuff I don't Have (send me a list!)
Clocktower 3 Case/Manual

Sonic The Hedgehog Xbox 360 case/manual

Death/Black Metal CDs from bands that don't suck. PM me a list of anything you have!

Always CYL!!!!!

Lets get to trading!!!!!

[/spoiler]

[/spoiler]
Super Awesome CAG Folk (trade with them!)



Spoiler



Thanks to these folks, and any other CAGS I have traded with!