DELAYED. ANY UPDATES FROM HYPERKIN WILL COME ON THEIR FACEBOOK PAGE:
https://www.facebook.com/HyperkinGames
UPDATE: In a recent interview, Hyperkin confirmed that the initial batch of units WILL NOT BE ENOUGH to meet day ome demand. Also confirmed was the ability for the system to act as a multitap. Example: in a four player SNES game, two players could use snes controlles, one player could use the retron controller, and one player could use a genesis controller. Interview can be found
here.
Pre-order at
Amazon
Pre-order at Newegg:
Black
(SOLD OUT) or
Grey
(SOLD OUT)
Pre-order at
Stone Age Gamer
(DUE TO HIGH DEMAND, RELEASE DAY DELIVERY NOT PROMISED)
Pre-order at
8 Bit Classics
(DUE TO HIGH DEMAND, RELEASE DAY DELIVERY NOT PROMISED)
UPDATE: Hyperkin claims that they opened up some packaged retail units and discovered some units had faulty pins. because of this, the Retron 5 has been delayed. No new release date has been announced, although Hyperkin has stated the unit will release in 2014 and that they are aiming for Q1. This is the Retron 5's third delay.
EDIT: Preorders are sold out at Amazon and Newegg.
Retron5 pre-orders have finally (about damn time) opened.
For those of you who have been following this console, you know it's quite highly anticipated and looks to be far better than any clone system released before.
For those unfamiliar, here's a little info:
It's one system that plays games for the following systems: NES, SNES, Genesis, Mega Drive, Famicom, Super Famicom, Game Boy, Game Boy Color, and Game Boy Advance.
Two controller ports for each console will be built in with the system. It will also come with one wireless universal controller.
Outputs in HDMI and upscales for HDTVs. Early impressions and videos of this have been extremley postive. From the website: "The RetroN 5 will up convert the video signal to show clearer and cleaner images, with vibrant colors on an HDTV with a resolution output of up to 720p through the use of shaders. You will also be able to select the aspect ratio in our GUI, from the standard 4:3 to the HD ratio of 16:9."
Features a user interface (dashboard. Somewhat similar of the PS3 interface in appearance, in my opinion).
Features save states. From the website: "Most games did not allow for you to freely save your games. The RetroN 5 will allow you to save their games at any point during gameplay, and will feature an autosave feature upon shutdown. You will be able to load your saves at anytime during gameplay."
Button reassignment supported. From the website: "Users will be able to program the controller to assign buttons to their preference. In turn, the RetroN 5 will save these custom layouts, so that users will not have to constantly reconfigure the button configuration. This feature will also be available to people wanting to remap their buttons on their original controllers."
100% game cartridge compatibility, without lag.
Sega Power Base Converter compatible, allowing Sega Master System games to be played.
More information is here. It
may
be a bit dated since this was from back when they first announced the console, but I figured it was the best site to link since it also featured some screenshots as well.
http://hyperkin.com/...gaming-classic/
There is also plenty of info on Hyperkin's facebook page.
I've been looking forward to this for a long time, and i'm extremley excited that pre-orders are finally open. For one console that not only plays all of these console's games, but upscales them and features save states (either to the cartridge (if supported) or the console itself)...this seems like a great deal. And if you've been following the hype for the console, there is a good chance it could end up selling out. Hyperkin isn't a huge company and this thing has a TON of pre-release demand (just check out the comments on the facebook page). I like the look of the black one a bit better, because it seems to be the traditional console color nowadays. But I opted for the grey model because the black console and controller seem like they'd be fingerprint magnets.
Preorder either color here at Amazon:
http://www.amazon.co...ywords=retron 5
or here at Newegg:
http://www.newegg.co...220130925161655
Here are pictures of the two consoles, since the pictures on Amazon aren't that great:
Grey: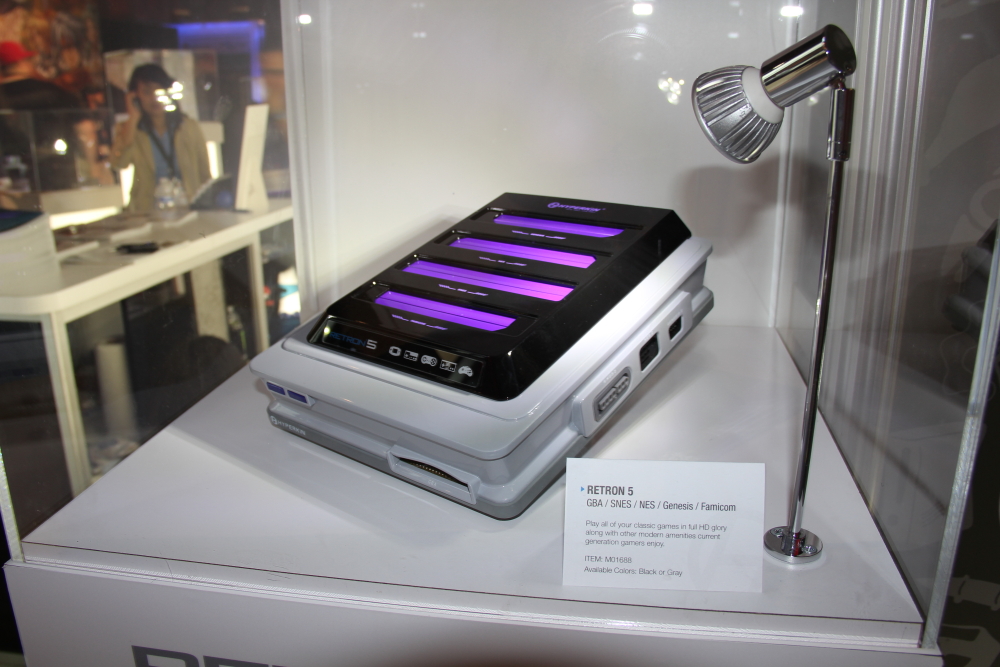 Black:
Edited by Drclaw411, 28 January 2014 - 05:56 PM.
Moved Amazon link & images to top. Thanks!