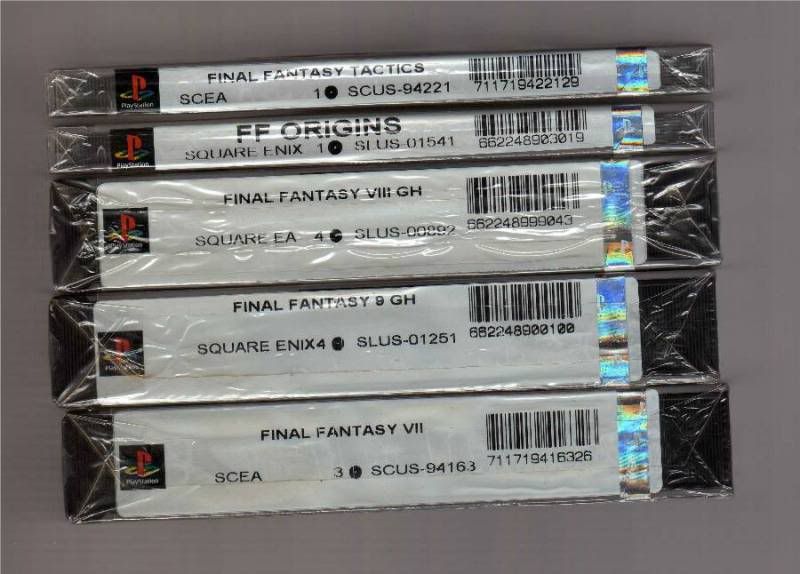 FFVII and Tactics sold........




Still have 3 of these from the "case" I bought years ago. Randomly checked ebay to see what they were going for and once again decided to try and sell these. All are mint, factory sealed, still have the hang tags..Heres a pic of two and what you can expect from all of them.




100.00ea

If you do all 3, 250.00 for the lot.

No tears in shrink wrap. No pricing stickers or any other labels ever touched the shrink wrap.

2 of the 3 have a minor bend where creasing started. You can see the bend but didnt crease...if that makes sense.

1 of those 2 has a rough corner.

The lone one not mentioned above is flawless from what I can see.

USA only.

Only trade consideration would be an offer in complete, like new blu rays and Ps3
games...both with scratch free discs.

Also interested in getting a brand new dual shock for my ps3.

Also interested in UV codes that redeem via UV or vudu.

Hit me with a pm with what you have to offer. Wont check lists because it gets pretty old having people not pay attn to your wants and ask you to look and theres NOTHING anywhere near what your listed wants were. Not trying to be a dick, just not wanting my time wasted because Im not looking to waste yours.
Edited by Will, 06 November 2013 - 10:57 AM.