Hi Gamers. This new site is called Epicrewardz and was launched on July. If you heard of Prizerebel and points2shop, then you know exactly how this works. If you do use points2shop and prizerebel, then consider trying Epicrewardz as well. In fact, I would say this site is much better than points2shop as you won't get banned for bs reasons. Anyway..., basically you need to do free offers/surveys to earn points, then redeem them for rewards like Xbox Live, PSN codes, Amazon gift cards, etc. This site is still new but they are getting an upgrade at the beginning of 2013 where they'll get new design, better offers, and even games. You can withdraw your cash through Paypal & Amazon gift cards, both at minimum $1. Then there's also a custom order option which lets you order anything from Amazon.com. The admin there is a pretty cool guy, very interactive with the users on the chatbox. He will process payments/prizes every night.
Join here and get started:
http://epicrewardz.c...me?ref=Universe
I've included 2 methods to earn points quickly on the site.
Earn 2500 Points Guide
Ok there are about 25-27 of those 100 points offer called Winning Surveys, Consumer Expressions, ClipNGo, etc. These are really easy and will credit pretty quickly, just do all of them and you'll have 2500 points. There's a youtube video tutorial posted on their forum, but here is the text version:
1. Create a new email (hotmail/yahoo/gmail/aol)
2. Enter your email and valid infos
3. Only answer the questions with red asterick *
4. Choose YES to 4-6 offers. Don't need to fillout anything.
5. Choose NO/None/Do Not Use/ for the rest of the questions and get to the last page.
6. Leave the page on for 15 seconds and it'll credit.
7. Clear cookies and repeat steps 1-6 for another offer.
Prizes you can get for 2000 - 2500 points:
1600 Microsoft points - 2000pts
$20 PSN code - 2000pts
2000 wii points - 2000pts
$20 ultimate game card - 2000pts
3 Month XBL Gold - 2500pts
$25 Amazon GC - 2500pts
Make $5 - $7 a day guide
This is how me and other members are earning $5 a day on epicrewardz. There are about 15 daily surveys and they pay mostly in cash. You don't have to do all 15, but just a few of those high paying ones and you can easily make atleast $5/day. If you do more, then you'll earn more than $5/day. The surveys aren't really that hard, if you PM me I'll give you the tips and tricks to doing them. Most can be completed within 15-20 minutes. Sometimes you may get those short 5 minute ones. The surveys will reset in 24hrs so you can do them again. I've made $300 so far from the daily surveys. Jmoney911 has earned over $400 (he's a pro). If you are from the US, definitely try this method.
Post if you need help with offers, referrals, orders, etc.
Proof
$20 Amazon gc
star wars kinect bundle
Halo 4 xbox360 controller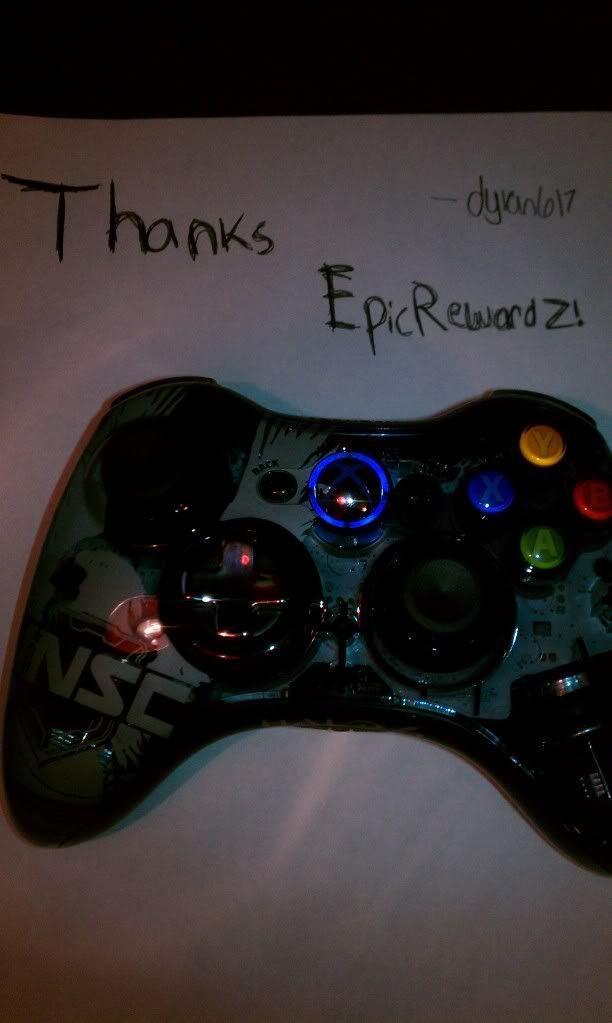 Edited by Yashiro1, 04 November 2012 - 10:17 PM.