Important notes about my trade thread -
- I'd rather trade,
but if you're trying to sell me something, include the total shipping price (with tracking and all of that good stuff) in your offer.
If you don't, I reserve the right to deny the deal if you try to tack the shipping cost on right before I'm about to send you payment.
-
Not Looking to sell anything right now unless it's an insane price...so probably no point in trying.
- I would love to check your lists! I never know what will pique my interests!
- I'm pretty flexible in many respects when it comes to trading, just talk to me and we can probably figure something out!
My items for trade/sale:
Kirby: Canvas Curse - case is slightly rough, along with cover art, complete otherwise
Super Scribblenauts
Okamiden
Ace Combat 6
Uncharted - SEALED - (cardboard case from PS3 holiday pack)
Uncharted 2 - SEALED - (cardboard case from PS3 holiday pack)
Infamous - SEALED - (cardboard case from PS3 holiday pack)
Dragonball Z: The Legacy of Goku
Harry Potter and the Chamber of Secrets
Mario & Luigi: Superstar Saga
Sea Trader
Karnaaj Rally
Dungeons & Dragons: Eye of the Beholder
Sky Dancers
Looney Tunes: Back in Action
I also have some Blu-rays/DVDs to trade for them if that's what anyone is looking for (All are Blu-ray unless otherwise noted):
Life (Oprah Winfrey narrating)
Bonnie & Clyde - Digibook
Clash of the Titans - Digibook
How the West was Won - Digibook
JFK - Digibok
Natural Born Killers - Digibook
One Flew Over the Cuckoo's Nest - Digibook
The Shawshank Redemption - Digibook
Many others, just let me know if you're looking for anything specific

PM me your offers, thank you!
–----------------------------
Looking for the following:
*** denotes higher wants
I would prefer that these games come in their original cases with instruction booklets
Metroid: Other M
Metroid Prime Trilogy
Luigi's Mansion
Kirby Air Ride
Official Black Nintendo DS Lite Stylus ***
Yoshi's Island DS
The World Ends with You
Final Fantasy III
Final Fantasy IV
Pokemon HeartGold
Pokemon Diamond
Pokemon Y
3DS XL Cradle
Also, looking for the following, and it is fine if these are "Cartridge Only" as long as it's in good shape:
Metroid: Zero Mission
Pokemon FireRed
Pokemon Emerald
Pokemon Red
Pokemon Gold
Pokemon Silver
Additionally...If you are looking to get rid of a DS Lite, DSi or DSi XL (all in good condition), I'm all ears. I don't need one, but I would definitely be willing to barter if you see anything in my list that you want.
DS Lite: Zelda Phantom Hourglass edition ***
Famicon edition Gameboy Micro (also open to all other Micros!) *** :
Zelda Tomy Mascot Danglers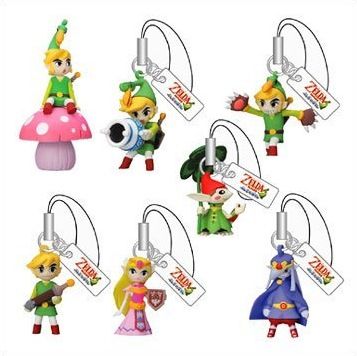 Psych! Just looking for Vaati now!
Also, I would like a Figma Link figure!
Thanks!