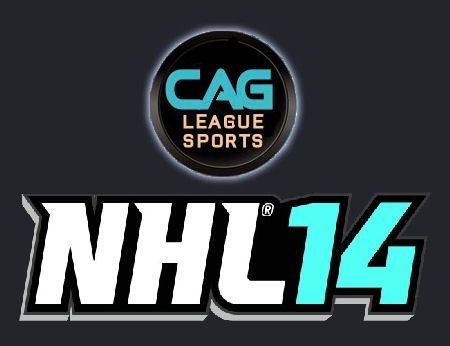 ***REMINDER***
For this league, we're going to focus on playing human opponents.
You may play games against CPU teams if you'd like.
But your main concern should be scheduling games against other league members.
Here we go again! As many of you know, NHL 14 features an online franchise mode, allowing you to compete as your favorite team against up to 29 other users for Lord Stanley's Cup! Last year's version of this mode was not a great success, but we all dealt with it as best as we could.
If this sounds like something you'd be interested in, feel free to sign up! In our Madden League this year, we required everybody to play as their favorite team and assigned teams to anyone who's favorite team was already taken. I'm hoping that assigning teams won't be necessary in here (generally not as many problems as Madden has), but I would still like to see people playing as their favorite team as much as possible. I do think it adds more enjoyment to the league when you know people have some kind of attachment to who they're controlling, as opposed to who just gives them the best chance to win. So, let's see those team colors!
League Rules and Policies

In general, the NHL series needs less guidelines than some of the other sports leagues. But there are still some areas people need to be aware of.

This is a tough one to define because in general the golden rule is "Don't play like a jerk." But there aren't too many areas of gameplay where people need to restrict themselves. It's really one of those things of "you'll know it when you see it." We have a couple specific examples, but other than that, there are things that I wish would be tuned better: penalties, hitting effectiveness, goalie reaction speed, etc. But that's not something we have any control over, so there's really no way to tell people to play a certain way in regards to those areas.

What I do think can be said though is to not come down the ice trying to do the same thing every time. If you're constantly going for a cross crease, or you're constantly twirling your stick and shooting for that short side, you're not really playing hockey. You're looking for an easy goal (see also: exploit). Vary your attack with the flow of the game, and play the game right.

Obviously, rebounds are a part of hockey. But it has been blatantly proven that this game is susceptible to the same tactics that last years game was. If you are skating into the zone, and immediately throwing a shot on net...and you continue to do this over and over again...as your only means of a mounted offense...for the duration of the game, you will be handled accordingly.

We should all be trying to play with a realistic style, and if the only way you can figure out how to get some shots and score is to get 0.2 seconds of attack and chuck it on net from a mile away, hoping for the goalie to kick it to your forward crashing from the other side, then this is not the place for you.


EA makes stupid AI. There's no other way to put it. Holding the LT on a breakaway to skate backward at the goalie, and then turning back around quickly to whip the puck by the goalie as he tries to figure out what is going on is an exploit. This has been an exploit in previous years, and it has resurfaced this year.

If you're facing a human goalie (ie. penalty shots/shootouts), feel free to do whatever you want. But against an AI goalie, it's an exploit. Of course you're free to deke, do a spin move, etc. But skating backward for 3-4 seconds until you're right at the crease, and then turning and blowing the puck by the AI goalie shows no skill. It's just a stupid exploit.

This should be common sense. But then again, it should have been common sense for EA to take it out of the game. But apparently, diving at the goalie and swinging your stick on the ice after he's covered the puck and is waiting on the whistle is a great way to knock the puck loose. It should go without saying that this is a 100% dbag "strategy". Anyone caught doing this will get one warning. Get caught again and you're banned from the league. Not going to fool around with this one since it's complete garbage.

The biggest thing I can stress is be respectful of your opponent, and be gracious in victory. Have the recognition that sometimes the puck just bounces your way, and the better team doesn't always win. In short, stay humble.

Unfortunately, I think if a game gets disconnected, whoever's "fault" EA thinks the disconnect was will get the loss. I have no power to reset games, so you'll just have to take it on the chin and like it if it happens to you. But you're playing an EA game, so you should be used to that by now right?

Even though we're not actually playing all 82 games in the season, we'll still have to deal with the schedule and advancement of an 82 game season. I would definitley like to keep things moving at a reasonable clip. I think the basic goal of taking 3 months to complete a season is reasonable...so do the math there. The schedule will obviously fluctuate a bit depending on how many in-conference games are in that advancement period. So, as long as the lines of communication stay open, we'll stay as flexible as we can. Ultimately, there will be deadlines though.

In general, each advancement period will have 2 weeks of the real NHL schedule available to play and you can expect an advancement around every 5 days.

For the most part, free agency is regulated fairly well in this game, complete with a salary cap, variable contract lengths, and in-depth negotiations. Considering those factors, we SHOULDN'T need to restrict free agency too much. Feel free to place offers on players, but remember that your finances are not limitless. And again, if anyone notices any glaring problems, just speak up.

Like free agency, trades seem to be fairly regulated. The game even has a system built in to give the commissioner final rights to approve or reject a trade. As welcomed as that feature is, I still want people to post trade proposals in the thread.

Once you and another team have come to an agreement on what you believe is a fair trade, please post it in the thread, including all players/draft picks involved, the player's position, age, overall rating, and contract info.

This is probably the most important aspect of the league. Without it, there's no point in playing. Considering the pace of the advancement schedule, it would be wise to send PM's to all opponents on your schedule and let them know when you're available.

LOOK AT YOUR OPPONENT'S AVAILABILITY in the OP before sending your message. If you can offer them a time that already works with their availability, you're going to be much more likely to get your games played. This may seem like common sense, but you'd be surprise how many leagues just completely stall out because people fail to communicate. Don't let that happen to you!

Ok, it has been confirmed that this is 100% necessary again this year. Again, this is basically a precaution so no one team can hold the league hostage if they become difficult to reach. Even as commissioner, the game will not allow me to make these moves for you. The only thing I could do is boot you from the league. And anybody who needs that done several times may not be allowed back in.

Select one of the games on your schedule, press A, and select "Enable CPU and Sim Games Vs Your Team". This DOES NOT prevent you from playing your games in any way. It just makes it possible for other teams to play you should you not be available by the day of the deadline.

ALL TEAMS must contact their opponents through private message on CAG to inquire about schedulling a time to play their game. If you have not responded to your opponent within an appropriate amount of time to get the game scheduled before the deadline, do not be surprised if your opponent ends up playing the CPU.

NO ONE should be playing any games vs the CPU until the day of the deadline unless given permission by the team owner in this thread (teams with no owner can be played at any time...if you're not sure who doesn't have an owner, check the Original Post of this thread).

Any team that plays a human controlled team against the CPU without permission or without giving the team owner a chance to exchange private messages will be given one initial WARNING. A second offense will come with a 3 GAME SUSPENSION (meaning 3 opponents get to play your CPU team). A third offense will come with a 6 GAME SUSPENSION. And a fourth offense will result in being BANNED from the league. Don't let this happen to you. There are plenty of ways to figure out if you should be playing the CPU or not. Don't be lazy.
Teams
Team | CAG Name (click to send private message) | XBL Gamertag | Time Zone | Availability
Eastern Conference
Atlantic
Boston Bruins | *OPEN*
Buffalo Sabres | *OPEN*
Detroit Red Wings | *OPEN*
Florida Panthers | *OPEN*
Montreal Canadiens | *OPEN*
Ottawa Senators | *OPEN*
Tampa Bay Lightning | Vulcan2422 | Vulcan7905 | EST | ???
Toronto Maple Leafs | *OPEN*
Metropolitan
Carolina Hurricanes | *OPEN*
Columbus Blue Jackets | *OPEN*
New Jersey Devils | *OPEN*
New York Islanders | *OPEN*
New York Rangers | jza1218 | statnut28 | EST | ???
Philadelphia Flyers | *OPEN*
Pittsburgh Penguins | *OPEN*
Washington Capitals | *OPEN*
Western Conference
Central
Chicago Blackhawks | moojuice | moojuice | MST | between 10-12est weekdays, fairly open weekends. Can work my schedule around fairly easily weekdays after 7est with couple days notice
Colorado Avalanche | DarkTower80 | DarkTower80 | MST | Evenings
Dallas Stars | *OPEN*
Minnesota Wild | *OPEN*
Nashville Predators | n8rockerasu | n8rocker82 | CST | Sun - 11AM-9PM CST, Mon-Thu - 6-8PM CST, Fri - 6PM-2AM CST, Sat - anytime
St. Louis Blues | sendme | shazo | CST | ???
Winnipeg Jets | *OPEN*
Pacific
Anaheim Ducks | *OPEN*
Calgary Flames | *OPEN*
Edmonton Oilers | *OPEN*
Los Angeles Kings | Matt Young | X Matt Young X | PST | Most days, between 3:30-8:30 P.M. Pacific
Phoenix Coyotes | *OPEN*
San Jose Sharks | *OPEN*
Vancover Canucks | *OPEN*
Season 1 Stanley Cup Champion: Colorado Avalanche (DarkTower80)