0
Decorating My New Place
So I just got a new place and been trying to decide how to decorate. I actually got the idea from another CAG blog,
zekeike posted some pictures of his 8-bit artwork
and I thought it looked really awesome. I was going to start browsing etsy for some cool 8-bit artwork, but I decided to show my brother what zekeike had made since my brother is a pretty good artist as well.
He really liked the 8-bit style and decided to give it a shot. This is what he made me as a housewarming gift: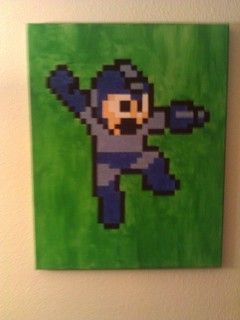 Sorry, kind of blurry. Painted on canvas.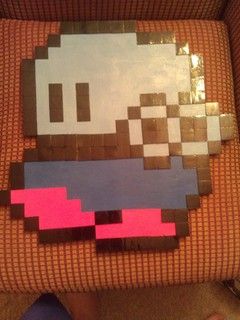 This is just painted on some hard cardboard, and he had a bunch of white tabs that he spray-painted black, so it has a little bit of a 3D effect.
I'm thinking about paying him to do a few more for me, though I don't know what characters/games I want him to do. I think I definitely want him to do a Link one for me, either this pose
or this pose
.
What do you guys think? I know it's kind of nerdy, but nerdy is kind of in right now, and the retro style is always pretty cool. And what 8-bit characters do you guys like? They don't have to be the main character from a game, any random enemy is cool.