0
Why Call of Duty SUCKS
Posted by
SolidJake
, 02 February 2012 · 341 views
A Brief History Lesson First (I know, I know, I'm sorry):
When trying to discuss why Call of Duty is as bad as it is, I have to go back to it's origin. The first Call of Duty was released on PC by whom we now know very well as Infinity Ward. See, before they were Infinity Ward, they were employed at EA working on the Medal of Honor Franchise. EA was not letting them have the personal freedoms that they desired, and they ultimately split away from the company to join their new publisher that everyone loves to hate, Activision.
Medal of Honor: Allied Assault (2002)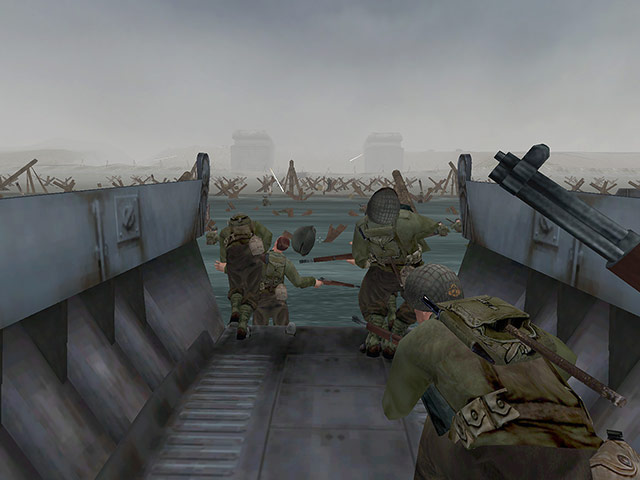 Source: Guardian
The team renamed themselves Infinity Ward and began work on what they had always aspired to accomplish. They created a World War II shooter with cinematic elements and believable scenery with voice acting and character progression that the genre of WW2 shooters had not yet seen. Infinity Ward had an entire level in the game where you only had a knife and spent most of the level taking in and admiring your surroundings, which EA had declined back when the team was trying to incorporate it into their own Medal of Honor franchise.
With the release of Call of Duty in November 2003 brought an immense amount of praise from not only the fans, but the critics too. Metacritic's average score for Call of Duty is an impressive 91. People were blown away by how well crafted the campaign was, the multiplayer experience, and above all it was revered for it's REALISM. Which we would later see the series taking a serious decline in the realism department. To be honest, I really enjoyed the first Call of Duty, I found it to be a unique experience and an excellent addition to the PC's growing library.
Call of Duty (2003)
Source: Pj Media
Now once Activision realized that they had a successful franchise on their hands, they decided to create spinoff games and hand them over to other studios. With this we saw the releases of Big Red One by the now famous or infamous, depending on your outlook, studio TreyArch and we also saw the release of Finest Hour. These games were released to the console market to try and capture a new audience. While the games tried to mimic the style of the previous iterations, the games fell flat and didn't receive critical praise like their former entries.
Now why weren't these entries into the series as successful? Well for one, the PC gamers felt betrayed. This series that gained so much reputation from it's very first entry did so because of the extremely good reception it received from the PC gaming community. The other reasons were because of an obviously different feel that came with a new studio and the overall mechanics of the games were just not perfected like it's big brother on the PC.
Call of Duty: Finest Hour (2004)
Source: IGN
Now was the time for a proper sequel from the proper studio. Infinity Ward had been quietly working on this title while the other ones were spit out by Activision on consoles for the unknowing consumer to purchase thinking that they had a sequel to the beloved PC title, but they were far from right. Infinity Ward released Call of Duty 2 In October of 2005 exclusively on PC. This did not last however; In November it was also released on the Xbox 360 as a launch title. This shocked the gaming community when announced because Call of Duty was supposed to be a PC franchise. Again, PC gamers felt betrayed by the studio. Their thinking was that their version of the game was not getting enough attention, and who is to say they weren't?
Of course, with the repeating success of this newest Call of Duty title, Activision decided that they would need to release a new Call of Duty every year. They had Trey Arch begin work on the next game that would release only on consoles and completely skip a PC release. Trey Arch decided to release this title exclusively for the three consoles at the time. PC gamers were outraged, they realized that their flagship franchise was slowly migrating away from it's roots. Call of Duty 3's sales numbers skyrocketed, even though reviews weren't as stellar as previous entries (again). Call of Duty 3 went on to be the number one played game on Xbox Live at the time, only to be taken down by Halo 3.
Call of Duty 3 (2006)
Source: Product Catalog Xbox
History Lessons Over, Let's Start Discussing the Downfall:
The success of this franchise was way more than Activision had expected. They were cranking out games every year and making a huge, HUGE profit off of the franchise. Call of Duty 4 was in the works, and game play was revealed at E3 2007. The game had so much promise, even from me. I was so excited to play it and couldn't wait to see what they did with the story and the multiplayer. I almost switched my preorder from the upcoming title Assassin's Creed over to it at Gamestop, but decided against it. Thank God for that, because if I had done that, I would have wasted my money.
Starting with Call of Duty 4:
Oh boy, we get to start talking about why I really hate this series! First of all, this studio GAINED any reputation and praise from the PC community, and they just completely screwed them over with this release. Was it coming to the PC first? No, of course not, that would make too much sense. It would debut on consoles and later make a PC release. Guess what? When it finally was released for the PC it had absolutely NO dedicated servers. Are you freaking kidding me? NO DEDICATED SERVERS? For the love of God Infinity Ward, talk about adding insult to injury, but let's start talking about the actual game and not it's technical problems.
So I'm going to put multiplayer aside from a moment and discuss strictly the campaign. Alright, so I'm playing as this new recruit who has to learn the ropes and go off and fight this great big war, I can accept that, but I want to
care
about him. I literally kept forgetting the names of the people I was playing as because the game wouldn't stop jumping around all over the damn place and I couldn't get a solid understanding or sense of emotion from any of the characters. I mean, the campaign is an embarrassing five hours long, and you had to SPLIT IT UP BETWEEN MULTIPLE PROTAGONISTS? Sweet Jesus Infinity Ward, you couldn't even write a straight forward story that only capped out to five hours? Talent, mates. Talent.
Call of Duty 4 (2007)
Source: Terragame
Remember when I said that this studio was praised on it's realism? Well, it was, and then they decided to mess all that up by making it more action packed than an Arnold Schwarzenegger and Sylvester Stallone movie combined. The set pieces are just ridiculous and they come off as cliche and stupid, not cool. I mean, when I'm trying to follow a cinematic experience with a story that is going to branch across three games, I want it to be at least remotely believable. I just don't see why every character I play as has to be the king of the world and be able to take out thousands of enemies, it's just ridiculous.
To this day, I honestly can't remember the protagonists name. That's awful, because I can remember characters all the way back from the NES days, but I can't remember the main character from a game in 2007? How many of you can recount events that occurred in Modern Warfare? You don't play it for the story, right? Well I guess the game's main draw was multiplayer and I can't exactly fault it on that...yet. Let's take a look into Modern Warfare 2 where the series really starts to plummet.
Call of Duty: Modern Warfare 2 (2009)
Source: Video Gamer
Modern Warfare 2's Story...Oh Boy:
It's no secret that Call of Duty 4 was a massive success. People seemed to just look past the horrendous campaign and focus strictly on the multiplayer. Which is fine I suppose for that game, but it only got worse, and that is unacceptable. I decided to go over to my friends house when MW2 came out and give it a shot. I only played it for an hour and asked to borrow it for the night so I could beat the campaign to see if any improvements had been made. I started the campaign at 10 PM and finished it at 2AM. They had once again ruined what could have easily been an awesome story.
Why? Well for starters the characters AGAIN were split up across all spectrum's. I
cannot
stress enough that it's extremely important to engage the player with the things that are going around them and most of all THE CHARACTER THEY ARE PLAYING AS. I did not once feel immersed in this atmosphere because I didn't give a damn about any of the characters. I had no emotional connection with the protagonists or the supporting characters. Again, I can't even remember most of their names, and this game came out in 2009!
The story itself was completely incoherent. It continued off where the first one ended, but because it kept jumping all over the place I couldn't get a grasp on what the hell was going on. Who was really causing all of these problems? I don't know, because I don't even remember names, how am I supposed to remember the plot? As long as you throw enough explosions and gun fights into a game, I guess a coherent story isn't needed. The only memorable scene from the game was, "No Russian" and that's because they added that in specifically for publicity purposes.
They tried to up the ante by killing off one of your characters...again. As I watched my character burn to death I literally felt no emotion at all. I didn't care, I just wanted to finish this piece of crap and be done with it. I think it's freaking hilarious that the most memorable character from MW2 was Ghost and he didn't do a damn thing! People would always talk about how bad ass Ghost was and he was in the game for like 20 seconds. If that doesn't say something about the character progression and story development, I don't know what does.
Guess What? The Multiplayer Is Lackluster In Every Way:
I'm sure this part of the entry is going to receive some flack, because of all the fan boys, but I want to take a different approach to how I discuss this. Now think about the publisher Activision for a moment. Do you consider them successful? I mean, they own the Call of Duty franchise and not to mention the published the most successful music game franchise at the time Guitar Hero, so I'd say they were pretty loaded. So tell me why the multiplayer was almost the exact same as the first game? I'll tell you why, because the consumer just doesn't care enough.
Most of the time when Call of Duty is discussed, the graphics are often mentioned. People praise it for running 60 FPS while they are playing games with their friends online. While that's all well and good, they did that on the
first
game! Why in the hell would I keep praising them for something that they did in 2007? Activison has billions of dollars, we shouldn't accept any less than perfect from the graphics department, even online. I mean hell, Naughty Dog doesn't have the same budget as Infinity Ward, but Uncharted 2 online ran just as smoothly and looked ten times better.
Call of Duty: Modern Warfare 2 Multiplayer
Source: Blogspot
Speaking of Activion's budget, why wasn't more innovated on and changed? I mean let's be honest here, they had an almost endless money pit to grab from when making this game, and the only thing they add are kill streaks and more guns? THAT'S IT?! No vehicles or bigger environments? Just prestigeing, kill streaks, and more guns. Well that's just great, a 60 dollar expansion pack to a game. Most people will disagree that these are the only changes, but really look at the game. I promise that you will not be able to tell me what's different other than those three things. That's adding things, not changing them. If I had that kind of money backing me, I would at least try and change up the environments and add some vehicles here and there, I mean something, ANYTHING different would have been nice.
Who is to blame for the lack of changes? Well, the fans honestly. Not a single person other than myself was talking poorly about this game. I tried to talk to my friends at the time and convince them that they were buying a mediocre game. I told them that they didn't even come close to utilizing their budget and their full potential to make this game, but they didn't care. They made the game simple, addictive, and social. If anything, MW2 was equivalent to Farmville or Just Dance, because people that didn't play video games were buying it and everyone was talking about it. Great games got pushed aside because this piece of crap expansion got popular.
Modern Warfare 3: Come on Guys...
Now I'm going to have to give you a brief rundown of what happened going into this game. The Infinity Ward heads were "fired" from Activision and escorted out of the building. Activision sued them for allegedly working with EA to create a new title. The official ruling on this case has not yet been decided, but Vince and Jason (the heads of the studio that were fired) took several employees with them, meaning that Activision was most likely in the wrong. Jason and Vince claim that they were not paid properly for the game and Activision was withholding royalties that the team had earned. Now that we got that out of the way, we can start talking about the game itself.
Call of Duty: Modern Warfare 3 (2011)
Source: 3DPCGamer
I worked at Gamestop during the time this game was being created. I couldn't stand the people coming in and going crazy over it, throwing their hard earned dollars at me to preorder it. I tried explaining to them that it was literally going to be the same game all over again and they were going to regret it. Now some of them actually listened to me and decided to go with Battlefield 3 instead, but most of them just spit all over my ideas and laughed at my warnings. I eventually just stopped trying to tell anyone and threw their five dollars down on the game. When it was finally released, I got to give them a big ol' I TOLD YOU SO.
Why could I tell them so? Because the game was terrible. I was honestly flabbergasted at how similar it was to MW2. Hell, not even similar, it was the EXACT SAME GAME. Activision now had the economic backing of the previous games and the father of all multibillion dollar industries Blizzard and this is the crap they put out? The story, again, is split up between several different characters. The story is stupid and more action packed than ever, and once again I literally have no idea what's going on and care absolutely nothing for the characters. I expected the story to be awful, but I figured the changes to the multiplayer had to be somewhat different right? I mean it was a new studio considering the original team left, so some of the elements had to be at least slightly changed, RIGHT? Wrong.
Multiplayer Shmultiplayer:
Okay, so you have millions of dollars, hundreds of hours of experience, a full team, a huge studio to create the game, so what are you going to do to make this experience unique? Hey I know, maybe add some extra game modes, change the characters around and perhaps add some vehicles, change the mechanics up a bit, give the player something more to enjoy. That seems logical, right? Well, they took logic and through it right out the window. They decided it would be a great idea to instead TAKE THINGS AWAY. Say whaaaaaaat now?
Call of Duty: Modern Warfare 3 Multiplayer
Source: Game Informer
Yeah, they actually simplified the game even more! The multiplayer was the biggest joke I have ever seen. It literally backpedaled and removed even some of the things that MW2 had added and made the game even more primitive and mind numbing than before. So much was riding on this game and again they decided to take the easy way out and just basically create a map pack for MW2. So this had to of affected the review scores and sales...it would have to, please say that it did...nope, sure didn't.
Reviewers and Fans:
I cannot for a second understand the reviews for this game. Every single one of them that I read was complaining about the lack of innovation into the series. Yet somehow it received 8's and 9's. HOW IS THIS POSSIBLE? Are you seriously just giving it decent scores because of the fan backlash if you didn't? That's ridiculous. Websites and magazines complained about this game from the beginning of the review until the end yet it still ended up with a great score. This is unacceptable, and again the fans are to blame.
Despite the poor development of this game, the fans still ate it up. It went on to be the number one selling game of all time making 500 million dollars in the very first week. No matter what they did to the game, it still would have sold millions of copies because fans are just so used to the game play and aren't willing to refuse to buy it until it changes. Activision won't change the game until you tell them to, so if you want to actually buy a game worth a crap, let them know now. It's unacceptable to have a studio hold onto that much money instead of actually using it for their games and making them worth something. That kind of greed should not be tolerated by fans, and especially not overlooked by gaming sites.
Summing Things Up:
I've let you all know how I feel about Call of Duty, and whether or not you agree is obviously completely up to you. But there is no denying the amount of money that the studio has available to them, and how much they actually implement into the game and keep for themselves. They are partnered with Blizzard for God's sake, they have enough cash to buy three planets so they can definitely implement change on this franchise. If you need a little bit of an extra understanding on how little the game has been changed, look at the first image at the beginning of this article, and compare it to every image the follows after and point out any differences you see. There won't be many.
In the comments below, tell me what you think of the upcoming Call of Duty: Ghosts.