1
3
votes
XPAND Universal 3D Glasses (Experience & Review)
Posted by
dv8mad
, 09 July 2013 · 1561 views
Some of you know this, but my oldest boy, Ryu, was born with
microtia
. (That's a wiki link!)
For those not inetrested in clicking, here is the lowdown;
Basically, one or both ears do not develop correctly during formation of the baby. This can, in severe cases, lead to a multitude of problems. In the conditions least severe form, you may simply have a purely cosmetic issue.
Ryu is somewhere in the middle. We really won't know more until he start going to see a specialist next year or the year after in Hokkaido or Tokyo once we get the extra money.
For now, we know that his left outer ear hasn't formed properly and that two of the three bones used to hear normally are fused together. Basically, he will never hear perfectly on that side, but depending on how well the specialist can do his job, he will be able to hear better and they will be able to give him a constructed ear at some point in the future.
What does all of that have to do with 3D glasses you ask?
Well, one of the toughest parts of the situation is working to teach Ryu that being different is OK. As he is only in kendergarten, it's a regular issue that some kid comes up and asks what's wrong with his ear.
We are always working to instill in him that he shouldn't feel held back because of something so minor.
However, when we watch movies, he always wants to know why he can't watch with the glasses like we do.
We always had to tell him that, because of his ear, the glasses would not stay on. He would try holding up an adult pair, but after a short time, he would get tired of holding his hands up around his head and give up, frustrated.
Us holding them was no better. I was surprised just how hard it is to hold your arms up for more than a few minutes straight!
Anyway, we ended up purchasing a strap meant to hold the glasses on his head.
Still, with adult sized glasses, the pressure of the strap on the back simply meant that they pulled away from his face and fell down in the front.
That started me on a search to find child-sized 3D glasses...
I came across a few places online, but couldn't find anything that seemed like it would do the job until I came across the
XPAND website
.
Not only did their glasses claim to be universal and work with nearly anything, but they came in not just adult and child sizes, but also a medium size which I thought he would have to move into someday.
I couldn't find any options for shipping to Japan, so I contacted them through their website and told the brief story about how I needed to find a retailer for the glasses here in Japan that actually offered the small glasses due to the aforementioned issues.
Just the next day I was contacted by directly via email by the Business Development Manager in Japan.
He offered to send us a pair of the small glasses that should fit Ryu. Of course, I assumed that something was lost in the translation as he had answered in English.
I gave him my location information and stated that I would like to get a quote for the glasses.
He again responded that he would ship us a pair as soon as the weekend was over.
Here it is, Monday, and Ryu gets his first ever package just for him!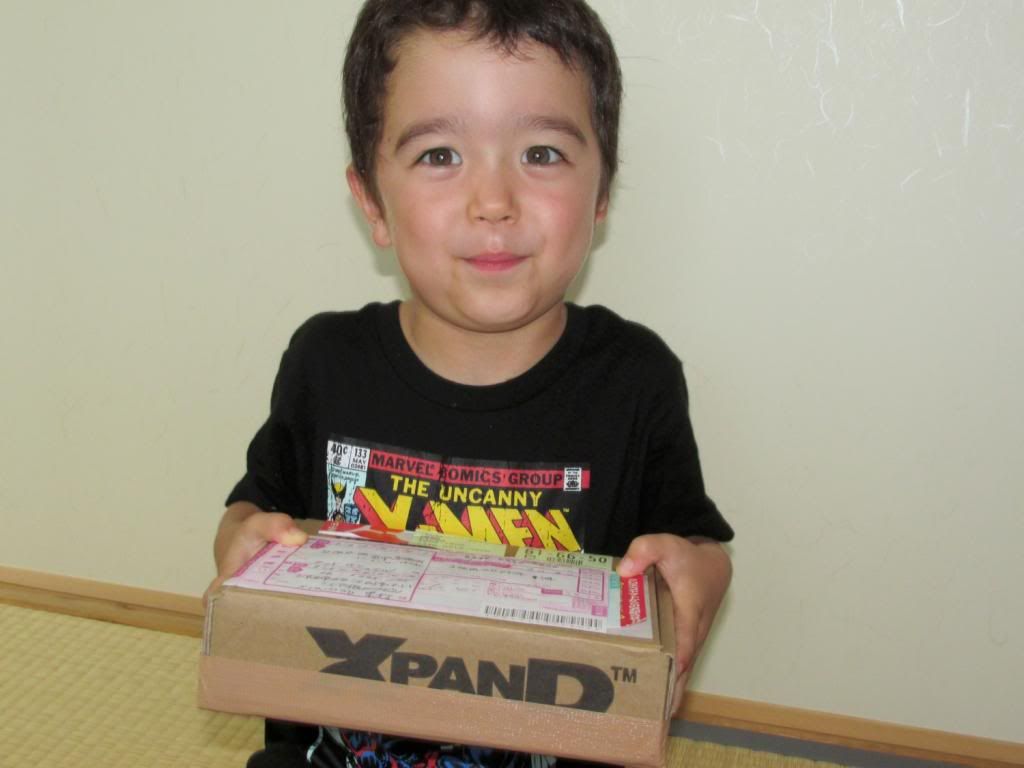 He opens it up and finds his new glasses.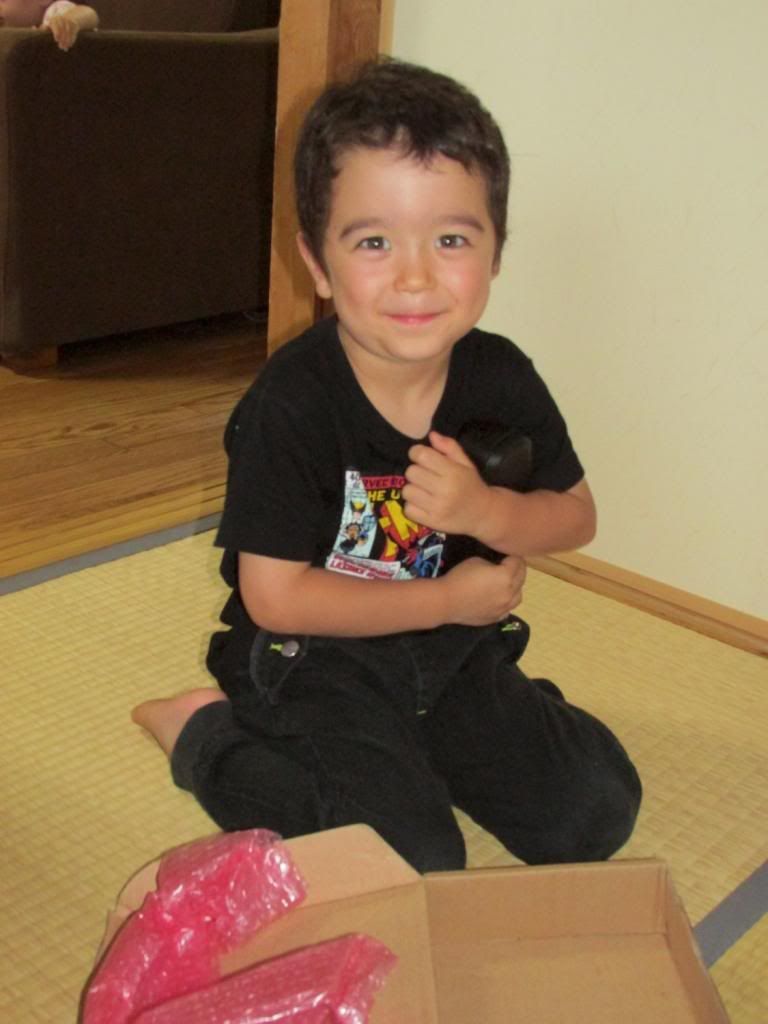 The package comes with the glasses themselves (rechargeable just like the typical ones you can buy for your 3D TV), a case, cleaning cloth, different sized nosepiece and a USB charging cable.
The real question is, will they fit?
Yep! And he was thrilled that they are red.
Not only did they fit, but thanks to a rubberized inside piece on each side, we found the strap we had purchased previously completely unnecessary!
From there, it was simply a question of if they would sync up with the TV.
After charging them for about 2 hours, they seemed to be ready to go. We put one of his favorite movies in, but one he had not been able to watch the 3D version of (Disney's
Tangled
) and gave it a go!
We hit the power button and the glasses took about 5 seconds or so to recognize the signal and sync with the TV while we did nothing but sit there waiting.
A couple of skipped previews later, and Ryu was enjoying his first 3D movie that he could actually focus on and feel comfortable watching!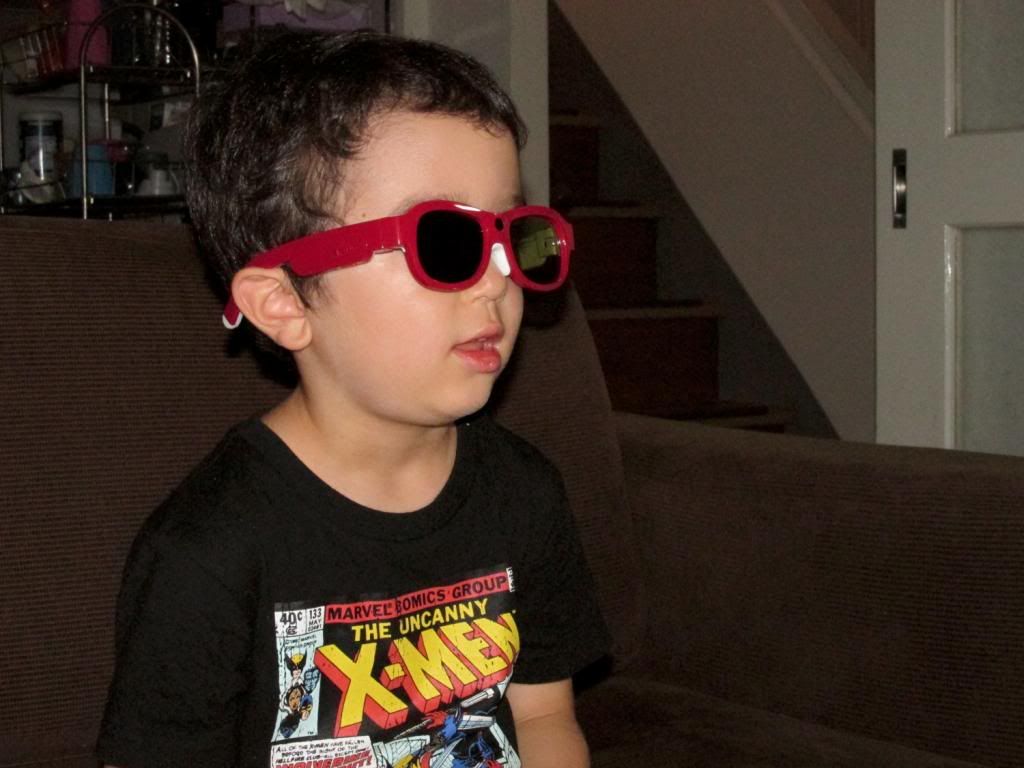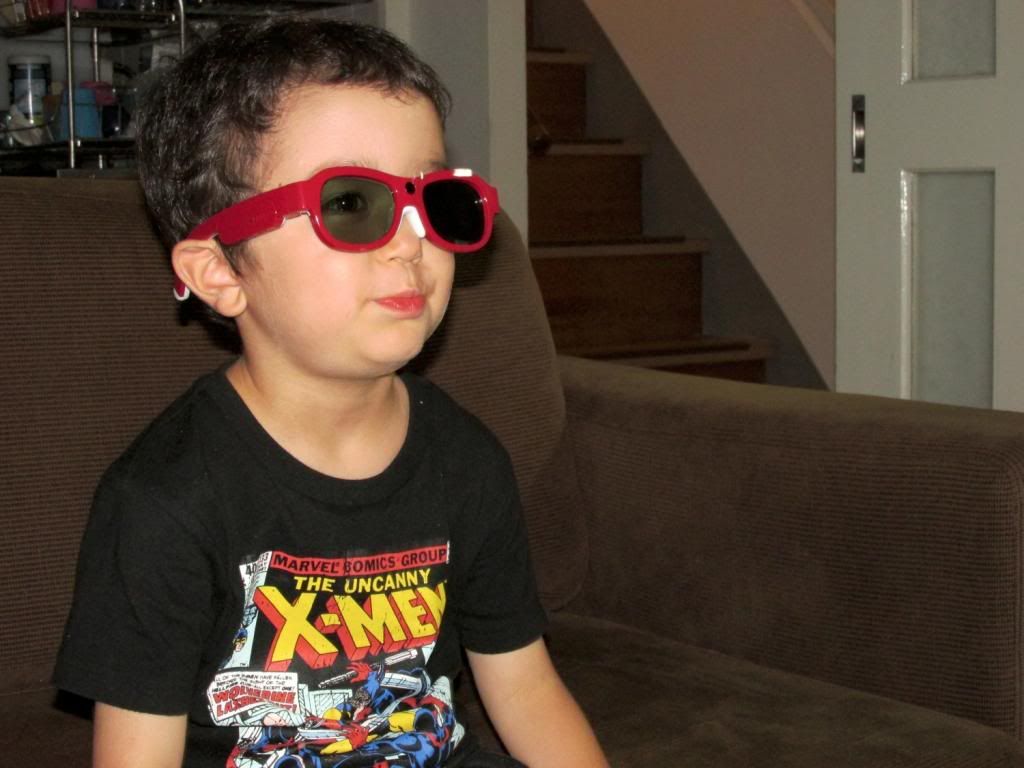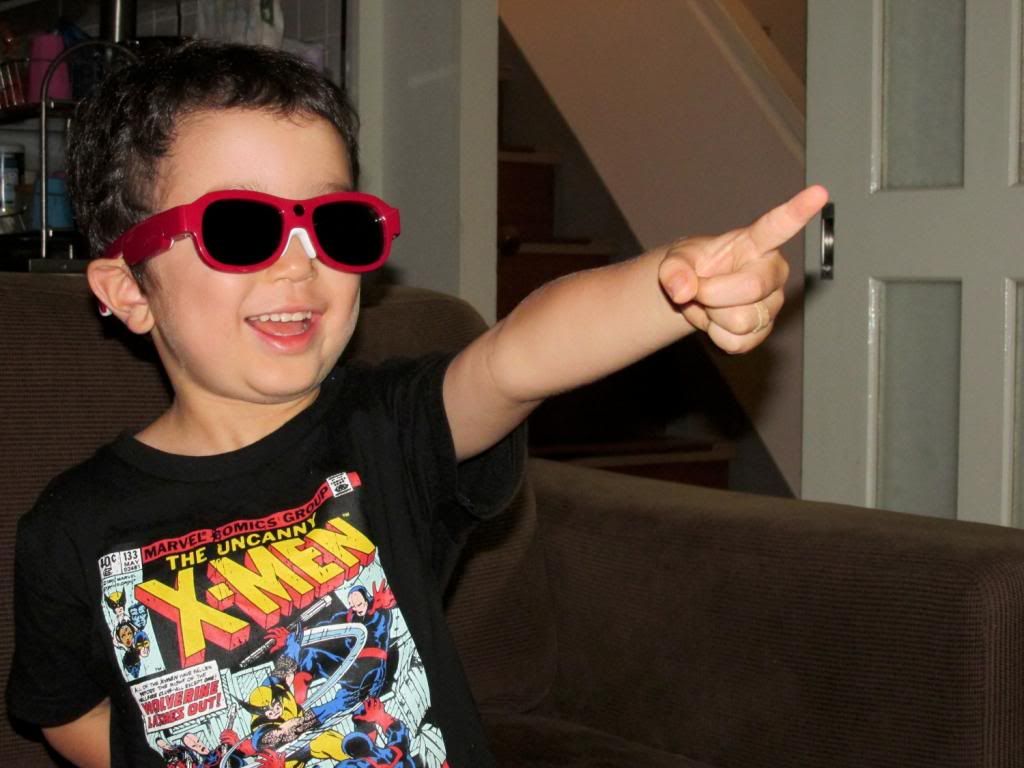 And one more picture just because his sister was jealous of all the attention he was getting.
Overall, not only did I have a great experience with a company that seems to be quite customer-centric, but I found that the glasses were exactly what we were looking for.
I'm not exaggerating at all when I say it brought a tear to my eye when, after 10 minutes or so of watching the movie he looked over at me and said "I really like these glasses. Thank you! I love you!" and gave me a big hug.
Family movie nights will be an ongoing thing from now on and, in a couple of years once Ryu outgrows these, it will be time to pass them down to Kairi and I will certainly be visiting the XPAND website to buy him a pair of medium glasses!
Incidentally, while I can obviously not wear them, I did hold them up in front of my eyes just to see what he was seeing and they seemed to have much less crosstalk than the official Sharp glasses that we purchased.
I am highly considering picking up some adult pairs in the future as well!
Overall, these are pretty much the perfect glasses for a kid. They seem quite sturdy, are colorful and interesting to him, they are quite light, plus they synced up in seconds with absolutely no additional steps!
I would highly recommend
XPAND Universal 3D Glasses
to anyone that has considered getting some for a child, or even adults that would like something high quality for their home movie viewing experience.