Welcome to my thread! First here are my rules:
I would like to be paid first, especially considering these are electronics/video games!!
Post HERE before you pm me!
Prices are SEMI-FIRM but PM me your RESONABLE offers, either way these are great prices!
Need CASH (PayPal).
No l337 speak please!
No flaming!
No Low Balls!
EBay feedback:
http://myworld.ebay.com/bgriff2007/
Selling some Xbox 360 game's I no longer play they're in very good condition with very little if any scratches on the disks. They include box, instructions, and the disk (AKA they're all complete). Prices include shipping and any fees unless otherwise stated.
Ace Combat 6- $47
Army of Two- $37
Battlefield Bad Company- $50
Bioshock- $32
Crackdown- $12
Command & Conquer 3: Tiberium Wars- $22
Dead Rising- $16
Forza 2- $10
Gears of War- $32
Halo 3- $47
Tony Hawk's American Wasteland- $10
Tony Hawk's Projecct 8- $15
WWE Smackdown vs. Raw 2007- $8
WWE Smackdown vs. Raw 2008- $24
Viva Pinata (CE)- $ 15
all 3 Burger King Games- $10 (together)
Also have the following demo disks from OXM# 53, 54, 61, 67, and 75 $1.50 each
Also have one Xbox game Greg Hastings' Tournament Paintball Max'd- $8
Remember all prices are OBO and if you buy all the xbox 360 games at the price of $380 I will give you the burger king games and the oxm demo disks for free!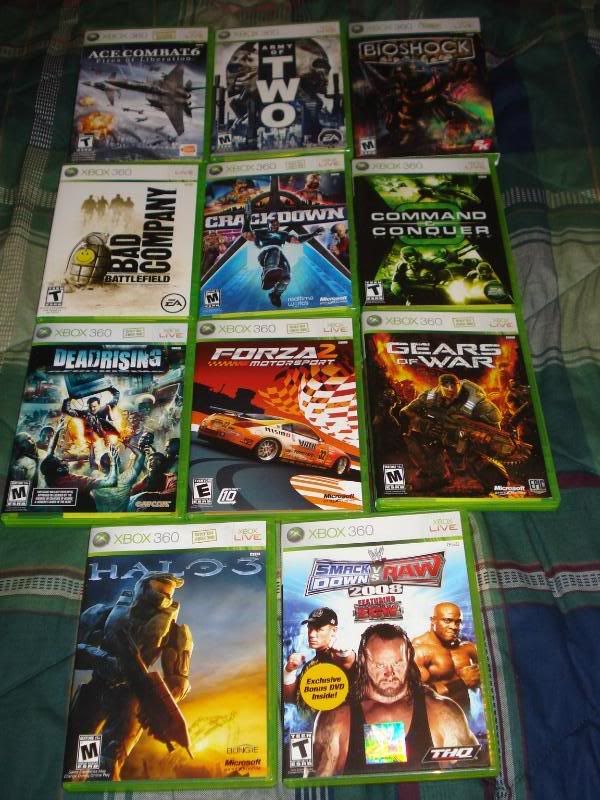 I also have the following new/sealed PlayStation3/2 games for sale
NBA 2k7 (PS3)- $10
FIFA Soccer 07 (PS2)- $20