Welcome everyone to the final week of Naruto411.com's raffle which was started to celebrate our one year of being on the INTERNET! Anyway, Week 3 of our raffle ended last night (the winner still hasn't redeemed the prize, but I just sent the e-mail, lol) so now were going to mellow down with our last prize.
This week's prize is something fairly simple, A Naruto Wrist band. The winner will have the option to choose what wrist band it can be, so as long as it's under $10 shipped , and a Naruto wrist band, then we are down with it, got it? Cool. So most Naruto Wrist bands that are sold in the states look a little like this.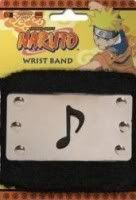 Some of them have a thin piece of aluminum (to look like the head bands) or some of them are just normal ol' wrist bands like the one shown on the right. The wrist bands can also be chosen from different villages such as the Leaf village, Sound village, Sand village, or even a Akatsuki style where the symbol is scratched in the middle.
So remember, if none of the official wrist bands fit you're style, just find one that does. It's simple.
To enter just e-mail
[email protected]
with the subject "Naruto411 Raffle", or reply here in this thread, or just PM me with you're e-mail address then you will be entered. Good luck everyone!
---
The other threads, all of them are closed.
Week 1 Thread
http://www.cheapassg...ad.php?t=209390
Week 2 Thread
http://www.cheapassg...d.php?p=5322531
Week 3 Thread
http://www.cheapassg...ad.php?t=210463
Edited by SanjiX, 18 January 2009 - 12:00 AM.