After a mild break from this site, I am back! But, this time it is to offer up my game collection to the community whom has been so great. I am a graduate student, just about done with my program and have decided that I am moving on from collecting. It is bittersweet for me to say the least, but bills and life have taken precedent over my ability to enjoy the games I have. So, I figure it is right to offer them up to those whom will appreciate them!
ALL Offers will be considered, but please do not send lowball offers. Not asking for ebay prices as I am just trying to get some money for bills/summer tuition together. Please factor in $4 dollars for shipping into each individual game offer, and if you want multiple things I can work out a level shipping quote.

Sending what you think is a reasonable offer will net you, in the worst case, a "No" or a counter offer. I am willing to negotiate on offers!

Please feel free to ask about condition- Everything is in pretty great shape and CIB unless noted! I can send pics to reassure you of what you are receiving!
Xbox 360

Aliens Colonial Marines- Sealed
Call of Juarez Bound By Blood
Culdcept Saga- Like New
Dead Pool
Earth Defense Force 2017
Fable 3
Far Cry 4
GTA IV- Disc only, will ship in a case for Episodes from Liberty City
Guilty Gear Overture
Hitman Bloodmoney
Left 4 Dead 2
Lord of the Rings Battle for Middle Earth 2
Man vs Wild
Metal Gear Rising
Mini Ninjas- Disc only
Phantasy Star Universe
Record of Agarest War Zero LE- Sealed
Resonance of Fate
Spectral Force 3
The Simpsons Game
Tomb Raider -LE Steelbook Edition
Tomb Raider Anniversary


PS3

Atelier Rorona- The Alchemist of Arland LE- Box in ok shape, game/artbook
Bladestorm
Catherine
Deception IV
Demon Souls- Black label case, GH disc
Gran Turismo 6
Hakuoki Stories of the Shinsengumi Limited Edition- Box is a little smooshed, everything except game sealed
No More Heroes- Sealed (but its an obvious reseal)
Under Defeat HD
Tekken Tag 2
Yakuza 4
Ex-Troopers (Japanese Version, plays on NA consoles)
Vanquish
Back to the Future
Wii
Calling- No manual
Dragon Ball Z Budakai Tenchi 3- No manual
Muramasa Demon Blade
Pikmin 2- Sealed (better be a really good offer)
Sakura Wars (no manual)
New Super Mario Bros- No manual

PS1

Star Ocean- Like New (must be really good offer)
Metal Gear Solid
A Bugs Life
Jurassic Park Warpath- Has some scratches

PS2
Phat system- has all cords and 2 controllers
SMT Devil Summoner 2 CE Sealed
Star Ocean- disc one has some surface scratches
Silent Hill 2- Disc GH, manual and art are Black Label
Persona 4- CIB with soundtrack, Very good condition. UPC has punch hole
Crash Tag Team Racing
Inuyasha Secret of the cursed mask- disc only
Clock Tower 3- Disc only

GameBoy 3DS/DS/Advance/Original GB (listed in that order for system)

DS- Thundercats
DS- Coraline
DS- Pokémon White- Sealed
DS- IL-2 Sturmovik
DS- Shin Megami Tensei: Devil Survivor
DS- Shin Megami Tensei: Devil Survivor 2- Sealed

Xbox
Taito Collection
Guilty Gear X2 Reload
Dreamcast

System- no controllers or hook ups but works just fine
N64
Console Only
SNES

2 Nintendo Brand Controllers- Very Great Condition
Fatal Fury 2- Cart Only

NES (cart only)
Kickmaster
Kid Niki
Gologo 13
The Mafiat Conspiracy
Sega CD
Rise of the Dragon
Genensis (CIB unless stated)
Fantasia
Quackshot
X-men
Spiderman (original version)
Death Duel
Star Trek TNG
Alex Kidd in the enchanted castle
Asterix and the great rescue
Sonic Spinball
Winter Olympics
Arcade Classics
Sega 6 Pak (cart only)

Misc - MAKE OFFERS!
Only Love Sayuri Amamiya Figure (quite big, comes in box) looks like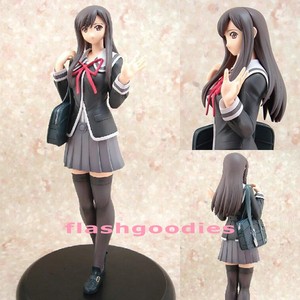 Aya Onechanbara 1/8 LE Figure (looks like this, black bikini because of the LE status)
RE5 Lithograph
Silent Hill 2 Xbox Insert and Manual
Empty Sega Genesis cases- some cases have cover art. PM me for info
The Following Items are $1 plus shipping cost

Pacman World Rally Race GC Case/Insert/Manual
NBA 2K10 Case and Manual for 360 (no game)
Halo 4 case and insert 360
Assassins Creed 3 Case manual insert 360
Left for Dead case and insert 360
MIdnight Club PS3 case and insert
Ni no Kuni case and insert PS3
Call of Duty Ghost 360/one slim case and insert
Vietcong Purple Haze Case manual insert PS2
Empty PS3 case
Empty 360 case
Empty PS2 case
GTA Vice City Manual and Map (PS2)
Witcher Map/Manual (360)



Spoiler


WANT- $$$$$$ and...

Xbox 360

Sherlock Holmes: Crimes and Punishment
Civil War: A Nation Divided
South Park Stick of Truth


PS1

DiscWorld
Diablo

Space Hulk

DVD/Anime
Demon City Shinjuku

Misc/Guides/Cases & Manuals
M.U.S.H.A.- Case and Manual (like this is ever gonna happen)

Persona PS1 Manual- don't care about condition, just give me the pages and I will tape/staple them
Cadash (genesis)- Case and Manual
Shadowrun Genesis MANUAL ONLY
(i will punch a person of your choosing in the face for even just an offer on this)
Anything Mass Effect

Castlevania Stuff
Clocktower 3 Case/Manual

Sonic The Hedgehog Xbox 360 case/manual

Death/Black Metal CDs from bands that don't suck. PM me a list of anything you have!

Super Awesome CAG Folk (trade with them!)



Spoiler



Thanks to these folks, and any other CAGS I have traded with! [/spoiler]