I am in Graduate School and came to the realization that I will not have the time to spend playing many games I have in my collection/backlog. Feel free to make a reasonable offer on anything, I would most likely accept it or counter offer! If you want more than one game I will be more than likely to accept a reasonable deal. If you just want to trade I am really ok with that too, and will CYL! Paypal only, standard CAG rules apply.

PLEASE, DO NOT send a message asking "how much?" I will send you an Ebay price if you do. Sending what you think is a reasonable offer will net you, in the worst case, a "No" or a counter offer. I am willing to negotiate on offers!

Any prices do not include shipping, but could- Prices are not set in stone!
Please feel free to ask about condition- I can send pics to reassure you of what you are receiving!
Xbox 360

Call of Juarez Bound By Blood- $6
Culdcept Saga- Like New (must be good offer) $25
Earth Defense Force 2017- $15
GTA IV- Disc only, will ship in a case for Episodes from Liberty City $10
GTA V- $20
Both GTA for $26 Shipped Priority
Guilty Gear Overture- $8
Halo CE Anniversary w/slipcover- $12
Hitman Bloodmoney- Like New $8

Lord of the Rings Battle for Middle Earth 2- light surface scratches $20
Mini Ninjas- Disc only $8
Record of Agarest War Zero LE- Sealed $30
Spectral Force 3- $13
Tomb Raider -LE Steelbook Edition, Everything is Really Like New!!! $15


PS3

Aliens Colonial Marines- Sealed $6
Atelier Rorona- The Alchemist of Arland LE- Box in ok shape, game/artbook A+ $40
Bladestorm- Like New $18
Catherine- Like New $13
Deception IV- $22
Demon Souls- Black label case, GH disc- $10
Ghostbusters- $15
Gran Turismo 6- Like New $21
No More Heroes- Sealed (but its an obvious reseal)- $20
Wii

Dragon Ball Z Budakai Tenchi 3- No manual- $25
Guilty Gear AC- Disc only, like new
Oregon Trail- Like New (must be good offer)
Pikmin 2- Sealed (better be a really good offer)
Sakura Wars (no manual)- Like New (must be a good offer)
New Super Mario Bros- No manual- $15

PS1

Star Ocean- Like New (must be really good offer)
Jurassic Park Warpath- Has some scratches

PS2
Phat system- has all cords and 1 controller- $25
SMT Devil Summoner 2 CE Sealed- $60

Marc Ecko's Gettin' Up Collectors Edition- Like New missing at the moment
Star Ocean- disc one has some surface scratches
Silent Hill 2- Disc GH, manual and art are Black Label- Like New
Persona 4- CIB with soundtrack, Very good condition. UPC has punch hole $10

GameBoy 3DS/DS/Advance/Original GB (listed in that order for system)

DS- Thundercats - Sealed $12
DS- Coraline- Like New $18
DS- Shin Megami Tensei: Devil Survivor - Like New $18
DS- Shin Megami Tensei: Devil Survivor 2- Sealed- $25

Xbox
Taito Collection- $5
Dreamcast

System- no controllers or hook ups but works just fine- $20
SNES

2 Nintendo Brand Controllers- Very Great Condition $10 each, $20 for both priority shipped

NES (cart only unless stated)
Kickmaster- $60
More to be added soon
Genensis (CIB unless stated)
Fantasia
Quackshot
More to be added soon

DLC (360 only, prefer trades for other codes)

LOTR Ranger Avatar Costume ( female available)
Aqua XBLA code

Misc - MAKE OFFERS!
Only Love Sayuri Amamiya Figure (quite big, comes in box) $50 looks like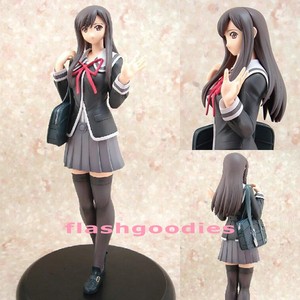 Aya Onechanbara 1/8 LE Figure $40 (looks like this, black bikini because of the LE status)

Excel Saga Menche Plush- Like New
RE5 Lithograph- make offer!
Silent Hill 2 Xbox Insert and Manual- $5
Empty Sega Genesis cases- $2 bucks a piece, some cases have cover art. PM me for info
The Following Items are $1 plus shipping cost

Pacman World Rally Race GC Case/Insert/Manual
NBA 2K10 Case and Manual for 360 (no game)
Halo 4 case and insert 360
Assassins Creed 3 Case manual insert 360
Left for Dead case and insert 360
MIdnight Club PS3 case and insert
Ni no Kuni case and insert PS3
Call of Duty Ghost 360/one slim case and insert
Vietcong Purple Haze Case manual insert PS2
Empty PS3 case
Empty 360 case
Empty PS2 case
GTA Vice City Manual and Map (PS2)
Witcher Map/Manual (360)



Spoiler


WANT- $$$$$$ and...

Xbox 360

Sherlock Holmes: Crimes and Punishment
Sniper Elite 3
Dragon Age Inquisition
South Park Stick of Truth
CYL

PS2

Diaster Report


PS1

DiscWorld
Diablo

Space Hulk

Sega Genesis(must be CIB unless it is a real good deal/hard to find game)

Growl
thanks battlousai11!!!!
Earnest Evans

The Last Battle
Mega Turrican
Gaires
Strider (cart/manual)
Brutal Paws of Fury (cart only)
CYL

DVD/Anime
Demon City Shinjuku

Kingpin (the bowling movie)

Misc/Guides/Cases & Manuals
M.U.S.H.A.- Case and Manual (like this is ever gonna happen)

Persona PS1 Manual- don't care about condition, just give me the pages and I will tape/staple them
Cadash (genesis)- Case and Manual
Shadowrun Genesis MANUAL ONLY
(i will punch a person of your choosing in the face for even just an offer on this)
Anything Guilty Gear (art books, japanese dvd)
Anything Mass Effect

Castlevania Stuff
Clocktower 3 Case/Manual

Sonic The Hedgehog Xbox 360 case/manual

Death/Black Metal CDs from bands that don't suck. PM me a list of anything you have!

Lets get to trading!!!!!

Super Awesome CAG Folk (trade with them!)



Spoiler



Thanks to these folks, and any other CAGS I have traded with! [/spoiler]