NOTE: I Have around 19 Ebay rep, all Positive. I will show if you want me to show you.

NOTE #2: IF YOU HAVE ANY ACTION FIGURES, I mean ANY please PM ME RIGHT AWAY! I need a lot of Figures for my collection, so if you have any Figures PLEASE PM ME!

Key: Red=Hard to Part with
Green= Easy to part with

= How much I want it
Have
: NOTE: All Mint, Unless stated.
Saints Row-$15+Shipping
Resident Evil 5
Fallout 3
Far Cry 2
Rock Band 2(Xbox 360 bundle)
Bioshock(With Cardboard Sleeve)$30+Shipping
Call of Duty 4 -$35+Shipping


Gears of War-$20 + Shipping




Mass Effect- $30 +Shipping


The Darkness-$20 +Shipping
Halo 3-$30 +Shipping
Guitar Hero III W/Guitar
Rainbow Six Vegas: 2-$35+Shipping
GTA:IV
Test Drive: Unlimited
Stranglehold
Madden 2007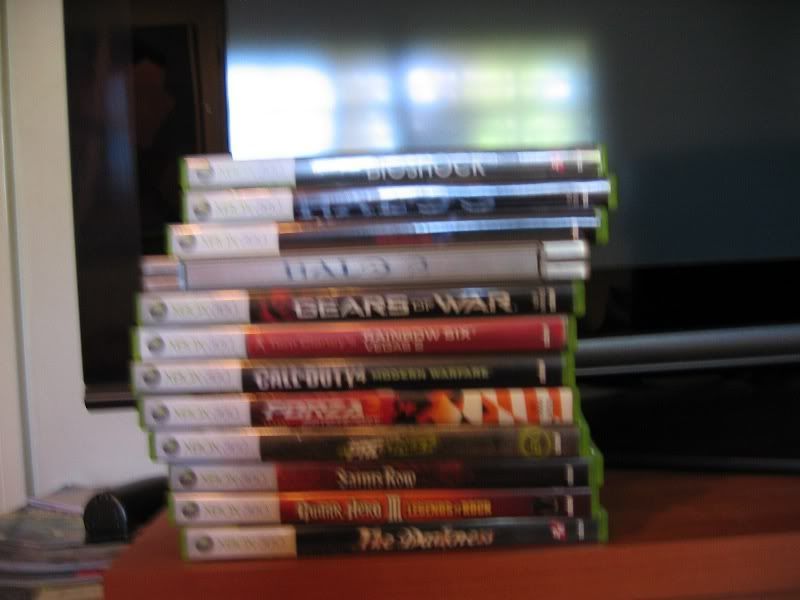 Consoles(Have): Xbox( All Cables, 2 Controllers)
Gamecube(all cables, 1 Wired, 1 Wireless controller)
PS2(All Cables, 2 Controllers)
Also have, over 70 games for all the consoles listed above(Not for each, in all)

Also Have: 5th Generation 30GB Ipod(Black)
Also Have: $115 Cash.

Have: Kingdom Hearts


:
Battlefield: 2
Battlefield: 2142
Crysis
Dawn of War(Gold Pack+Dark Crusade)
The Orange Box Steam account(Also has Counter Strike: Source, and HL2:DM)
Call Of Duty 4
Call Of Duty 2
Call Of Duty
Call Of Duty: United Offensive
F.E.A.R


Have:
Halo 2: CE
Edited by Matty6, 02 July 2009 - 10:38 PM.