Swagbucks: is the EASIEST freebie site I've found so far.




This requires virtually no effort whatsoever. All you have to do is use their search engine, and each day you will be rewarded some swagbucks. You spend these in the store for gift cards or prizes, much like other sites. You already search every day, so why not earn rewards for using this one? It even uses results from google and ask.com, so it is just as good.

I haven't been on the site very long, but I've ordered more than $600 worth of Amazon.com certificates already!

Here's a small shot of my redeemed prizes list. The current one is WAY too long to post.





TIPS:

If you have Internet Explorer with the search bar in the corner, you can make swagbucks your default search engine by clicking the small arrow next to it and choosing "find more providers," and then pasting (minus quotes) "http://swagbucks.com...t=w&p=1&q=TEST" into the box on the right. Then just name it, click install, and tick "make this my default search provider in the pop-up box.

If you use Google Chrome, simply go into your options menu, click "manage" next to "Default Search" and add the url "http://swagbucks.com.../?t=w&p=1&q=%s" as an search option. Then click the "make default" button.

The site also has toolbars for each browser, or you could make it your homepage.

MAKE SURE to check the box to remember you when you log in, so that you're always signed in to get credited Swag Bucks.

You can visit This Site to see if there are any active "Swag Codes" each day. You can enter them on the "My Swag Bucks" page for a swagbuck or two.

SIGN UP HERE

Now, whever you do a web search, you'll be making progress towards the easiest free stuff ever.

BONUS!!!
USE CODE: Mcdougal
For 70 Swagbucks in addition to the 30 that you usually get for signing up!
This is good until 2/21
You have to use the "SIGN UP HERE" link above.
PrizeRebel: Get FREE Microsoft Points or console games games for filling out forms!
I've earned over $235 worth of prizes from here so far!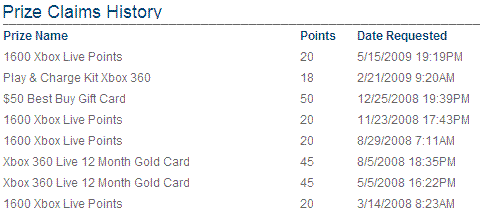 TIPS: Create an email address for spam. Sign up to these sites with your normal email address so you can get emails about prizes, but use the spam email address to fil out the offer forms while earning points.

Filling out long pages of YES/NO can be made very fast by using keyboard shortcuts (usually, after clicking 1 NO: TAB, RIGHT ARROW, REPEAT)

Do all of the high value offers of over 1 point each first. Each point is worth a dollar. PrizeRebel will even let you custom order anything off of Amazon.

Once you do a few of the offers/surveys, you'll get pretty fast and can do them without thinking too much. I like to listen to music or pay attention to TV while I do these, so I'm entertained while I'm earning Microsoft Points and other goods.

I hope my tips help you guys earn a lot of free stuff, and referrals are appreciated.



Tribes: Ascend: is an amazing first person shooter on PC, that is incredibly fun, and is FREE to play! It is not pay-to-win, as anything you could possibly upgrade your character with is available to unlock using credits earned by playing this awesome game.

P.S. It has jetpacks!
Edited by Bill Mcdougal, 07 October 2014 - 11:46 AM.