hello there,
I need to sell some of my things as my collection have to be trimmed down considerably.
prices are posted next to each item, I will entertain offers, you can count on discount if purchasing multiple items.
paypal and usps money orders accepted, (no fees if you pay through paypal, you need to have confirmed address though).
I always ship my items with protective material, all prices include shipping unless specified otherwise(all items are being sent with tracking number without additional cost, it's on me), to united states.
if you're from outside of states, contact me for shipping cost.
insurance is optional but recommended(especially for pricier items).
I will always respond quickly to all questions so don't hesitate to ask if there is anything you'd like to know about certain item.
all my items are tested before shipping and fully inspected.
all items I sell are authentic and official, no bootlegs of any sort.
I use actual pictures of items I'm selling so you can take a look of what item looks like without fear of getting something completely different to what you'd expect.
let's get to it:
2 Xbox 360 Wireless Controllers(microsoft brand),
price for each $27 including shipping, if you'll take both I will sell them for $50 shipped.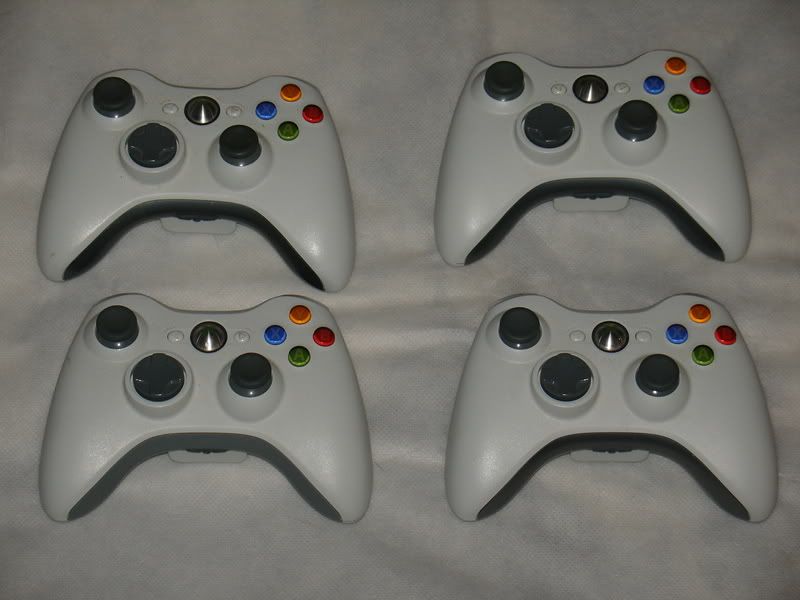 XNeo-1 RGB/S-Video Stereo Unit - $95
it allows you to play in RGB, S-Video Mode and with Stereo Audio on your Neo Geo AES without any modifications, just use it instead of your a/v cables and you're ready to go!
Xbox 360 Wireless Adapter(Microsoft brand), $60 shipped.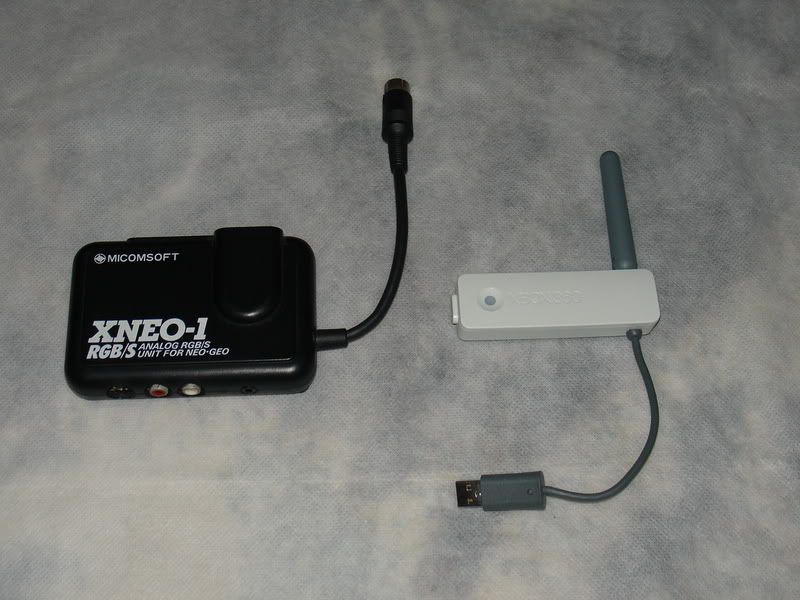 Orange Box for 360, $20 shipped to you(complete and in mint condition), not pictured but everyone knows how it looks like.
SNK Neo Geo MVS Board M1BBV single slot, includes these games:
Fatal Fury Special
Fighters History Dynamite
King of Fighters 95
King of Fighters 96
Samurai Spirits IV Amakusa Revenge
$150 for everything.
Neo Geo AES Controller - $45
Sega Saturn Hori Fighting Stick - $45
2 x 3D Saturn Pads - $20 each
Saturn Multitap (Sega Brand, not third party), - $25
Official Sega Saturn Boxed Arcade Stick HSS-0136
the best stick out there for saturn(Dual Astro Stick aside), in awesome condition(could be mistaken for new) - $68 including shipping:
MVS Games:
Master of Syuogi $45
Mahjong 1991 $40
King of Fighters 2000 $50
King of Fighters 2001 $50
King of Fighters 2002 $58
Real Bout 2: the Newcomers $45
World Heroes Perfect $60
Art of Fighting 3 $55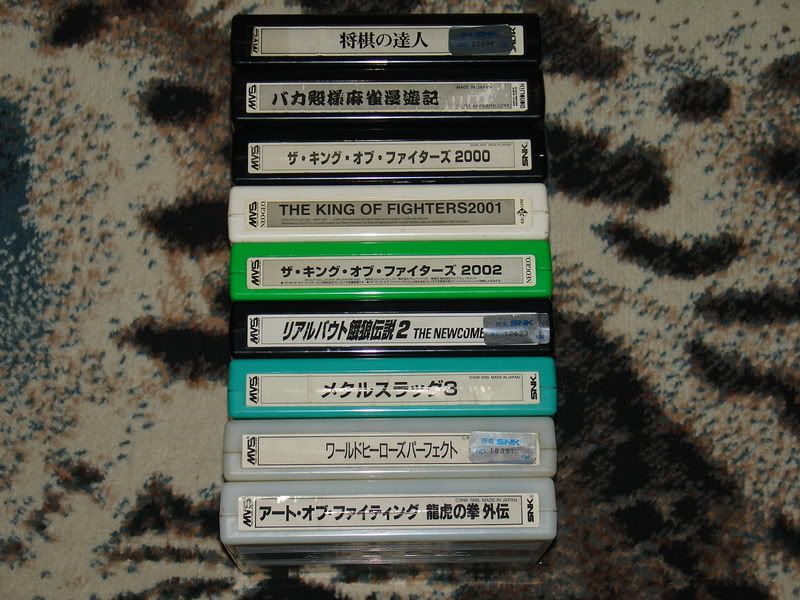 2 Japanese Saturn Bundles:
first bundle:
Japanese Sega Saturn in near mint condition(boxed), comes with:
joypad, a/v cables, power cord, 4MB Memory Expansion Cart, King of Fighters 95 Rom Cart, as well as batch of following games(all games work, vary from good to excellent condition):
1.Virtual On
2.Daytona USA
3.GunGriffon
4.X-Men vs Street Fighter (comes with outer box)
5.Vampire Saviour (comes with outer box)
6.Samurai Spirits III
7.Myst
8.Virtua Fighter Remix
9.Nights Christmas
10.Panzer Dragoon
11.Shining Wisdom
12.Slayers RPG
13.Virtua Fighter
14.Robot Taisen
15.Neon Genesis Evangelion
16.X-Men Children of the Atom
17.Shining Force III
18.adult title
19.Virtua Fighter 2
20.Fighters Megamix
21.Nights
22.Street Fighter Zero (known as Alpha in states, europe)
23.Street Fighter Zero 2
24.King of Fighters 95
price for entire bundle number one - $210, which includes shipping to you via usps parcel post.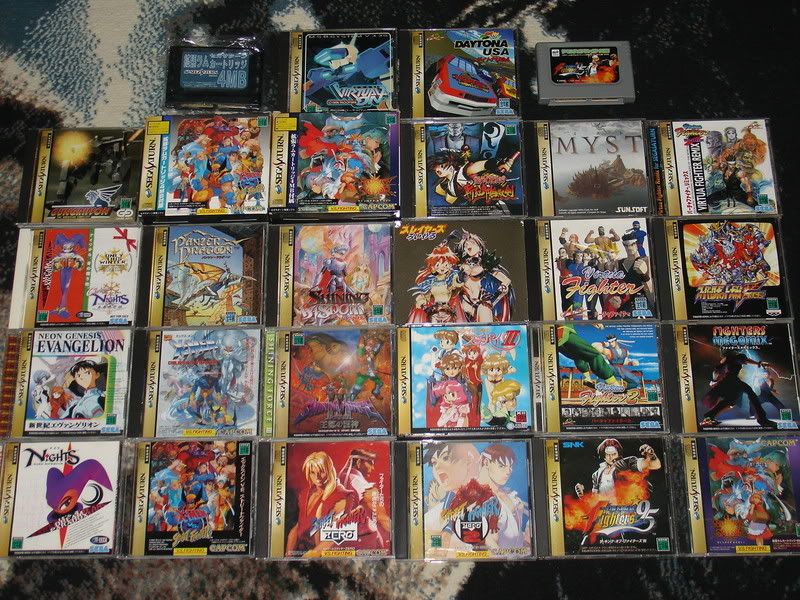 second bundle:
Japanese Sega Saturn in good condition, comes with:
joypad, a/v cables, power cord, King of Fighters 95 Rom Cart, white Memory Cart as well as batch of following games(all games work, vary from good to excellent condition):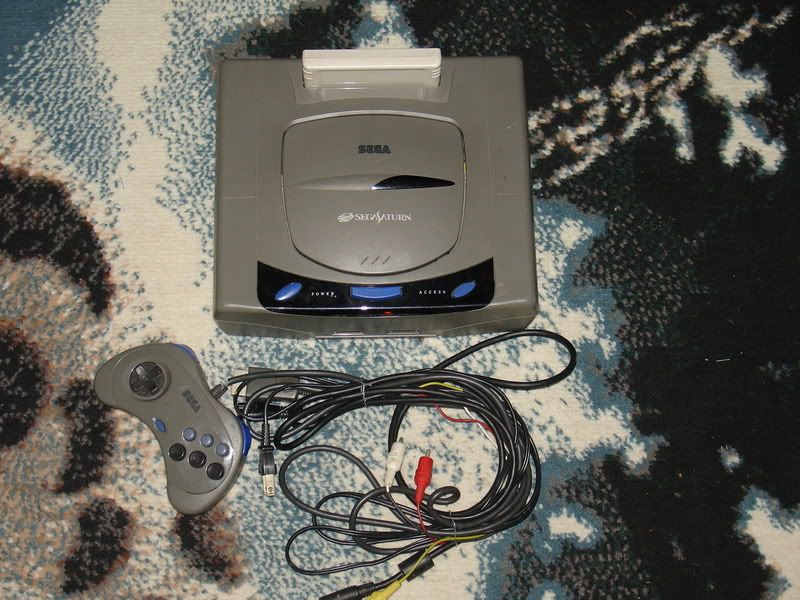 1.Neon Genesis Evangelion 2nd
2.adult title
3.Daytona USA
4.Vampire Hunter
5.Last Bronx
6.Nights Christmas
7.Shining Wisdom
8.Virtua Fighter
9.Virtua Fighter Remix
10.Fighting Vipers
11.X-Men Children of the Atom
12.Marvel Super Heroes
13.Virtua Fighter 2
14.Fighters Megamix
15.Devil Summoner
16.Street Fighter Zero
17.Street Fighter Zero 2
18.Soukyugurentai
19.Super Robot Taisen
price for entire bundle number two - $180 shipped via usps parcel post.
various Saturn titles (for sale separately):
games are in ok condition(definitely not collectors stuff as they have scratches or moderate wear to booklet(no tears or anything like that but they might contain bent corner or tab wear in that spot), all work as good as new and are complete(except spine cards).
1.Parodius $18
2.Cyberbots $18
3.Super Puzzle Fighter II $15
4.Hyper Duel $100
5.Blast Wind $95
6.Soukyugurentai $30
7.Dracula X Nocturne in the Moonlight (aka Castlevania SOTN) - $40
8.Rabbit - $24
9.Salamander Deluxe Pack Plus - $33
10.Skull Fang - $24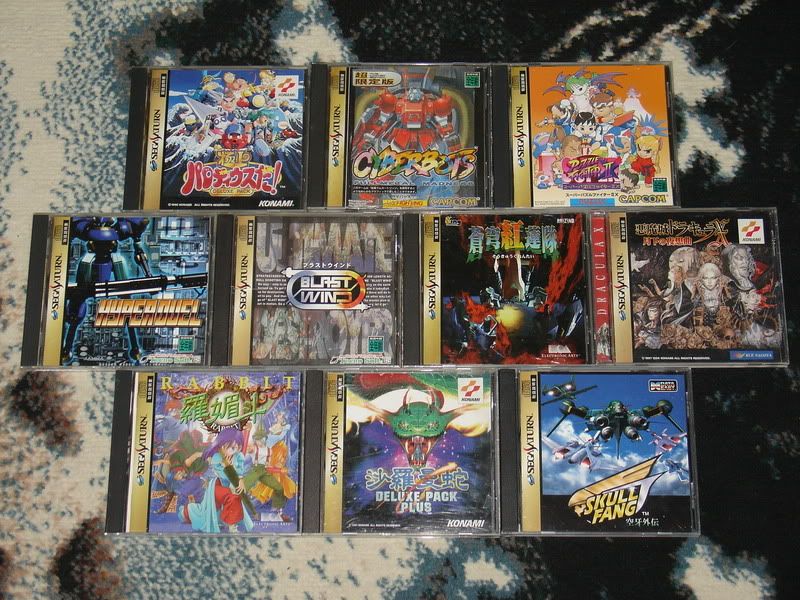 XRGB Upscan Converter - $145
to make your old school systems look better then ever on monitors or tv's equipped in VGA port,
comes with unit, all cables and ac adapter as shown on picture.
here's the quick summary of what this device can do:
http://www.ncsx.com/...1201/xrgb-1.htm
Wii Fit brand new and sealed bundle - $120 including shipping to you.
Sega Saturn Dual Arcade Stick Pro HSS-0130, - one of the best arcade sticks ever made for any system(exclusive to Japan), it's practically like having control panel of your astro city arcade cabinet in your living room.
fantastic controller and very rare(shipping this behemoth alone from Japan could hit you over $150).
there is also King of Fighters 95 Move List(authentic, not photocopy), in there so you if you play KOF title, you can glance quickly to catch combination for character moves.
$268 for whole thing, and that includes shipping to you(which will cost quite a bit, no doubt.)
4,000 microsoft points - $40,
I can mail them to you or send you an email with token to redeem on marketplace.
Consolized Atomiswave System with Component output, S-Video cables, Stereo Sound cables, perfect for HDTVs!!!
in awesome condition, comes with boxed Neo Geo Controller(boxed in baggie) and King of Fighters NeoWave Cart.
everything is ready to play!
$590 shipped through usps priority mail with signature confirmation required.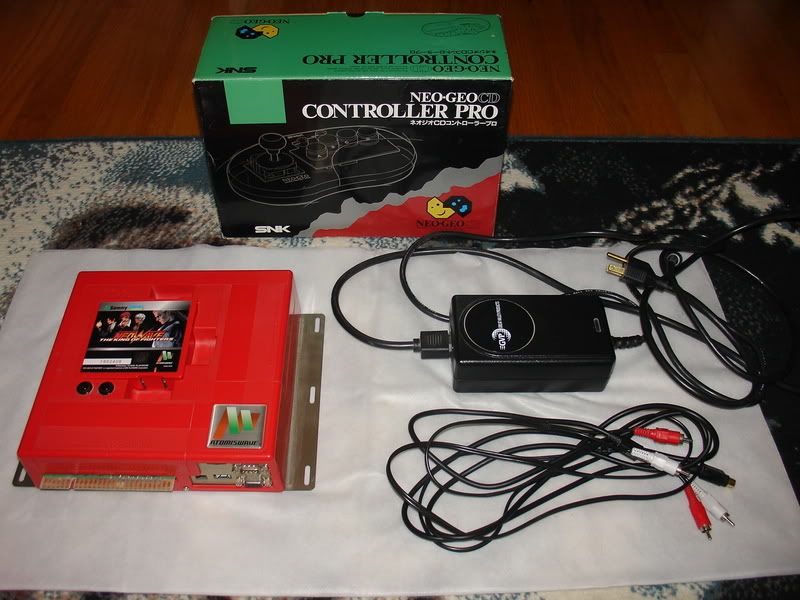 1980's music tapes soundtracks from Japan:
Sega Game Music - $20
Namco Game Music Grafitti - $20
Salamander - $25
Darius - $25
Namco G.M.O compilation - $25
Dragon Quest III - $25
Dragon Quest IV - so big that it needed to be released two tapes - $30
get all of them for $100 shipped!
Sega Dreamcast Bundle (JPN system), with official House of the Dead 2 Light Gun, Pad, VMU, a/v cables, power cord and following titles(all imports from Japan), (maracas and arcade stick as well as Samba 2000 are not included):
1.Samba de amigo(disc only)
2.Sonic Adventure
3.Capcom vs SNK Millenium Fight
4.Soul Calibur
5.King of Fighters 2000 (sealed)
6.Pen Pen
7.Godzilla Generations
8.Last Blade 2 Final Edition
9.Garou: Mark of the Wolves
10.Gundam ZX
11.Virtua Strikers 2000
12.Space Channel 5
13.Guilty Gear X
14.Heavy Metal
15.Virtua Fighter 3 Team Battle with Project Berkley(aka Shenmue documentary disc)
16.Psychic Force
17.Shotoku Battle
18.Resident Evil(Biohazard:Code Veronica)
19.Shenmue with Soundtrack called Jukebox.
entire bundle for $185(includes parcel post shipping with tracking number).
I will also entertain offers on trades(game soundtracks, ds, gba, psp, 360, ps3 wise), but if you have other gaming related items, feel free to let me know and maybe we can work something out.
thanks for looking!