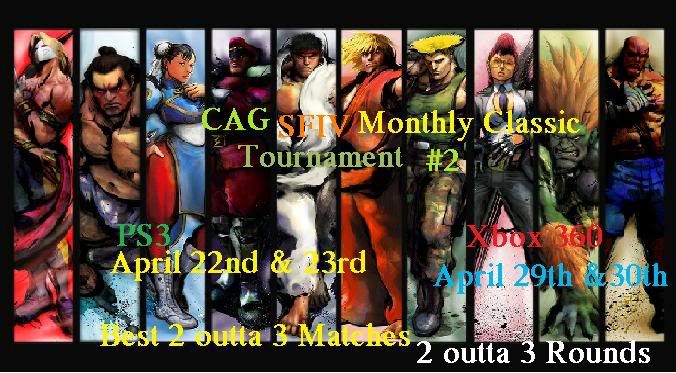 PS3 BRACKET
POST YOUR WINS IN THE THREAD PLEASE
XBOX 360 BRACKET TEXT
Day One April 22nd(PS3) & April 29th(360)
FIRST ROUND ( STARTING 32)
TIME FRAME : 530PM PST- 730PM PST
You have TWO HOURS to play
ONE
Match!
Second Round ( SWEET 16)
TIME FRAME: 7:30PM PST - 9:30PM PST
You have TWO HOURS To play your SECOND Match
Day Two April 23rd (PS3) & April 30th(360)
Third Round ( Elite 8)
Time Frame : 6:00 PM PST-6:45 PM PST
You have 45 MINS To play This Round!
Fourth Round ( Final Four)
Time Frame: 7:00-7:45 PM PST
Another 45 Mins to play This Match!
GRAND FINALS

Time Frame: 8:00 PM PST - 8:30 PM PST
You have 30 Mins to play the FINAL Match!
1) u can use any character any round
if you win the first match, you must use the same character you just won with
if you lost the first match, you can use any character( same rules if u win the 2nd match)


2) Best Two Out of 3 Matches, Best Two out of Three Rounds


3) if there are more then 32 people we would do pre-lim matches to get into the
official bracket those would be held a day before
4) there would be a time limit of when u had to have ur match played.
5) if someone doesnt show and doesnt post in the thread, the person who did post advances
6) if u forfeit or cannot make it PM me
7) if there are by some miracle back to back double KO's, then u replay
8) if someone wins one round within that match and then there is a draw, that player who won one round is the winner.
9) if u cannot make it by the time period you forfeited.
10) if one person is here and the other person doesnt show, the person who is here on cag will advance, pm me like 5 mins before time expires or 10.
11) Please check in in this thread on tournament day so i know you were waiting for your opponent otherwise you both will be dq'ed
seeding would be based off the tournament zerotypex is currently hosting.
and the rest would be random draw
, if not it will be random draw
a few questions
1) what application do u guys use to generate brackets?
2) anyone willing to donate prizes?
3) what chat room site should we use?
the reason i opted for a 2 day tourney is just for convenience for CAGers, since i know random crap turns up daily
any ideas or suggestions?
i also opted for once a month so its a big deal each month and CAGs can train/practice to improve.
Tourney Name would be the
CAG SFIV Monthly Classic Tournament #1
, just for kicks.
any help is greatly appreciated
PS3 Tournament on April (WEDNESDAY)

22nd

&

23rd

(Thursday)
Xbox 360 Tournament on April

29th

(Wednesday) and 30

th

(Thursday)

Please Sign Up Now.
Please Do not sign up if u wont even have your copy of SF4 in lol.
This is my first ever tourney I will admin,
Any ideas on how to get guys who are say about to face one another to sync times?
Please Post

CAG NAME


PSN/XBL Name


Suggestions
I will gather the names on a weekly basis, if the tournament Grows very large, i might ask someone for help to manage the ps3 one or something.
Thanks
If You are

NOT

in the

first 32

of your respective consoles, you will have to play a

preliminary match

against the bottom of the list.



Example




so... person #32 on ps3 would play the winner of prelim match A, person #33 would play the winner of prelim match B, ect.
PS3 Entries for

April 18

OR

19

ONE DAY

tourney
Please PM
me a week ahead if u
cannot make it
or if u want off the list :/
XBOX 360 Entries
Anyone who

donates

Fighting Game Stuff or

SF4 Promo Items

as a prize will have

their Trade Lists

Featured On this thread and on the PMs i send out and on the next month's Tourney!
the cooler or "better" your donation is the bigger your trade list will be shown.
PRIZES
1) Winner of each respective tournament will receive choice of one of the following items. Sorry 2nd place gets a good job and e-high five
CHEWY35 Has Opted to Donate Some Street Fighter Manga,
1)All four volumes of this SF Manga
http://www.amazon.co...pd_bxgy_b_img_b
AWESOME
2) 15th anny SF figure, Akuma, Honda, Chun theyre like 2.5 inches tall...
3)the Hadouken button input t-shirt * THANKS JEKKI!
Potential prizes people PM'd me about!
NOT CONFIRMED yet,
20th Anniversary SF Figurines still in their box!
the SF Blu-ray that comes with the LE box set!
The Ryu Figurined that comes with the LE box set
a SF patch

SNK vs CAPCOM Chaos
Edited by Furashu, 23 April 2009 - 04:02 AM.