Hello my fellow CAGs and welcome to my Ultimate PrizeRebel thread. In this thread I will post videos on how to complete those big 1 and 1.5 offers, post links to sites that will help you on your quest for prizes, and a few tips and tricks that the pros use.
The only thing I ask in return is when you sign up using this link
http://www.prizerebel.com/index.php?r=776337
or this banner

.
This way I earn money whenever you earn money. This brings me into my first topic of Referrals.
But first off here are my stats:
Referrals
Refferrals are one of the easiest ways to earn money on PrizeRebel. When you sign up for PrizeRebel you get a referral link found here:
You can also get referral banners by clicking the link "Referral Banners".
Referrals are so useful because they earn you money without you having to do surveys. All you do is you get someone to sign up under your referral link all whenever they earn any money you earn 20% of whatever they earn. Say they earn 10 dollars you would earn 2 dollars. They keep all the points they earn and you earn a little money. Say you have 10 people earning 20 dollars a month you would earn 40 dollars a month without having to do anything!
Tips to get referrals:
1. Use your friends! Who doesn't want to earn free stuff with barely any work? Give them your referral link and not only will you be making money but they will be grateful for showing them this.
2. YouTube. YouTube can spread a message to a wide range of people. All you have to do is make a video showing off a prize you got, show people how to do those big 1.5 offers, or show them how to get referrals and stick your referral link somewhere in there and you'll reel them in!
3. MySpace and Facebook. Make bullitens that all your friends will see. Some of them will go ahead and bite sign up and start earning points. Or you could go ahead and get a bot that adds hundreds of friends a day and then your bullteins will be seen by a wider audience.
4. YouTube again. Post your referral link in very popular videos (Chocolate Rain gets a new comment every few minutes).
5. Forums and Signatures. If they are allowed go ahead and post your referral link in your signature and at the end of forum posts. Also make threads like this one.
6. Xbox LIVE and PSN. Put your referral link in your motto or bio and people will message you about it. All you have to do is have them join and start earning money.
7. Chat Rooms. Go ahead and post your link in chat rooms and on IM. Many people use chatrooms to talk about topis they enjoy so you will get your link to a wide audience.
Ready to sign up yet? Go ahead at this link:
http://www.prizerebel.com/index.php?r=776337
OR
Using this banner:

Completeing Your First Offer
So you've signed up for PrizeRebel and are ready to start earning some points the honest way 'eh? You may wanna go on ahead and dive into one of those big 1.0 or 1.5 offers but we'll get to those later. Let's start with your basic offer around .50 and below. Remember the higher the offer is worth the harder it is to get the offer to credit. You should have no problem with offers worth around .25 and less. Once you get up into the .50 and above some of the tricks I will show you may start not working as well as they have.
Anyway here are a few sites and a few tips and tricks that will help you earn points.
http://www.10minutemail.com

This site is amazing. The way the system works is once you complete an offer you are put into a database and whenever you try to fill out another offer offered by the same company with the same info you will not be credited. What this site does is it gives you a valid email for 10 minutes then it will expire. This way you do not need to keep constantly making spam email accounts jsut so you can click on one verification link. Simply use one of these or every offer you complete. Note that some of the higher value offers will not use 10minutemail accounts and that you will have to continue making spam email accounts.
http://www.fakenamegenerator.com/

This goes along with the whole database thing. This website gives you fake information such as your address, name, gender etc. Note that some people have been having trouble using this with higher valued offers.

http://www.roboform.com/ If you are determined to use real info all the time this is the thing for you. RoboForm will fill out all your personal info for you. It will also select no to those long lists of offers inside of surveys.

http://www.ccleaner.com/ You must have cookies enabled to do these surveys. These cookies build up and start to slow down your computer and can keep you from getting credit. Surveys see if they have a certain cookie placed by the company that is running the survey so even if you are not in the database if you have that cookie you will not get credit. Use ccleaner to slear your cookies, temporary files, etc after every offer.

http://www.mozilla.c...efox/ie-yl.html Some people say Firefox is better to do surveys but I don't have any troble using my trust Internet Explorer. If you want to give in go ahead and use the link to download the newest version of Firefox.

The Dot Trick. For this you make a gmail account and instead of having to use 10minutemail or making new accounts every few minutes you simply add dots to your gmail account. Say your gmail account is BrigadierRayRay@gmail.com you could use B.rigadierRayRay@gmail.com or B.r.igadierR.ayRay@gmail.com and they will all count as seperate emails. all the verification links and spam will still be sent to BrigadierRayRay@gmail.com though. Note that some of the higher valued offers will not accept gmail anymore and I am not sure if this works with other email providers.

Long Vertical Lists of Offers Inside of Offers. These things are tedious. What you have to do is select no to all of the offers but three of them.

Silver, Gold, and Platinum Offers. You do not actually have to complete these offers to earn credit. All you have to do is open the offer let it load COMPLETELY then close it and you will get credit.

Your ISP and You. Certain ISP's have trouble with PrizeRebel such as Comcast (TimeWarner). If you do somethimes have trouble simply go down to your local library and use one of there computers. Librarys have there own ISP and you should be fine.

Patience Young Grasshopper. Some offers take a full day to credit. If your offer doesn't credit immeadiatly and you knew you passed it with flying colors check back in 20 minutes or around midnight. At about midnight many offers will credit. Sometimes give it a full 24 hours before contacting customer support.

If you are more of a visual learner check out the video below to see how to do low level offers:




Ready to sign up yet? Go ahead at this link:




http://www.prizerebel.com/index.php?r=776337





OR

Using this banner:

Those Big Scary 1.0 and 1.5 Offers
Some of the above tricks I gave you will not work with 1.0 and 1.5 offers. They will require more real information and yahoo and hotmail email accounts. The only way I can simply teach you how to do these is to show you the way I learned through this video: . You should not have popups blocked since you will get a few that if you don't get you won't get credit. I may put more tricks into this section when I learn them.
Ready to sign up yet? Go ahead at this link:
http://www.prizerebel.com/index.php?r=776337
OR
Using this banner:

Customer Service and Support Tickets
If you ever have a question that you think only the PrizeRebel staff can answer you will need to make a support ticket. It will take 1-2 days for them to respond.
Here is how you make a ticket: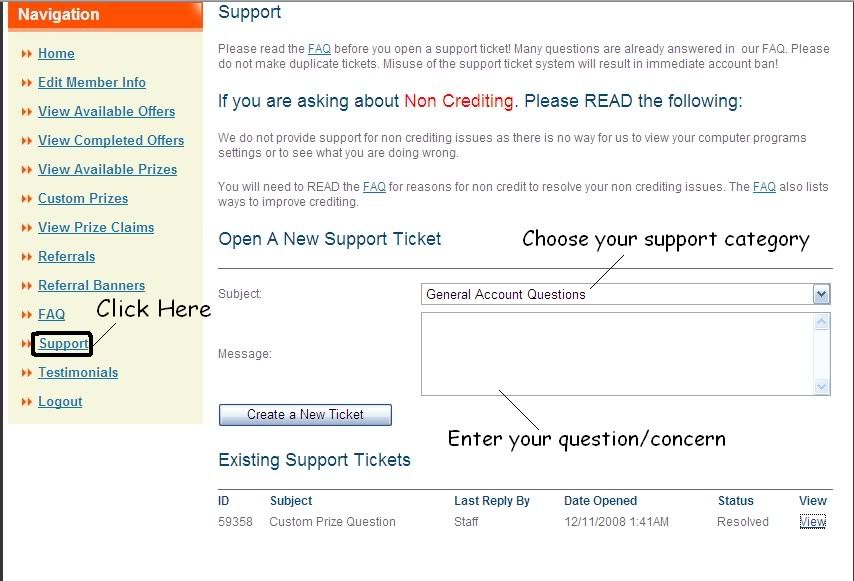 Here is an example ticket that has already been answered: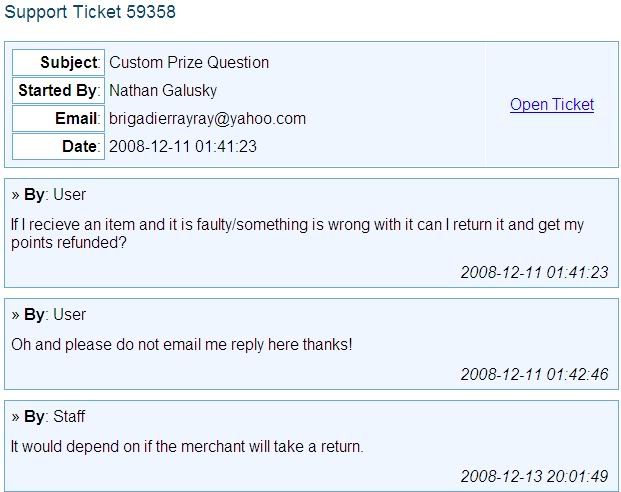 The PrizeRebel staff will answer any question you may have.

Ready to sign up yet? Go ahead at this link:
http://www.prizerebel.com/index.php?r=776337
OR
Using this banner:

Applying For a Prize
You may apply for a prize on anything website! You are not limited to eBay and Amazon anymore. You can either select a prize on there website or apply for a prize.
How to apply for a preselected prize:

How to apply for a custom prize:

When I ordered my capture card from Amazon it took about 1 week for me to recieve. It also depends on the seller of the item on the shipping time. It takes 1-2 days for your claim to be approved.
Ready to sign up yet? Go ahead at this link:
http://www.prizerebel.com/index.php?r=776337
OR
Using this banner:

F.A.Q.
If you have any questions go ahead and post them here on the thread. I will answer them and if it is a good question I will post it up here. You may also point out any errors or give me any feedback but most importantly SIGN UP! Que annoying ad one last time
Ready to sign up yet? Go ahead at this link:
http://www.prizerebel.com/index.php?r=776337
OR
Using this banner:

Copyright Info
This document is the hard work of me Nathan Galusky (BrigadierRayRay) And I don't want anyone to take this guide and rip it off. This document cannot be changed or altered in any way, shape or form. You are welcome to ask permission if you would like this guide posted on your website. This document is for private use only. You are free to print it out but you don't have permission to sell it for profit. This document is not to be published in any form of media publication unless you have the permission of me before hand. The websites listed below have permission to have this guide published on their sites. Use of this guide on any other web site or as a part of any public display is strictly prohibited, and a violation of copyright. If you do see this on another site PM me or email me at BrigadierRayRay@yahoo.com. That is all, thank you.
All trademarks and copyrights contained in this document are owned by their respective trademark and copyright holders.
Copyright 2009 Nathan Galusky
Cheap Ass Gamer - http://www.cheapassgamer.com
Edited by BrigadierRayRay, 23 March 2011 - 01:53 AM.