Enter
taining offers for the Factory Sealed PS3 Collector's Version of Dark Souls. I would much rather sell, but will CYL. Buyer assumes shipping costs as well.
)
Bioshock 2 Special Edition Slipcover-
$ OBO+S/H


These were picked up from the Target Clearance. Me and my buddy own PS3's but picked these up because of price, condition and the fact that these are sold out in our areas now.

Another friend of mine was gracious enough to let me have his PS3 Slipcover and I want to be able to help someone out who got a mangled 360 version. Throw me an offer and as long as you wish to cover all costs I'll send this out.

Condition is a lot better than what people got. Some minor damage and frays but overall for having spider wraps very good.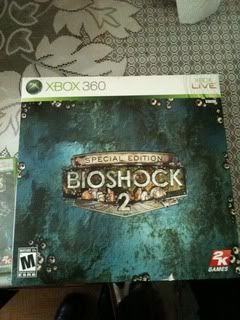 Edited by sead21c, 05 October 2011 - 12:12 AM.