All games are used and usually in mint/complete condition unless otherwise noted. Shipping to CONUS might be included in the price if you buy at least $20 of stuff. Otherwise you will have to add $2-3 to the price I listed to partially cover my shipping cost. Please let me know in your PM if your're from Canada, Europe, Hawaii, Alaska and other non CONUS part of the US. In that case you will probably have to add at least $5 to the listed price.
There are some rare games among them, even some brand new ones. If you buy a bunch of games I might throw in some freebies/discounts
.
I'll gladly send/post pics and additional info if you ask for them.
Price is sometime negotiable, but please don't be rude in asking for discounts or you will be ignored.
If you check my list, please bump it
HAVE
Minimum order to get free shipping is $20
PS4
Xbox One
Nintendo 3DS
Xbox 360
Ace Combat 6 Platinum Ed. $10
Alone in the Dark $7
Armored Core 4 $10
Batman: Arkham City $9
Battlefield Bad Company $7
Battlestation Midway $13
Brother in Arms: Hell's Highway Limited Ed. $50
Call of Duty: Modern Warfare 3 Hardened Ed. (Elite already redeemed) $40
Call of Duty: World at War $11
Crackdown 2 $8
Dark Souls Collector's Ed. $60
Dead or Alive 4 $12
Dead to Rights: Retribution $10
Deadly Premonition $25
DJ Hero 2 with turntable $20
Dungeon Siege III $10
Ghostbusters: The Videogame Slimer ed. (extras only: statue (both pinkies are broken) and keychain in mint condition. The stickers have been sold already separately) $30
Guitar Hero World Tour $10
Halo 3 Limited ed. (only extras) $10
Kengo: Legend of the 9 $10
Kinect Sensor with Kinect Adventures $75
Lego Rock Band $13
Majin and the Forsaken Kingdom (sealed) $30
Naruto: Rise of a Ninja $12
Perfect Dark Zero Limited ed. $10
Project Gotham Racing 3 $7
Project Gotham Racing 4 $7
Record of Agarest War The Really Naughty Limited ed. (extras only) $40
Red Faction: Armageddon $12
Resident Evil: Operation Raccoon City $17
Robert Ludlum's The Bourne Conspiracy $12
Super Street Fighter IV Dojo Ed. (very rare, only the game has been used) $250
Table Tennis $8
Tenchu Z $13
The Darkness II Limited Ed. $10
Tom Clancy's EndWar (Sealed) $10
Virtua Tennis 3 $7
WarTech Senko no Ronde $8
PS3
Aliens vs Predator Hunter Ed. (Sealed) $99
Anarchy Reigns $17
Metal Gear HD Collection Limited Zavvi Ed. (Sealed) $200
Singstar Dance $10
Time and Eternity Limited Edition (sealed) $110
Uncharted: Drake's Fortune $10
Uncharted 2 Game of the Year Ed. $10
Uncharted 3 Collector's Ed. (sealed) $99
Wii
Cursed Mountain Limited Ed. (sealed) $40
Metroid Other M $10
No More Heroes $10
Sin & Punishment (sealed) $20
Super Mario Galaxy $20
Nintendo DS
Again (sealed) $20
Castlevania: Dawn of Sorrow $25
Castlevania: Portrait of Ruin $23
Luminous Arc 2 Deluxe Set $50
Phoenix Wright: Justice for All (sealed) $30
Super Robot Taisen OG Saga Endless Frontier (w/ soundtrack and outer box) $100
PSP
Armored Core: Formula Front $10
Blazing Souls Accelate (sealed) $25
Bomberman Online $15
Crisis Core: Final Fantasy VII $8
Final Fantasy II $15
Harvey Birdman $8
Killzone: Liberation $7
Metal Gear Acid 2 (Pal, but region free) $10
R-Type Command $10
Ragnarok Tactics (sealed) $40
Silent Hill: Origins $14
Tactics Ogre: Let Us Cling Together (sealed) $18
Twisted Metal: Head On $7
Valkyrie Profile: Lenneth $16
Warhammer 40,000 Squad Command $10
PC
Age of Wonders (jewel case) $10
Age of Wonders II: The Wizard's Throne (big box) $18
Axis & Allies (big box) $10
Company of Heroes (sealed) $10
Diablo II $10
Empire Earth Gold Edition (big box) $16
Gothic II (big box) $7
Gothic Universe ((big box, no manual) $15
Guild Wars (big box) $10
Half Life 2 Collector's Edition (signed by Lead Artist Viktor Antonov) $170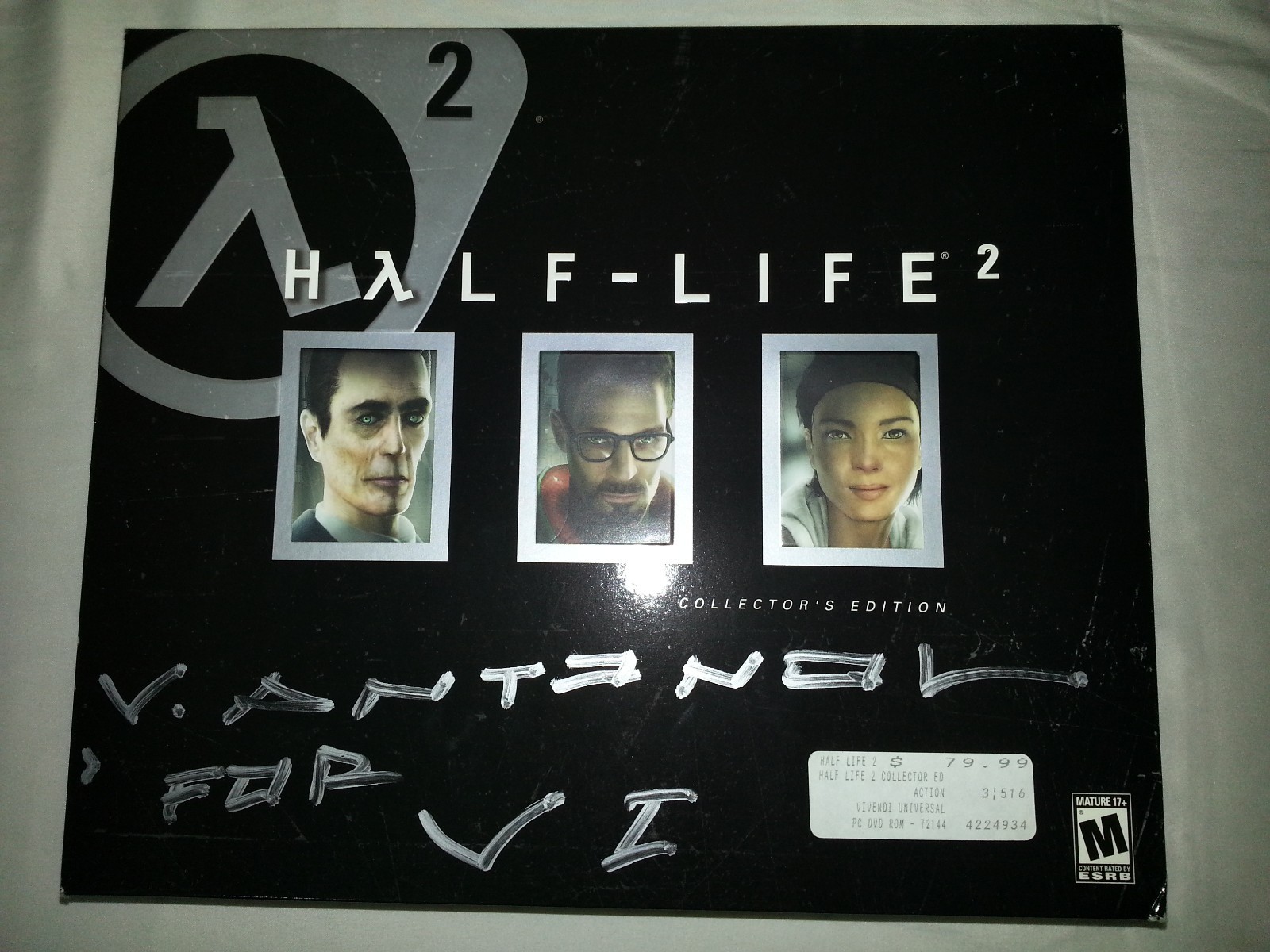 Jagged Alliance (jewel case) $30
Neverwinter Nights 2: Storm of Zehir $40
No One Lives Forever 2 (no manual) (big box) $10
Oblivion (big box) $10
Risk II (big box) $30
Rome Total War Gold Edition (big box) $15
Rome II Total War (Staeam key) $30
Sacred 2: Fallen Angel Collector's Edition (big box) $35
Soldier of Fortune II: Double Helix $15
Star Wars: Knights of the Old Republic (big box) $50
Star Wars: Knights of the Old Republic (big box) $40
Strategic Command ((big box, no manual) $13
Titan Quest $7
Tribes: Vengeance (big box) $11
Unreal Tournament 2004 $5
Vampire The Masquerade: Bloodlines (big box) $40
Warlords IV: Heroes of Etheria (sealed) $15
PS2
Bully $7
Chaos Wars $15
Clock Tower 3 $14
Devil May Cry 2 $5
Dynasty Tactics $7
Dynasty Tactics 2 $8
Eternal Poison Deluxe Ed. (sealed) $75
Extermination $10
Eye Toy Play $6
Ferrari F355 Challenge $10
Final Fantasy XII $10
Front Mission 4 $13
Genji Dawn of the Samurai $6
Gran Turismo 3 $6
Grand Theft Auto: San Andreas $10
Grand Theft Auto: Vice City $7
Growlanser Generations $35
Gungriffon Blaze $6
Heroes of Might and Magic: Quest for the DragonBone Staff $12
Karaoke Revolution American Idol $8
Karaoke Revolution Party $10
Killzone $10
Magna Carta: Tears of Blood $25
Maximo $5 (no original cover art)
Maximo vs Army of Zion $7
Metal Gear Solid 3: Snake Eater $7
Metal Saga (sealed) $24
Odin Sphere $30
Persona 3 FES (sealed) $30
Red Faction $4
Red Faction II $6
Resident Evil Code Veronica X (GH) $7
Resident Evil Outbreak $7
Ridge Racer V $6
Rygar $5
Sakura Wars Premium Ed. (sealed) $50
Samurai Champloo Sidetracked $15
Sega Superstars $12
Siren $7
Stella Deus: The Gate of Eternity $30
Suikoden Tactics $15
Tekken 4 (GH) $6
Tekken TAG Tournament (missing manual) $6
Tekken 5 Ultimate Collector's Ed. (complete: Arcade Stick etc.) $80
Twisted Metal Black Online(Disc only) $6
Victorious Boxer 2 $9
Xenosaga Episode I (GH) $7
PS1
Final Fantasy VII (Jap) $30
Final Fantasy IX $19
Parasite Eve 2 $39
Dreamcast
Shenmue $55 (includes Passport disc and everything else but the manual)
Gamecube
Donkey Konga 2 bongos ONLY (no game) $20
Xbox
Beyond Good & Evil (Sealed) $30
Black $10
Brute Force $6
Chronicles of Riddick $6
Crimson Skies $5
Dai Senryaku VII $6
Demon Stone $6
Enclave $5
Forza Motorsport $6
Grand Theft Auto Double Pack $15
Gun Valkyrie $6
Karaoke Revolution $6
Manhunt (missing manual) $15
Max Payne 2 (sealed) $10
Ninja Gaiden $8
Prince of Persia The Two Thrones $10
Prince of Persia Warrior Within $6
Project Gotham Racing 2 $6
Syberia $6
The Warriors $10
GBA
All games are complete with mint box and manual. No cheap Chinese knockoff
Super Robot Taisen Original Generation 2 $40
Anime
$5 shipped unless priced differently
Boogiepop Phantom: Evolution 2
Full Metal Panic: Mission 01
Gasaraki Vol. 04
Ghost in the Shell Stand Alone Complex: Vol. 02 Special Ed. $20
Patlabor TV Series Vol. 07
Peacemaker Vol. 01
Project Arms Vol. 01
Project Arms Vol. 02
Project Arms Vol. 03
Misc.
Castlevania: Portrait of Ruin 20th Anniversary Gamestop exclusive Pre Order Bonus (sealed, there is an actual simil-wax seal, but not shrink-wrapped) $80 OBO
Mass Effect Redemption (hardcover graphic novel) $45
Metal Gear Solid 4 Bluetooth Headset (used once) $25
Resident Evil: The Mercenaries limited case #443 of 1,000 for 3DS ($90 never used, I don't even own a 3DS yet)
Lithographs:
All lithographs are 18" x 24" signed and numbered unless noted otherwise
Aria $140
Earth Alliance (39" x 22") $170
Purgatory Cells $100
Reaper Attack $130
Thane $150
Vancouver $90
Mini lithographs 12" x 16":
Normandy SR2(unsigned, not numbered) $75
I also have these lithographs:
From Elders Scrolls Online (only numbered):
The Fray (170/300 not signed) $150
WANT
Paypal
Amazon Payments