AND THE WINNERS ARE...


But first some statistics!
Total Entrants: 118
31% Entered to win the Penny Arcade Prize Pack
69% Entered to win the Sackboy Prize Pack


Khalid Wins the Penny Arcade Prize Pack!
LoganDX Wins the SackBoy Prize Pack!

----


What you've all been waiting for!
Prize Pack PA Game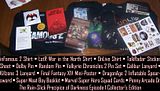 Prize Pack SackBoy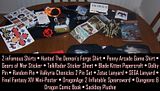 I know you want these. But you can't have them both. But how do you win one? I'll be randomly selecting 1 winner for each prize pack from everyone who posts in this contest thread, just post which prize pack you want to win: PA Game or SackBoy. Here are the Rules:


You can only enter to win 1 of the packs. Putting both names in your comment voids your entry.
You can only post once. Additional post voids your entry.
Contest runs from now, until 7:00PM Pacific 10:00PM Eastern on Friday September 17th, 2010.
I'll randomly select the winners and PM them on Saturday September 18th.
Oh and to prevent whining later, all shirts are size Large. Good Luck to all!
Any inquiries can be PM'd to me.
Edited by zenprime, 18 September 2010 - 09:02 PM.
We have our winners!