This franchise has a Salary Cap and Free Agent Bidding in part by MyLeagueManager.net

Updated March 29, 2011
Register at: http://cagps3league.proboards.com
Request an invite to psn id: Ch1d0r1_666

Madden 11 CAG PS3 League
sign-ups open, currently in week 9. We play 1 game per week. Sundays or Monday night is the deadline for each week. If you need extra time to pay ask me.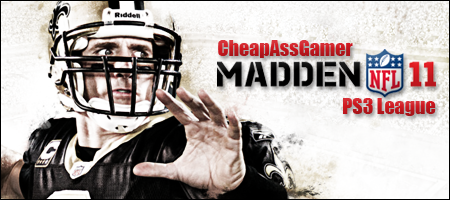 SUPERBOWL CHAMPS
COLTS owner ByeDesign
Congratulations!
Final Score Colts 28, Packers 21


Current Rules and Regulations:

http://cagps3league....cgi?board=rules
Franchise Settings:
League Name:
CAG PS3 League
Password:
Must Join Forum to get Password
Game Skill: ALL-PRO
Quarter Length: 10 min.
Accelerated Clock: OFF
Injuries: On
Fatigue: On
Trading: OFF
Weather: On
Max Users: 32
Allow Join: NO (if you want to join ask me ill Open it up)
ADVANCE Sundays Nights
SCHEDULE:
1 game per week, League gets advanced when every one plays or
Wednedays Midnight the latest.
Current Standings & Owners(PSN-ID):
http://cagps3league....isplay&thread=5


If you have any questions or suggestions please hit me up. I dint want to be too picky with the rules. I just want people to play and have fun.

Edited by Jinchuriki, 29 March 2011 - 09:08 PM.