Nintendo just announced Super Mario All-stars for the Wi for North America, coming out on December 12th. It's being released as part of the 25th Anniversary of Super Mario bros.. It comes with a soundtrack and a 32-page history booklet for just $29.99. .Supplies are said to be limited so keep that in mind if you're considering waiting for it to get cheaper.
Sites that still have it in stock at $29.99 or less:

http://www.gohasting...ELAID=717618420

http://www.samsclub...._sku=sku2384045

http://www.cdunivers...rm=froogleother

http://www.hhgregg.c...m_campaign=feed

Amazon
Gamestop
Description from
Press Release
:
The games included in the Super Mario All-Stars collection are Super Mario Bros., Super Mario Bros.: The Lost Levels, Super Mario Bros. 2 and Super Mario Bros. 3. Each game features the enhanced graphics and updated sound from the Super NES™ Super Mario All-Stars collection, and all four can be played on the Wii system using one of several controllers: the Wii Remote™ controller, Classic Controller™, Classic Controller Pro™ or the Nintendo GameCube™ controller.

Also included is a Super Mario History soundtrack CD, a compilation of memorable music from the Mario franchise. Containing classic theme songs and fun sound effects from the original Super Mario Bros. game all the way up to this year's acclaimed Super Mario Galaxy™ 2 game, this special disc also marks the first official release of the "Super Mario Bros. Ground Theme," widely recognized as one of the most famous pieces of video game music in history.

Rounding out the Super Mario All-Stars collection is a 32-page Super Mario History booklet featuring interviews, behind-the-scenes details and rare concept art. Fans from every generation can enjoy firsthand insights into the beginnings of Mario, illustrated with candid photos and never-before-seen design sketches. Together with the game software and soundtrack, it's the ultimate tribute to a unique game series.
Edit: this is what the US Packaging will look like
This is what the Japanese version looks like for reference. I can't guarantee the US version will look like this: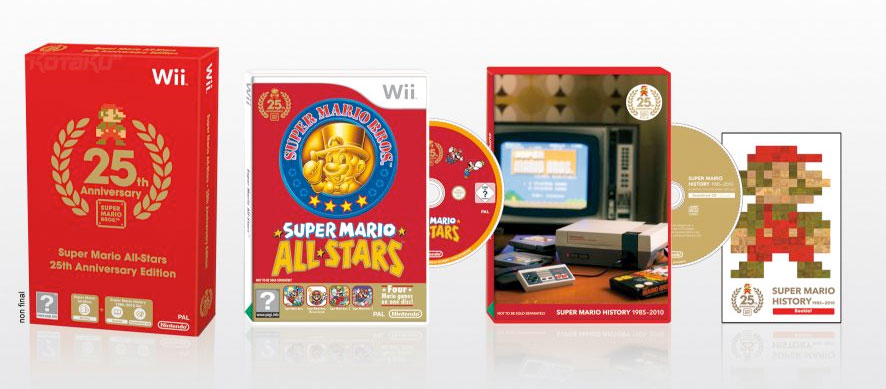 And for those that want to hound on this being MSRP. I posted it here because it is a Limited item, and because there are many CAG who don't venture outside the deals forum and may have missed this. Mods can move this to a more appropriate place if they want.
Edited by ssjmichael, 17 December 2010 - 05:19 AM.